Message from Cayuga County Tourism
#SupportCayuga #AuburnNY #TourCayuga
You will hear a message that goes against every instinct I have. Please stay home, do not travel. These are times to prioritize health and well being beyond anything else. This is and will be a two-fold hit. One health related and one financial related, we need to get past the health one while considering the impact of the financial one. I did say, please stay home, but that doesn't mean you shouldn't support our local businesses. Many of you are or know someone with a small family owned business; they are the backbone of our economy, especially in a supportive community like Cayuga County. Our small businesses are our character, our way of life, and they need our help.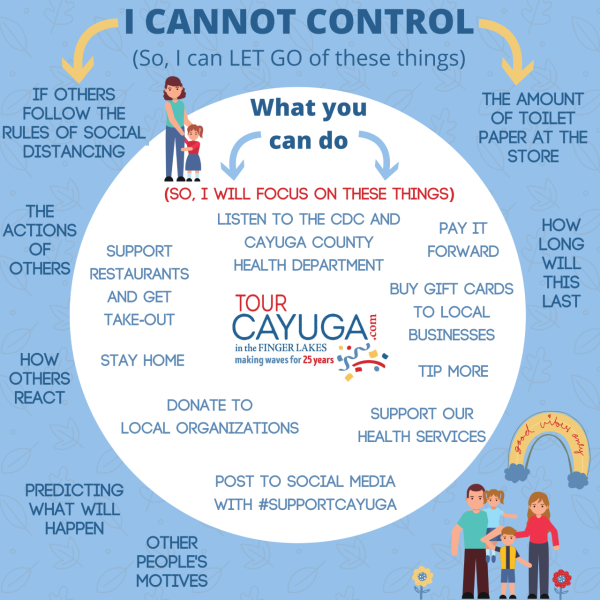 What can you do?
When getting to-go food, consider your health and that of the employee making and delivering your food. Don't linger, head home and enjoy your food with your loved ones. But please do curbside meal, we will loose our restaurants, if we don't support them.


Buy gift cards, our businesses need your financial support now! They don't have the income to pay their upcoming bills. The gift card purchase is a promise and support to continue your patronage when things settle down. It is also a promise to yourself, that you will get through this and enjoy a great meal in good company when things settle out.


Post, Post, Post. We have time and we know we're all spending too much of it online anyway. Let's put that time to good use. Look for all the businesses you normally come in contact with, friend them on Facebook, follow them on Instagram and Twitter, and any other social media they might be on. This will not put money in their pockets, but it will help them feel supported and loved. It will give them some proof to the bank that they are a big part of our community and worth supporting. We have the power of the hashtag #SupportCayuga


Support our health services, they are severely struggling to keep up right now and things will only get harder in weeks to come. The best way we can help them is to stay out of their way. Stay home!


How about paying it forward? There are many families struggling, many have lost their jobs, many are in desperate need of childcare. Buy extra giftcards and hand them out to the folks in need.


Donate, Donate, Donate – The non-profit organizations are in need of your help, all events and fundraisers have been canceled. These are the organizations that bring life to our community, the ones that help those in need. If you're able, open up your wallets and support.


Tip, Tip, Tip – Getting a cup of drive through coffee? Support local coffee retailers, and tip them generously! Getting an order delivered or to-go, tip them generously!
Above all else, stay home and use your power of the hashtag, #SupportCayuga. We need to support our community and be proud of our home.