Editorial Contact:
Meg Vanek
Executive Director
Cayuga County Office of Tourism
131 Genesee Street
Auburn, NY 13021
(315)255-1658/800-499-9615
email: meg@tourcayuga.com
Cayuga Tourism Promotes Upstate Downstate
Fall Media Marketplace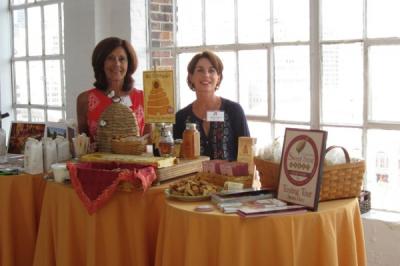 AUBURN, New York  –July 15, 2013--  The Cayuga County Office of Tourism along with tourism partners throughout New York State participated in the Fall Media Marketplace sponsored by I Love NY on July 10th.  The media event held at Stu
dio 450 in New York City hosted more than 100 journalists from top tier publications including the Food Network Magazine, Saveur and The Daily Meal, promoting the theme "Fall Harvest:  Taste NY."    
Chefs from around New York State as well as producers of apple vodka, honey, wine, beer, cheese, and jam provided samples of their products to draw media attention to the farm fresh products and cuisine throughout the state available to locals and visitors.  
Meg Vanek, executive director of the Cayuga County Office of Tourism teamed up with Stephanie Williams, owner of Bee Attitudes Honey to promote their all-natural honey with a 'honey from the hive' tasting and the Finger Lakes Sweet Treat Trail, which features locally grown sweet 'treats' including honey, jam, homemade cookies and more.
About the Cayuga County Office of Tourism                                                                  
The Cayuga County Tourism is the designated Tourism Promotion Agency for Cayuga County and promotes the County's attractions, events and lodging establishments. For more information call 315-255-1658/800-499-9615 or visit www.tourcayuga.com.