Editorial Contact:
Meg Vanek
Executive Director
Cayuga County Office of Tourism
131 Genesee Street
Auburn, NY 13021
(315)255-1658/800-499-9615
email: meg@tourcayuga.com
Haunted History Trail Brochure Available at
Cayuga County Office of Tourinsm
Explore the Trail...IF YOU DARE!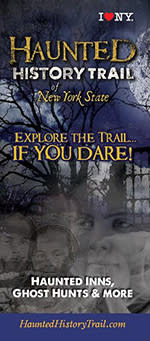 March 28, 2014, Cayuga County, NY – If you want to overnight at a haunted inn, go on a ghost hunt or walk among the spirits while touring an historic cemetery, you must pick up a copy of the Haunted History Trail of New York State brochure at the Cayuga County Office of Tourism.
The new brochure features haunted tourism attractions for thrill-seeking visitors across twenty counties of New York State.  The trail map highlights haunted locations from the Greater Niagara Region in the west to the Hudson Valley in the east.  The trail offers serious ghost hunting locations that cater to investigative teams, as well as seasonal ghostly-themed events for the whole family.
The trail is open year round so pick up your Haunted History Trail brochure now and start planning your haunted history tour.
The Cayuga County Office of Tourism is located at 131 Genesee Street, Auburn and is open Monday through Friday, 9 a.m. to 5 p.m.
For information on others things to see and do and places to stay, visit tourcayuga.com or call 315-255-1658.