Editorial Contact:
Barbara Murdoch
Auburn's Historic & Cultural Sites Commission
131 Genesee Street
Auburn, NY 13021
315.255.1658/800.499.9615
e-mail:  barb@tourcayuga.com
"Join in on the Spirit of Holiday Traditions"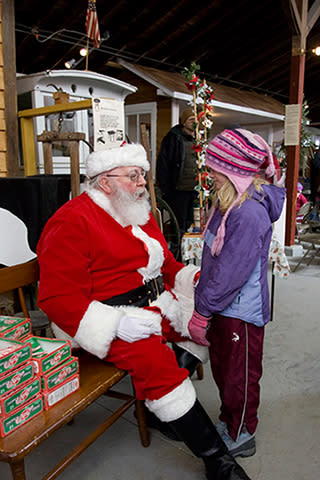 Auburn: History's Hometown
Free Holiday Celebration December 14, 2014 
December 1, 2014, Auburn NY - Holiday Traditions is an event that was created by the Seward House over 30 years ago as a token of appreciation to the Auburn community. Since that time, other local cultural attractions and sites have opened their doors to the public for free the second Sunday in December. Now, the "open house" is a tradition, and again this year, participation has expanded to include churches and other non-profit organizations. 

Cayuga Museum, 203 Genesee Street (315) 253-8051
www.cayugamuseum.org 
Open from Noon to 5 PM - Come see the mansion decked out in its finest holiday decor!  Current exhibit – Contemporary Heirlooms from the Cayuga Lake Quilt Guild.
Schweinfurth Art Center, 205 Genesee Street (315) 255-1553
www.myartcenter.org   
 
Open Noon to 5 PM - Visit the Schweinfurth to view the Art Center's 34th annual Quilts=Art=Quilts exhibit.  This year's exhibit includes 77 quilts by 73 artists from the United States, Canada, Australia, Japan, Italy, Switzerland and Northern Ireland.  Children are invited to complete a scavenger hunt about the quilts.

Seward House Museum, 33 South Street (315) 252-1283
www.sewardhouse.org
 
Open Noon to 5 PM - Enjoy live entertainment by local musicians, see the Museum elegantly decorated by local florists and artisans, and get swept back in time as Seward House staff and volunteers tell tales of a Victorian Seward Christmas.
 
St. Francis of Assisi Church, 303 Clark Street (315) 252-7593
www.marymarthaauburn.org/
 
Christmas Joy - presented at 4 PM by Auburn Chamber Orchestra, Auburn Community Chorus, Auburn Public Chorus, and guest choir MasterWorks Chorale.
 
Ward O'Hara Agricultural Museum, Route 38A (315) 252-5009
www.cayugacounty.us/Community/ParksandTrails/AgMuseum.aspx
 
Open Noon to 4 PM - All are invited back in time, and back to their childhood. The Museum/Ed Center will be decorated and the tree will be trimmed. There will be horse drawn wagon rides and musical entertainment. Santa will arrive at 12:30 PM on a horse drawn wagon and will talk to children about their Christmas lists. There will be special food and drink available. Come decorate some Christmas cookies, make some Christmas decorations and enter the Christmas contests. Admission and parking is free. Guided tours will be available and the gift shop will be open for unique Christmas gifts. Come join in the fun. 
 
Westminster Presbyterian Church, 17 William Street (315) 253-3331
www.westminsterauburn.org 
 
Open Noon to 3 PM - Enjoy refreshments and tours of the historic church decorated for Advent with greens, candles, and banners, from 12-3:00 PM. Visitors can enjoy holiday music by Kevin Dorsey, a two-time SAMMY award winner and multi-instrumentalist who plays a variety of styles, including jazz, folk, originals, and other genres. Make a Chrismon ornament to take with you
 
Willard Memorial Chapel, 17 Nelson Street (315) 252-0339
www.willardchapel.org
 
Read with Santa, and partake in Christmas Carols at the Chapel. Bring your children and grandchildren for some holiday magic. The fun begins promptly at noon as Santa and his helpers read 'Twas the Night Before Christmas'. As a special surprise, Santa gives children a book to take home! At 2 PM, Susan May will be playing Christmas carols on the Chapel's Steere & Turner pipe organ.
 
For more information, about Holiday Traditions, or for a photo from the past events, call the Cayuga County Office of Tourism at 315-255-1658. If you have questions regarding a specific venue, please phone them directly.
 
About Auburn's Historic & Cultural Sites Commission
To ensure communication between the many Holiday Traditions' partners, the City of Auburn's Historic & Cultural Sites Commission coordinates publicity and advertising for this event. The Commission site members include Auburn Public Theater, Auburn Schine's Theater, Cayuga Museum & Case Research Lab, Harriet Tubman Home, Schweinfurth Memorial Art Center, Seward House Museum and Willard Memorial Chapel.