Not only are the Finger Lakes beautiful to behold, but Cayuga County is a knitter's paradise, with so many locally spun and dyed yarns available.   I learned to knit the summer I was 8 while spending a month with my grandmother. She was always knitting – baby sweaters in mint green for her church's Holiday Bazaar or, strangely, 24 foot long white cotton bandages for a leper colony in Hawaii.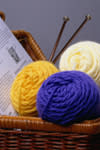 On afternoon as the weather was turning, I started thinking about knitting again. A stop at All Tied Up Yarns inspired me to start a quick but beautiful project. Andrea Cosachov, owner of the yarn emporium on State Street in downtown Auburn, will tell you all about her yarns – and that's no tall tale!
Step into the inviting shop and you will be wowed by the color. Walk along and touch the multi-colored yarns, and your fingers will delight in caressing incredibly soft fibers. The shop is full of locally spun yarn, with some dyed in Syracuse, The Adirondacks or further west in the Finger Lakes Region out in Interlaken. There are wools, silks and various combinations and loads of oh-so-soft Alpaca yarn. She also has accessories like wooden needles, yarn bowls and wooden or metal buttons plus magazines and patterns books for motivation.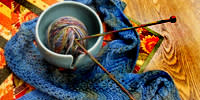 10 best reason to knit?  You can make unique items all by yourself to give or keep for yourself. You can take knitting anywhere – a doctor's waiting room, a child's soccer game and even on a plane. Knitted hats, scarves and sweaters keep you warm. On a diet? Knitting keeps your finger busy – no snacking allowed. Knitting relaxes you and lowers your blood pressure. It is fun to play with the color and textures of a project. And it is social – it gives you something to talk about or share with a new friend. Andrea also offers beginner and intermediate classes and holds weekly Book Club and Knit Night. 
Andrea will share her pattern for The Wave Scarf when you visit her shop. If I can knit one so can you! Get busy. Christmas is just around the corner.
---
Susan Marteney teaches Community Education classes at CCC and is a co-owner of Tuxill House, a European-style guest house in Auburn, an avid gardener and a community activist.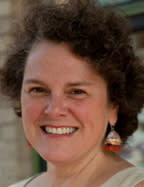 ---