The best experiences are often the ones that you couldn't have imagined. What makes these experiences great is the unexpected, and the simple fact that you will never be the same afterwards. I had one such experience in a magical place with the sunset over my shoulder and a feast before me, created by a chef literally at my side. I had the pleasure of experiencing Rupert's Table at E.B. Morgan House.
Chef Rupert Robbins has created an offering that leaves guests feeling nourished in many ways. E.B. Morgan House is stunning all on its own, but when you combine Rupert's gracious, welcoming hospitality and his soulful cooking, you've got a transformative experience.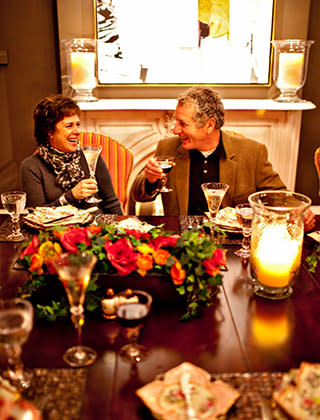 I caught up with Rupert after the first in a series of five custom culinary experiences (called, simply, "Rupert's Table"), offered exclusively to guests of E.B. Morgan House on specific Mondays this May and June. I asked Rupert what he believes makes guests so over-the-moon about this event, and he replied: "It's really less an event and more like a family gathering. I'm cooking for these folks as if they were at home with me — and, in a way, they really are. The guests enjoy the personal feel of being hosted and served by their chef. I've given away a secret or two while we converse about the food, too!"
Rupert painted a picture that I could almost smell as he told me how it all unfolded, on a Monday in May. At 7:00 a.m., the braising began with a cozy cover of collard greens rather than traditional foil. He reserved drippings for the brown gravy to be later draped over a nest of spinach ricotta gnocchi, layered with asparagus, and crowned with succulent beef. By the time guests arrived to check in to their rooms, the house was filled with a smell delicious enough to match its sumptuous décor. Before dinner, we enjoyed a glass of wine on the veranda and nibbled on rustic olive bread with green peppercorn and scallion butter.
True to his southern roots, Rupert allowed the evening to unfold with a comfortable, conversational pace. Each course was its own act in a sort of culinary performance art: just as a musical score suggests a tone in a story line, both the lighting inside and the epic sunset on the lake conspired to make magic that evening. I truly felt as though we had discovered the indescribable sweet spot between high luxury, elevated cuisine, and the comfort of cooking at home with a dear friend.
When I asked Rupert what he was looking forward to about the next Rupert's Table dinner, he knew the answer right away: "The people, of course — greeting them, feeding them, and delighting them."