Right here in Cayuga County we are blessed with the Schweinfurth Art Center—a spacious place of light and creativity. 
Yesterday I went with a friend to see the quilt show—an annual event that has made the Schweinfurth world famous. For more than thirty years this show has gained popularity with quilters, artists, tourists, schools, and groups from the Red hats to the Blue collars.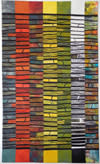 When you think of quilts you might lapse to nostalgic covers on your grandmother's bed. But get ready to view out-of-the-box arrangements that tug at your emotions and take you to unknown places.
Some are haphazard lines, frayed, circles, and geometric, 3-D, giant, gentle, works of art. One is so busy that I dare you to stare at it for more than five seconds. Bet you can't.
Some artists dye their own fabric, some paint, some cut and stitch, and layer. Some purposely cut and arrange chaotically. You can form your own opinion about why the artists choose their approaches and then you can read the Artist Statement that accompanies each work. Often times the statement will confirm your thoughts but then again some statements just don't seem to explain the piece.
One quilt was hand dyed, hand painted, screen printed, stamped and marbled. What? Really? Did you ever think that material could go through that many phases of being?

One looks like a giant stained glass window. There is one opposite the welcome desk that is beautiful and lovely. But it's not until you are far off in the other room and you turn to view it again, that it appears back-lit and looks like crinkled, colored foil.
It's so relaxing and therapeutic to walk around the art center. And afterwards you can treat yourself to a cup of Keuring coffee (you know the kind where you can insert one of those small containers of gourmet coffee and instantly get a smooth delicious aroma.) Then you are invited to sit at a small table off to the side where you and a friend can discuss what you've seen or you can sit by yourself and dream.
Quilt show runs until January 6th, 2013. Treat yourself like I did. It's fun, engaging and a great reason to visit the Finger Lakes.
---
Bobbie Panek lives in Central NY. She's a poet, writer and wanderlust. You can read more about her at Bobbiepanek.com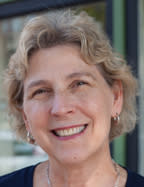 ---