May is usually welcomed with warm, spring air, budding trees and beautiful flowers. And in Cayuga County, the month also means you can start to enjoy the wonderfully delicious tastes, sights and scents of the treats offered on the Finger Lakes Sweet Treat Trail. Beginning May 1st, farmers' markets, bakeries, stores, and cafés offer something special to please your sweet tooth. Whether it's ice cream, cookies or fresh fruit, there are 20 unique stops to let your tastebuds run wild!
Stretching from north to south across the county, the trail is better than ever this year. In celebration of her bicentennial birthday, the 2022 season honors one of the most famous, and maybe even sweetest, American heroes there ever was – Harriet Tubman.
The Underground Railroad conductor, who lived in Auburn, NY as a free woman for over 50 years, sold root beer and baked pies to soldiers during the Civil War and grew her own treats – apples, pears and peaches – on her property.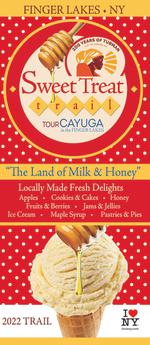 Pay tribute to a woman who was small in stature but mighty in strength, bravery, and perseverance all while tasting your way across Cayuga County. You will find truly scrumptious Harriet Tubman themed goodies along the trail, available May 1st through December 1st, which include items such as:
 Café 108 - Harriet Tubman Gingerbread Cookie, in tribute of the gingerbread Tubman baked and sold to Union soldiers while she fought in the Civil War.
New Hope Mills Store & Café - Strawberry Mint Milkshake, made with strawberries (one of Tubman's favorite fruits) and mint, after her nickname "Minty." 
Moonflower Macarons - Strawberry Inspired Macarons, a French macaron that is strawberry inspired in honor of strawberries being a favorite of Harriet Tubman.
Gretchen's Confections - The Tubman a/k/a the land of milk and honey, a truffle with a layer of honey, caramel alongside a malted white chocolate ganache, surrounded by a decadent dark chocolate shell.
Reese's Dairy Bar – Minty Strawberry Sundae, inspired by Harriet Tubman's nickname "Minty" paired with one of her favorite fruits - strawberries. This sundae is made with their homemade strawberry hard ice cream and topped with strawberries & crushed peppermint candy.
Pick up a trail brochure at any of the trail's locations where you will find a pass that can be stamped at each stop. Or use this year's new digital pass, by scanning the QR codes you will find at the businesses along the trail. Visit all 20 places for a chance to win the grand prize raffle, plus a $50 Downtown Auburn shopping card, or if you run out of time (or space in your stomach) stop at any 10 stops to be entered into a second raffle drawing. The baskets are filled with local goodies, and many have gift cards for you to enjoy a second go-round along the trail! This year, the prize baskets also include a special commemorative Sweet Treat Trail bandana to mark the special 2022 season.