The Schweinfurth Art Center's acclaimed Quilts=Art=Quilts exhibit will be paired with American Quilts: History and Art, curated by Jonathan Holstein, a world-renown collector and curator who resides in Cazenovia. Both exhibits have an opening reception on October 29th at 4:00 pm- 6:00pm. Awards for QAQ will be announced at 5:00 pm. The exhibit will be open until January 8, 2017.
This pairing is an opportunity for viewers to see both contemporary and historical quilting techniques in one visit. American Quilts: History and Art will showcase 21 quilts grouped together by theme such as African American Quilts, Amish Quilts, Figurative Quilts . . . and more. Curator Jonathan Holstein and his wife Gail van der Hoof began to collect quilts in the late 1960s, and in 1971 curated the seminal exhibition, Abstract Design in American Quilts, at the Whitney Museum of American Art in New York.  The collection they formed ultimately went to the International Quilt Study Center and Museum (IQSC) in Lincoln, Nebraska.  Their exhibitions here and abroad, along with their writing and lecturing, furthered both the appreciation of American quilts as significant designed objects, and encouraged the now-international art quilt movement.  In this exhibit Holstein turned his trained eye to the collection of the IQSC and curated this exhibition for the Davis Family Gallery, which is on the art center's second level. Holstein will also be giving a lecture on the exhibit on Sunday November 13th at 2 pm.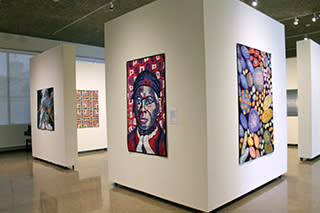 Director Donna Lamb says, "There are several quilts in the American Quilts exhibit that directly influenced contemporary quilt making. By showing the QAQ and American Quilts exhibits together, we provide a rare opportunity for our audience to see the origins of certain types of design. For example, Anna Williams' quilts inspired an entire movement using improvisational strip piecing. There are several contemporary artists represented in QAQ who continue to use those techniques."
The side-by-side comparison of both a historical and contemporary quilt exhibit will demonstrate parallels, origins, and departures of tradition, which is an important topic when discussing quilt making. This year's Q=A=Q exhibit will feature 65 quilts from 51 exhibiting artists, from all over the world including Belgium, Australia, and Canada, as well as artists from upstate New York such as: Julia Graziano of Manlius, and Ruth White of Ithaca.
This year jurors were internationally known artists Judy Kirpich, Terry Jarrad-Dimond, and Valerie Goodwin. They reviewed 298 quilts. Prizes will be awarded by juror Lasse Antonsen at the opening reception. The exhibit is sponsored by Tompkins Trust Company, The Davis Family Trust, and the New York State Council on the Arts.
Exhibition Programs & Events
Sun. Oct. 30th                       Quilter's Brunch and Remarks from Lasse Antonsen at the Springside Inn. 10 am – 12 pm Tickets $22
Tours
Sun. Oct 31, 1-2pm             Tour with Executive Director Donna Lamb
Fri. Dec. 2, 5-6pm                 Tour with Executive Director Donna Lamb        
Trunk Shows:                       Guest Quilters show samples of their work and talk about their quilts.
Sun. November 6, 2pm       Ruth Ohol
Sun. November 20, 2pm     Gerri Spilka, Exhibiting Artist
Sun. November 27, 2pm     Kathy Ford, Exhibiting Artist
Sun. December 4, 2pm       Kim Svoboda, Exhibiting Artist
Sun. December 11, 2pm     Noel Keith
Lecture
Sun. November 13, 2pm     Jonathan Holstein, curator of American Quilts: History and Art
Workshops
Oct 28-30, all day                 Studio Schweinfurth Elin Noble, True Blue: Indigo Dyeing
Nov 11-13, all day                Studio Schweinfurth Fiber Arts Retreat: Sewing and Wet Studio
Admission to trunk shows, tours & lectures is included with admission to the exhibits. Admission is $10 for adults. Free entry for exhibiting artists, Art Center members and children aged 12 and under.
The exhibits & related events will be free of charge on First Fridays, Nov. 4 and Dec. 2 from 5-8pm. To register for workshops and for more information, please call 315.255.1553 or visit www.myartcenter.org. The Schweinfurth is located at 205 Genesee St., Auburn, NY and is open Tuesday- Saturday, 10– 5 and Sunday 1 – 5.  All photos courtesy of the Schweinfurth Art Center.