Laura Coburn
Inns of Aurora
Director of Serenity

Bio:
As the Director of Serenity at the Inns of Aurora, Laura is dedicated to providing restorative and rejuvenating experiences through Ayurvedic consultations, yoga classes, and Serenity Sessions.

Laura is an Infinite Light yoga teacher in the Kripalu lineage and is a certified yoga teacher and teacher trainer with Yoga Alliance (E-RYT). A certified a Relax and Renew® teacher, Laura has studied with Judith Hanson Lasater and has assisted Judith with restorative yoga teacher training internationally.
Laura's Keys to a Hibercation: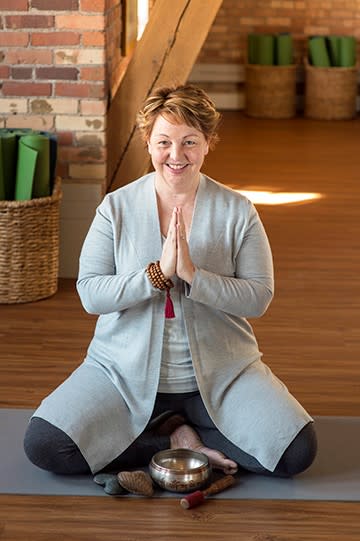 1.) Create space. Avoid filling up your downtime and especially your hibercation with too much activity. Leave space and thus time for mindfulness and self-discovery.
2.) Get a good night's sleep. By all means, revel in good company have a glass of wine and meal prepared by someone other than you but do this on the earlier side so you are well digested and less stimulated when it's time to tuck up in your lovely hibercation bed.
3.) Enjoy a cup of something warm. Herbal tea is a lovely elixir in the deep of winter. At the Inns of Aurora, I hand blend a special Hibiscus tea with plenty of warming spices that promote digestion and boost immunity. We offer this to all of our hibercation guests.
4.) Gaze at the fire, twinkling lights or a candle. Light in winter has a magical effect on one's being. It is not only warming it is transformative and aids in meditation and relaxation.
5.) Read and Write. Pick up a good book or spend some time journaling. At the Inns of Aurora, we offer a selection of books from the New York Times Bestseller list. You may borrow them during your stay.