Harriet Tubman played a significant role in our nation's history she was a spy during the civil war, an underground railroad conductor, a homeowner, and a supporter of the suffragist movement. As the famous "conductor" of the Underground Railroad, Harriet led many individuals to freedom and endlessly fought for equal rights. In 1859, after emancipating herself and members of her family, Harriet chose Auburn, NY in Cayuga County as the place to call home. This summer, we invite you to walk the streets that welcomed Harriet Tubman to live her life as a free woman. 
There are many ways to experience and explore the place Harriet Tubman choose to call home for over 50 years.
If you are interested in a guided tour, these two free tours conducted by a National Park Service Ranger are informational, fun, and full of little-known facts and stories.
1.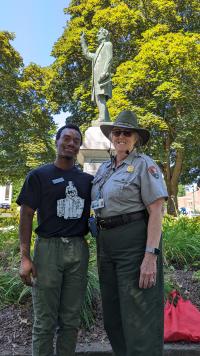 National Park Service: Hike Through the History of Tubman
Starting at the Harriet Tubman statue outside the NYS Equal Rights Heritage Center, join the park ranger on a walk through the city of Auburn retracing Harriet Tubman's life in freedom of over 50 years. During the two-mile, two-hour walk, you will pass the Seward House Museum and learn about Frances Seward's role in Tubman acquiring a farm, you'll visit Tubman's gravesite in beautiful Fort Hill Cemetery, stand outside her church where she worshipped for 22 years and where her funeral was held. You will also walk through the city's historic Black neighborhood and hear about other freedom seekers who chose Auburn as their home. As you return, you'll walk by the homes of her supporters on the sidewalks of the South Street Area National Historic Register District. Please wear comfortable walking shoes and bring water or other fluid to rehydrate. The tour can run over on time and there are no comfort stations along the tour route. Wearing sunscreen is recommended.
Tours are held on Thursday/Friday and Saturdays at 10:00am---Now -Saturday, September 10, 2022, and pre-registration is not required.   Tours begin at the Equal Rights Heritage Center, in front of the Harriet Tubman Statue.
2.           National Park Service: Harriet Tubman's Home in Freedom Tour
Join a National Park Service ranger for a walk on the property Tubman lived on for 50 years in freedom. Touch the bricks of her home she and her family built and see Tubman artifacts unearthed from her property. Stand on the farmland Tubman worked to provide food for those she sheltered under her roof. Listen to the stories of her philanthropic work.
Tours are held on Thursday/Friday and Saturdays at 1:00pm---Now -Saturday, September 3, 2022.
Free to the Public. Registration not required. Meet at the Harriet Tubman Home, 180 South Street, Auburn, NY.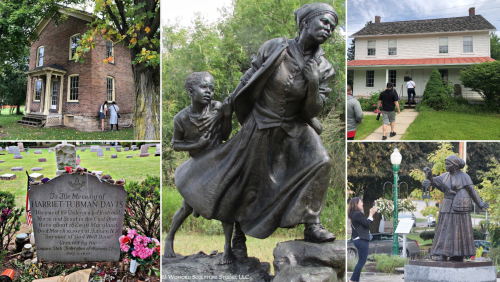 If you are interested in exploring on your own, here are a few places to explore:
The Harriet Tubman Home is the site where Harriet bought and owned the land to build her home, as well as the Home for the Aged. After the Civil War, Harriet returned to her home in Auburn and began what was to be her life-long work of caring for aged and indigent African Americans. In 1896, Harriet purchased 25 adjoining acres to her home on which stood the building now known as the Home for Aged. Here, she cared for others, often sacrificing her own needs to do so. When her health deteriorated, she was taken care of at the Home for the Aged. This is also where she died in 1913. You may explore the property on your own (T-Sat,10am-4pm), schedule an appointment.   Tours are held at 10am and 2pm, Tuesday-Saturdays. Appointments are required, to make an appointment call, 315-252-2081.
About a mile north on South Street from the Harriet Tubman home you will find the Seward House Museum. William H. Seward was U. S. Secretary of State, (1861–1869), Governor of New York State (1839–1843) and U. S. Senator (1830–1834) he is most well-known for leading the purchase of Alaska (known as Seward's Folly). Harriet was good friends with the Seward's and bought the property that her house was on from William's wife, Frances.
The Seward House Museum opened to the public in 1955, was designated a National Historic Landmark in 1964, and now displays one of the most original collections of any historic home in America. Walk the beautiful gardens and enjoy a guided tour of the 17 rooms – left almost as though the Seward's have just stepped out and will be coming home any minute. Be sure to visit the basement, which was used as an actual stop on the Underground Railroad.
A short walk from the Seward House will bring you to the Westminster Presbyterian Church, where Harriet Tubman married her second husband, Nelson Davis. It was an abolitionist congregation at that time – and today, has even wider doors, welcoming people of every race, gender, age, sexual orientation, gender identity, family, and economic status.
A ten-minute walk down William St. to Westlake Ave. will bring you to the Fort Street entrance of Fort Hill Cemetery. The grounds of Fort Hill Cemetery were formally dedicated in 1852, but the site dates back much earlier than that. Originally a settlement of early indigenous people, the Alleghans, and later occupied by the Cayuga's, this land was used for burial mounds as early as 1100 A.D.
In addition to being the backdrop for Harriet's life as a free woman, Auburn, NY provides her the comfort of her final resting place. A self-guided walking tour of Fort Hill Cemetery will bring you to the burial site of William H. Seward and family (#14 on the Fort Hill Cemetery map), as well as Harriet Tubman (#17 on the Fort Hill Cemetery map). Download or view a map on their website.
Like I said earlier, there are many ways to explore and discover Harriet Tubman's impact in Cayuga County and Auburn NY.
Below are two additional resources for self- guided tours.
1.   Experience Harriet's Lantern Trail- This immersive, outdoor exhibit highlighting historical moments throughout Auburn NY. Explore each lantern stop on Harriet's trail by following a map. Look for a QR code outside each lantern stop – simply scan the code with your smartphone, open the link, and prepare to be transported back in time.
2.   The Underground Railroad Tour- Auburn and Cayuga County have deep ties to the Underground Railroad. Today in Cayuga County, you can still see some of the churches and meeting houses that were stations on the Underground Railroad by taking a self-guided tour along using our newly created maps and app.
What ever way you chose to explore Harriet Tubman's legacy, I hope you enjoy discovering the rich history Cayuga County and Auburn has to offer. Hope to see you soon!