Camping with our Canine Companions
Explore the beautiful and serene countryside of Cayuga County with your four-legged best friends. We offer a collection of campgrounds and parks that welcome your whole family to stay and play.
Be sure to look for posted signs indicating where dogs are permitted and what activities are safe. Though many dogs love to splash in the water, some locations are not open for swimming. Remember to bring water, food, bowls, and of course treats during outings. Collapsible bowls are lightweight and command little space in your pack. If your adventure for the day will be particularly active, pack more of these necessities than your dog would eat at home. No shame in hydration breaks! I also recommend having a towel on hand in the event of a surprise sun shower or random mud puddles too irresistible to avoid taking a roll. And most importantly- have fun!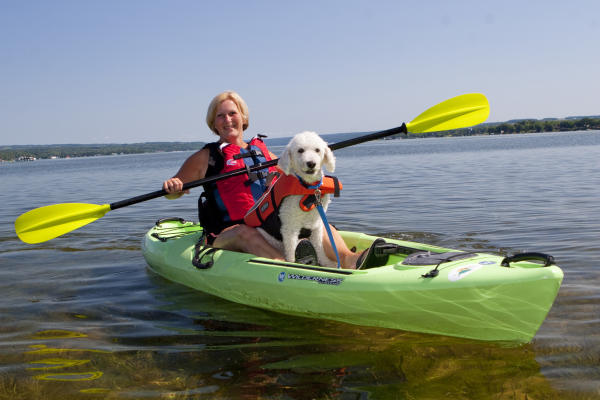 Many locations are what we call 'carry-out,' meaning any debris you bring in must be removed when you leave. This includes the less appetizing variety of doggy bags. Whereas other locations may feature potty bags and designated refuse bins, so be on the lookout.
Be mindful of the terrain and your dog's limitations. Though our climate is temperate, we can experience a range of humidity and temperatures, so over exertion and heat stroke are concerns to be mindful of- watch for elevated heart rate, hypersalivation, and excessive panting. Also, pavement can get hot quickly, so use the palm test- if the blacktop is too hot for your hand after five seconds, then it's too hot for paws and should be avoided.
As always, come prepared and be flexible in case of last-minute changes or weather surprises, and be sure to call ahead for details.
Here's where to camp with your dog!
In the Southern/Central areas of Cayuga County, near two Finger Lakes- Cayuga Lake and Owasco Lake:
Cayuga Marina and Outfitters
Empire Haven Nudist Park
Fillmore Glen State Park
South Shore Marina
Twin Oaks Campground
Yawger Brook Family Campsites
Hejamada RV Resort
Riverforest Campground
To the Northern part of Cayuga County near Great Lake Ontario and smaller lakes, Duck Lake and Cross Lake:
Anchor Resort & Marina
Cross Lake Campground & RV Park
Duck Lake Campgrounds
Fair Haven Beach State Park
Sterling Creek Campground
Suttercreek Campground
Turtle Cove Resort & Marina
Wildwood Lakes Campsites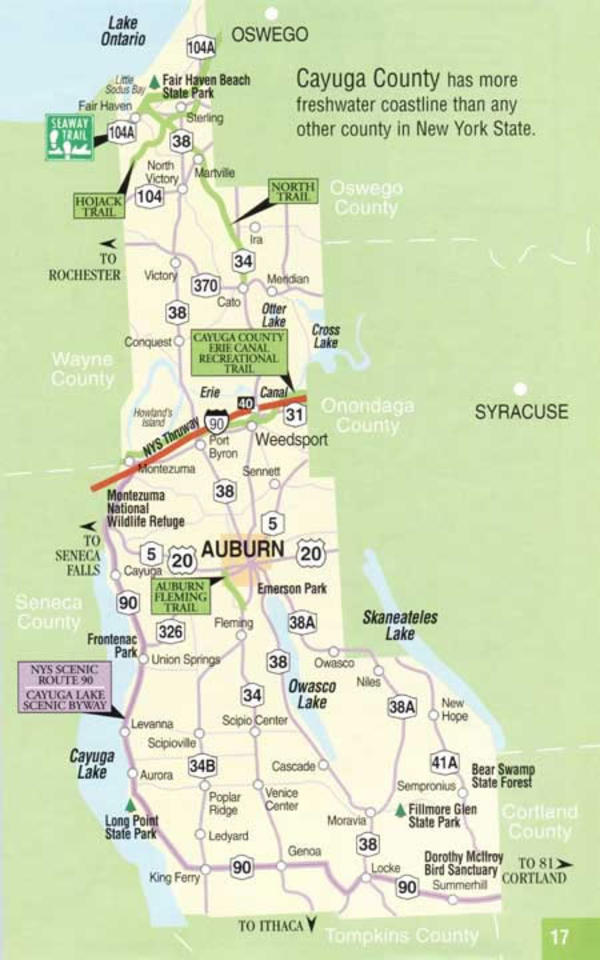 Look for ice cream stands and casual eateries with outdoor dining areas to grab a bite for your whole crew. Also, several wineries have plenty of open space and welcome our furry friends. Call ahead for details, plus hours and new health and safety policies.
Consider visiting Long Point Winery in Aurora, whose deli called Amelia's is open Friday through Sunday 11AM-4PM, serving high end fresh sandwiches and appetizer platters to complement the wines. The spacious lawn boasts a breathtaking view of the vineyards and nearby Cayuga Lake for an unforgettable, relaxing afternoon, great for lunch and memories.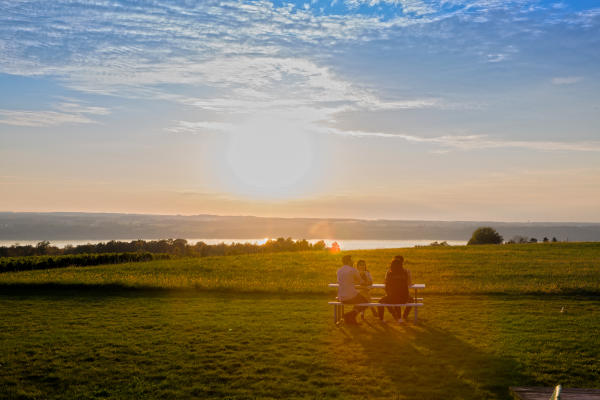 There's also plenty of space and a laid-back atmosphere at Corrado's Restaurant, located within Riverforest Park and Campgrounds in Weedsport. Gather the gang for good times with dinner and music, open Tuesday through Sunday. Call in a meal order for take out and just go with the flow.
So whether you hit the park with your pooch or camp with your canine, there are many ways to explore all the paw-abilities in Cayuga County!