This time Dorothy Wickenden will be at the Morgan Opera House, in Aurora, N.Y. We are fortunate to have this highly acclaimed biographer, who is the executive director of The New Yorker, back in our midst.

The book Nothing Daunted tells the story of two young women from Cayuga County who break tradition, were early feminists, and traveled to Colorado to be teachers in the middle of nowhere. Wickenden is the granddaughter of one of these brave women.
I don't know what's more exciting: the fact that Wickenden wrote the book about two women who are from the Finger Lakes, or that she will be telling her story on Saturday, November 10, 2012, at 8 PM, for free, at the amazing, historic, Morgan Opera House.

The Morgan Opera House holds voices from long ago—built in 1899 by Louise Morgan Zabriskie, this theater is on the top floor of the Aurora Free Library.  The Tudor style building sits on a hill, across from Cayuga Lake. It's on the sweet, small strip of downtown Aurora.
When you walk up the wooden stairs leading to the Opera House you can feel the presence of history. The space is delightful. So much of this theater is authentic. The seats are original. The room is small enough that there isn't a bad view.

So jot down on your calendar now: Saturday, November 10, at 8 PM. Go to downtown Aurora, climb the wonderful wooden stairs, sit down in one of the original wooden seats placed there lovingly in 1899 and enjoy.
Nothing Daunted is a wonderful true story about two brave, intelligent socialites who could have stayed home with their wealthy families and just waited to marry into money. But instead they chose to be pioneers, to live frugally, somewhat brutally in the northwest.
They found excitement, love, hardships, and a renewed sense of self.
---
Bobbie Panek lives in Central NY. She's a poet, writer and wanderlust. You can read more about her at Bobbiepanek.com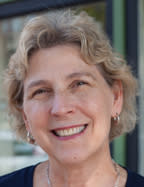 ---