Baseball, peanuts and Crackerjacks – Falcon Park has it all!
On a recent Thursday evening which just happened to be "Dollar Night", my family and I headed out N. Division Street to Falcon Park to catch a baseball game between the home team, The Doubleday's, and rivals, The Lowell Spinners. We did spring for box seats for comfort-sake, but noticed that the bleachers now have backs, too. There is handicapped parking right near the gate and all parking is free. The Doubleday's are a Class A Short Season Affiliate of the Washington Nationals. Tickets may be purchased on-line.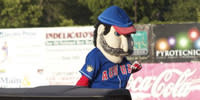 Abner Doubleday, mascot of the team, wanders the stadium shaking hands, hosting various competitions between innings and generally acting as the Head Cheerleader for the vocal crowd. History has it that Abner grew up in Auburn when his father, Ulysses who fought in the War of 1812, represented the community in Congress for 4 years. Alter on, Abner moved to Cooperstown to live with an aunt and uncle and attend school. Now, Auburn does not claim he invented baseball here – but perhaps he was just inspired.
We all enjoyed a Hoffman hotdog or two, a bag of peanuts and either a soda or beer – for $1 each! There are other food options, but those are a bit more expensive. Sadly, there are actually not any Crackerjacks.
Each night, the national anthem is sung a local "American Idol", a member of the community who auditioned and was selected. I heard that the night before a Barbershop Quartet led the singing. Introductions of the teams follow, again with whistling and stomping from the receptive crowd.
A quick watering of the in-field and it was time to "play ball". As the sun set and the temperature dropped, the sky was illuminated by the stadium lights while pink streaked clouds rolled by. Somehow color is sharpened and it feels like you are in a Cecil B. de Mille movie made in the 50's. Everything is in Technicolor.
Seated right behind home plate, we could see all the action during the game. And what action! The Doubleday's made 6 runs in the 5th inning and finished out with a score of 10 to 2. The crowd certainly hooted and hollered and cheered on our team.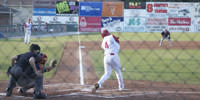 This was my mother's third baseball game – in her entire life. There was plenty of talk about pitchers, catchers and foul balls. Baseball is a game for everyone. It is not difficult to understand the rules and the scoreboard keeps you posted on the strikes/balls/outs.
The sing-a-long at the 7th inning stretch is a tradition as are raffles, 50/50's, announcements about sponsoring business and upcoming events. The Auburn Rotary was hosting the Beer Tent and, according to an involved Rotarian, made over $170 in tips to use for local projects.    
All in all, a night at Falcon Park is inexpensive, wholesome All-American and quite entertaining. We will be back again this summer for another Doubleday's baseball game.
---
Susan Marteney teaches Community Education classes at CCC and is a co-owner of Tuxill House, a European-style guest house in Auburn, an avid gardener and a community activist.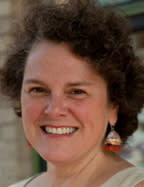 ---