Drive-In Family Fun x 2
By Susan Dove
On the western outskirts of Auburn, NY on historic Route 20, there are 2 reasons to plan some good old-fashioned family fun this summer.  There is Reese's Dairy Bar, the kind of drive-in to get a hamburg, french fries and ice cream, plus just a little farther west on Route 20 is the oldest drive- theater in New York State!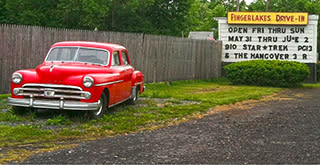 First, fill your bellies at Reese's!   For 50 years, Reese's Dairy Bar has been serving up family fun and good times.  The first 48 years Reese's was by owned and operated by 4 generations of the Reese Family.  In 2019, Central NY residents, Penny and Jamison Mills took over.  The Mills Family welcomes you with open arms and continues the traditions of serving homemade products from an award-winning staff, in a meticulously clean, relaxed environment.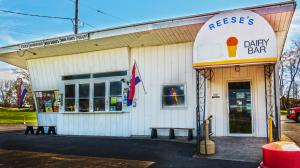 Whether you are having lunch, dinner or just a snack, there is something for everyone on the menu: hamburgs, hot dogs, chicken sliders, a garden salad for the health conscious, grilled cheese and more.  I had the Philly Cheesesteak with the works, and it did not disappoint.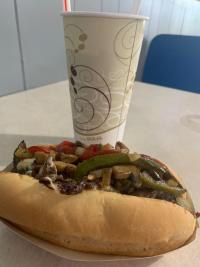 You can eat-in, take-out, or eat outside at the many picnic tables with umbrellas that are provided. 
Homemade ice cream is what makes Reese's different than other drive-ins in the area.  The recipes have been handed down from the Reese Family to the Mills Family, and they continue to expand and improve on their vast offerings.  And in my quest for the best butter pecan in Cayuga County I think I may have found it.  Reese's butter pecan was creamy, flavorful, and full of pecans.  Delicious!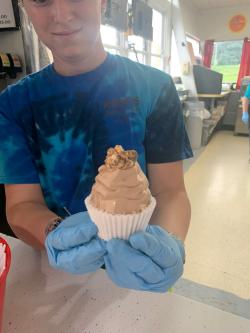 Homemade,  hard ice cream flavors are plentiful, including some unique flavors like island cheesecake, and peanut butter mud pie.  There are the usual soft ice cream flavors of vanilla, chocolate, twist, and black raspberry.  And they even have sorbet!  If you are looking for something special for your child's next birthday or graduation party, consider ice cream cupcakes.   They were making them up fresh the day I was there, and they are so cute!  Ice cream cakes and ice cream sandwiches are also available. 
Reese's also hosts special events like a Car Cruise-In featuring antique and classic cars every Friday night from 5 pm-8 pm.  Let the good times roll!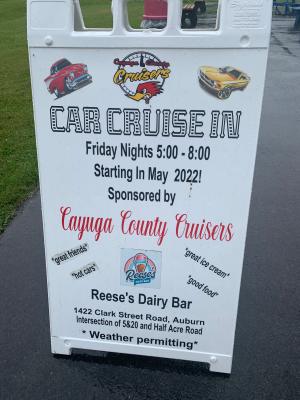 As I said, Reese's is located conveniently on Routes 5 and 20, just a couple miles outside of the city of Auburn, and only 5 miles or so from the Erie Canal.  Their address is 1477 Clark Street Road, Auburn, NY 13021.  Visit their website at: https://reesesdairybar.com/ for their full menu.  Or call ahead for take-out at 315-252-7323.  Hours of operation are 11:30 am – 8:00 pm, 7 days a week from approximately May- September.
Just down the road from Reese's, another mile or so west on Route 20 is the Fingerlakes Drive-In Theatre.  It is the oldest, continually running drive-in in New York State.  It opened on July 15, 1947!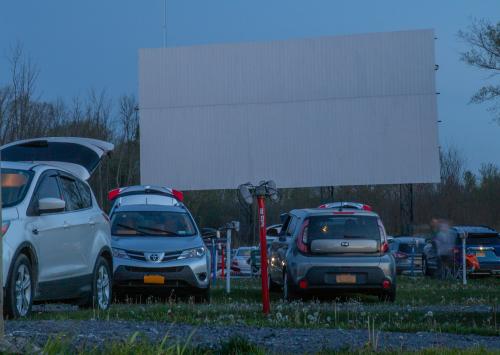 Everyone has to experience the magic of watching a movie on the big screen, in the comfort of your own car. They still have the old-fashioned speakers available, but highly suggest use of your FM radio tuned to 101.9 for incredible stereo sound.   If you didn't stop at Reese's before coming to the drive-in, snacks are available.  Movie tickets are an affordable $8.00 for 12 and older, and $4.00 for ages 5-11.  Children 4 and under are free!  To find out what is showing you can drive by their big marquee at 1064 Clark Street Road, Aurelius, NY  13021 or visit their website at:  https://www.fingerlakesdrivein.com. 
I know I promised Pete's Treats in Union Springs in this edition of my blog, but I promise I will get to it in the next edition!