Farmers Markets are important to the vitality of a community and the Auburn Farmer's Market is no different!  Located across from the iconic Curley's Restaurant just off of Routes 5&20 West, the market is open for business on Tuesdays, Thursdays, Saturdays, from June to October. Auburn is indeed a great place to live, and the farmer's market brings life and vitality to our beloved city!
What are the benefits of shopping at your local farmers market?
You can find a wide variety of products, including vegetables, fruits, meat, eggs, cheese, baked goods, and more.
You can talk with and purchase from many local producers in the same market visit, supporting a number of farms and local businesses! 
Seasonal and organic items are often less expensive or competitively priced to grocery stores.
Lessen your carbon footprint by shopping local.
Meet your local Cayuga County Farmer
In this blog we are highlighting a couple of our local farmers, but Cayuga County has a multitude of dedicated farmers who put food on the table for us all. 
Bob Horsford -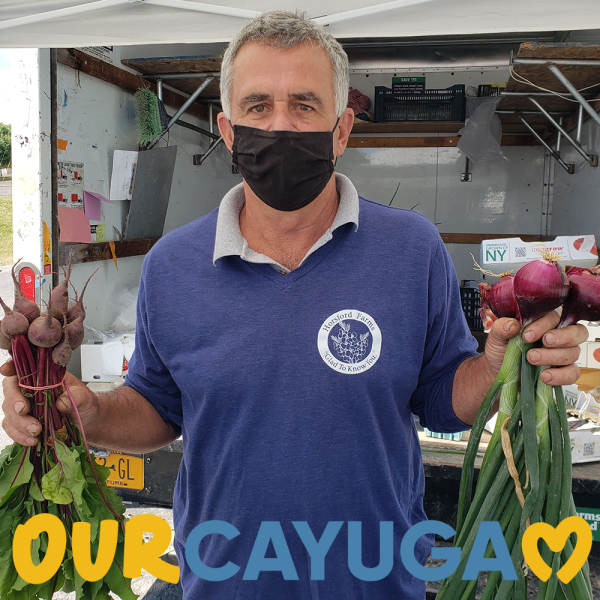 Horsford Farms in Weedsport.  Bob knows everyone by name and if you want some of the freshest produce, his farm stand is top choice with the residents. Everything that he grows is outstanding, especially his corn, and once you bite into a cob from his farm you will understand.  It pops in your mouth with full flavor and juicy sweetness, because he picks it at 5AM!  It does not get any fresher than that!  His stand is so popular that it is advised you get to the market early, because Bob tends to sell out before the day is over. From experience, I have gotten behind with my chores on a Saturday morning and swung by the market closer to the noon time frame to find Bob has just about sold out.  He is always there to crack a joke and talk about the weather, however the weather is not small talk with a farmer.  Their livelihood banks on getting enough rain over the summer growing season.  
Ben Vitale
Another favorite farmer to check out at the local market is Vitale Farms.  They sell an assortment of fresh produce, but also carry produce from various locations as well.  All summer long they are there for every market day, with a dedication that is unparalleled.   When I need to find a specific item I can always count on their helpful staff! As the season progresses, I will buy all of my tomatoes from them and create a couple of batches of delicious tomato sauce cooked over my stove for the entire day.  On my latest visit, owner Ben Vitale was kind enough to explain the scallions I was looking at were actually spring garlic.  The Vitales are wonderful to chat with and I love the fact they recommend which items to buy and why.  It's that kind of honesty that makes their stand a must to visit. 
What kind of produce will you find?
Farmers Market Produce  * This list is subject to change and availability

| | |
| --- | --- |
| Produce | Time Frame |
| Kale | June, July, August, September |
| Broccoli | June, July, August |
| Tomatoes | June - October |
| Corn | July - September |
| Strawberries | June - August |
| Lettuce | June - September |
| Blueberries | June - August |
| Beets & Beet Greens | June - September |
| Onions | June - October |
| Cucumbers | June - October |
| Zucchini and Summer Squash | July - September |
| Peppers | August - October |
| Acorn Squash | September - October |
| Eggplant | September |
What to do with your bounty of the harvest?
I have literally spent only 10-12 dollars and been astounded by the amount of high quality produce that covers my entire kitchen table!  It is just begging me to spend a Saturday afternoon in the kitchen, which means it's time to share a recent recipe.  One of my latest culinary adventures was to create a perfect pesto that my daughter raved about for days.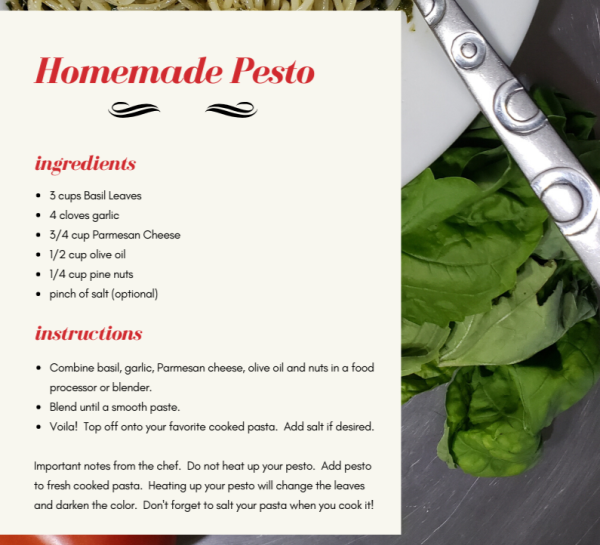 For you pesto lovers out there, stop by Vitale Farms and stock up on several of their plants.  This way you don't have to worry about not having enough of the key ingredient - fresh basil.
Why do we need to support our Farmer's Market?
Farmers markets have become a crucial ingredient to our local economy and communities. They help to connect the farmer to the consumer and build stronger relationships that help people connect with where their food comes from.  Your body will thank you too, because eating fresh produce is essential for a healthy diet and a better quality of life. 
Visit and support your local farmers market or if you have never been we have a full list of local Cayuga County markets that are open. We welcome our locals and visitors to try new foods and enjoy the wonderful, fresh produce they offer.
---
Editor's note:  Please do not let the current construction on the State Street Bridge deter you from visiting!  They are still open for business and our farmers welcome you!