We Welcome you to Delight in Dessert!
The family-friendly Finger Lakes Sweet Treat Trail is all about the unique sweets and treats that Cayuga County has to offer.  Whether you seek honey or jam, or homemade cookies created with locally grown and produced ingredients, the Trail has everything to satisfy your sweet tooth cravings.  The Trail includes bakeries, farm stands, stores, ice cream stands, u-pick fruit fields and cafés, all featuring locally grown and produced sweet treats.  From north to south in Cayuga County, it seems like all roads lead to yummy goodness! Get your tasty tour pass, found at all participating locations, and have it stamped by at least ten of the sites to be entered in a drawing for a gift basket. Here are a few locations to visit this summer!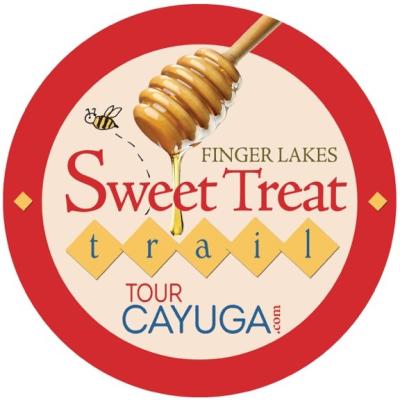 Everyone's Favorites
These partners have stood the test of time to become favorite stops on the Trail. Even if you visited them in the past, be sure to stop by again, there is always something new and delicious to savor! 
Fair Haven: Fly-By-Night Cookie Company
Weedsport/Jordan: Muzzi's D'Italia Ice; Owen Orchards; Smokey Hollow Maple Syrup 
Auburn: Gretchen's Confections; Morgan's Half Acre Produce; New Hope Mills Store & Café; Octane Social House; Reese's Dairy Bar; Strawberry Fields Hydroponic Farm; Taste NY Market
https://www.facebook.com/FingerLakesSweetTreatTrail/
…And New Places, too!
These new partners have joined the trail in 2021. Soon to join your list of favorites, so don't miss these flavors! 
Auburn: Café 108; Moonflower Macarons; Rudolph's Ice Cream (re-opening soon); XL Cookie Company; 
Aurora: Dugan's Country Grill; The Village Market
New This Year- Partnerships!
Try an Original Sweet Treat Trail Goodie created especially for 2021. Sample tempting chocolate at Gretchen's Confections, a Sweet Treat Berry Shortcake Sundae at Rudolph's Ice Cream, Deluxe Maple Syrup by Smokey Hollow Maple Syrup, or the popular Strawberry-Cherry-Almond jam from Strawberry Fields Hydroponic Farm. While the Original Goodies were introduced in 2020, they are extra special now due to a partnership between Reese's Dairy Bar and new partner, XL Cookie Company. Find their ice cream cookie sandwiches in a variety of flavors available at both locations in Auburn. 
Find more details about the trail partners at https://www.tourcayuga.com/finger-lakes-sweet-treat-trail/trail-stops/ and https://www.facebook.com/FingerLakesSweetTreatTrail/