Fishing the Big O, Lake Ontario
   Cayuga County has a vast number of lakes and waterways teaming with fish. The largest body that lies partially in Cayuga County is Lake Ontario.
   Lake Ontario is not only the widest-sweeping lake, but also has the greatest spectrum of fish in its waters. From cold water fish such as trout and salmon, it also holds world class fishing for vast schools of warm water fish such as both bass, northern pike, muskie, walleye and panfish.
   The village of Fair Haven and specifically Fair Haven State Park, is the place to start either your cold or warm water fishing trip. The neat thing about the Fair Haven Park area is that if the big lake is too rough to venture out into, you can fish in the connecting Sterling Pond out of the wind. At the park you can rent a cabin or campground site and also rent a boat for the pond area.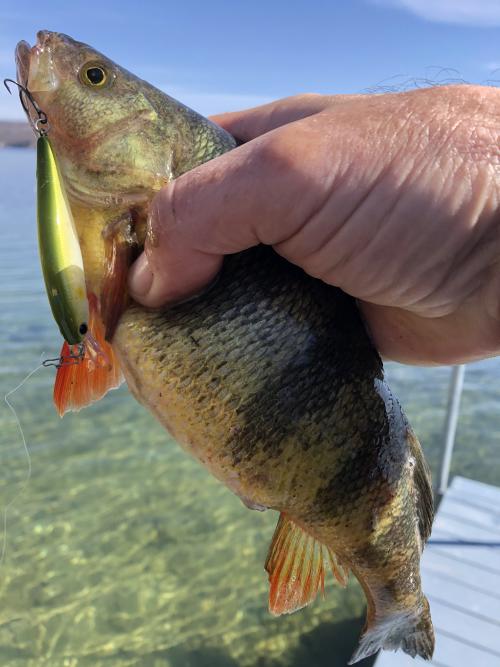 Spring: Springtime on Lake Ontario signals the start of great fishing for 2 species. Area anglers flock to these waters to experience the fantastic lake fishing for shallow water brown trout and yellow perch in the back bays.
   Trophy brown trout can be caught in the warming shallows trolling and casting lures such as Lucky Craft Pointer 100 and 78 stickbaits, spoons and others. The break wall at Fair Haven State Park can be very good as well on certain days for these fish.
   Try fishing for the best tasting fish in fresh water, the yellow perch in the back bay ponds using live bait such as small fat head minnows and others. Lures such as small hair jigs and crappie grubs can catch you limit as well. As the water warms up later in the spring season, lures such as small stickbaits like Lucky Craft Pointers in sizes 65 and 78 work great. May 1 is the new New York opening dates for northern pike and walleye seasons.
   Summer: Early summer signals the start of world class warm water fishing on Lake Ontario. The new opening date for bass season in New York state is now June 15.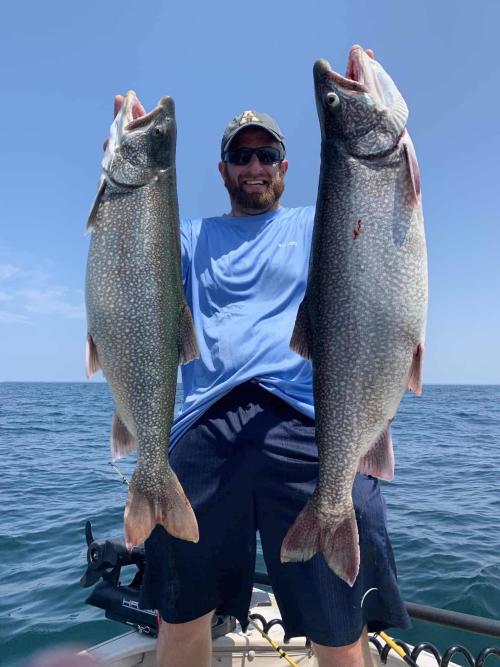 Anglers experience great bass fishing for largemouth bass in the back bay areas. When the fish are in the shallows, try twitching Lucky Craft stickbaits in the sizes mentioned in the shad or panfish patterns. Magical smallmouth bass fishing is available in Lake Ontario. Early fishing revolves around fishing on rocky shoal areas. Try casting various bass lures such as spinnerbaits, crankbaits and top waters for active fish. If the action slows down use tube or hair jigs, grubs and Ned rigs. Drifting with live bait such as minnows and crawfish catch lots of smallies as well.
   As the water warms, trout and salmon move out to deeper, cooler waters. Try trolling out deep for lake trout, salmon and steelhead.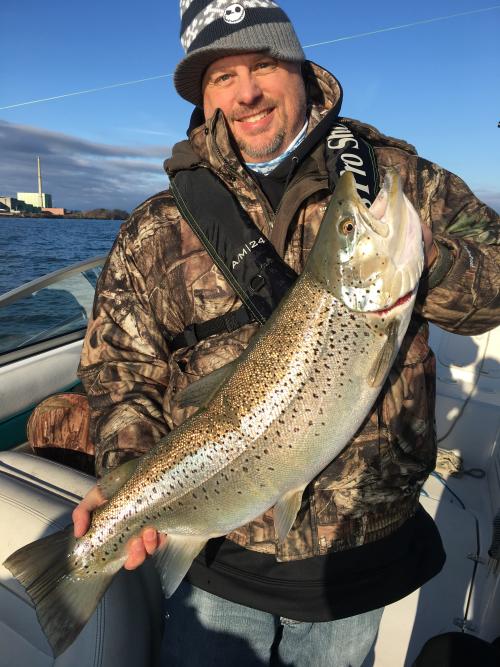 Fall: During early late summer and early fall, great numbers of Lake Ontario chinook and coho salmon start to stage in the stream and river mouths in anticipation to spawn. The fish can be caught by trolling spoons and cut bait rigs on the flats. When the waters start to school, the big schools start to run the areas mentioned to do their spawning ritual. Anglers score well with real and imitation egg sacks, along with various flies. Lake areas such as points in the fall also hold good numbers of spawning lake trout that can be caught either trolling or by vertical jigging.
   Fall is also the time of year when warm water fish such as pike, bass and muskie feed well before the winter slow down period. Try fishing the back bay areas with bass lures for not only largemouth bass but northern pike as well.
Winter: Fishing during the winter out on the main lake is usually not very good to the wind and weather which can make it very dangerous. Once the back bays freeze over safe enough in January, anglers score well on northern pike and yellow perch. Pike can be caught well on tip ups with minnows and perch are harvested by vertical jigging.
     Lake Ontario is known as the "Big-O" to avid anglers. The O just may stand for the opportunities magically available for the lake anglers.