Drive down a country road during fall in Cayuga County and you will see some rather tall brown stems with round knobs at the top. On closer examination, it is all spikey and prickly. What can it be, but Teasel!  Are you looking for a new finger lakes craft project?  Then try decorating for the holidays with teasel.
During the heyday of sheep farming in Upstate New York and other parts of New England, dried teasel flowers were used in textile processing to raise the nap of cloth – especially wool yardage. There were literally acres of teasel cultivated through the Finger Lakes. This was until the mid-1950's when a metal comb was invented and teasel stopped being grown for anything other than for ornamental use.

But be careful if you decide to plant it in your yard as it is considered invasive. A biennial, it grows a small flat plant one year which you will be prone to pull up. The next year, it rises to its full height of 5 feet or more. Crowned with flowers in purple, lavender or pink, it can be quite lovely. The seeds are a real favorite with birds especially Goldfinches. The sleek silhouette can add great variety to the winter landscape as well. The seeds scatter themselves and I find "babies" between the brick in my driveway and patio areas. They are easy to transplant and usually make it to the next growth year. The center and biggest flower is called the King while the next size is the Queen and the rest of the smaller ones are just the serfs.

I love to use it in dried flower arrangements and have even spray painted the dried flower tips to add some zip to a seasonal display. Wear leather gloves when you harvest your teasel or your fingertips will be full of small barbs. A good pair of clippers makes the job easy. I always put a tarp in the back of the car to catch all the seeds and bits.
Years ago in Girl Scouts, we made a cute Holiday decoration of a reindeer using teasel flowers. I again would caution you to wear gardening gloves when making your own Rudolph. It Is an easy creation to make. You can even make a herd of deer.
Warm up your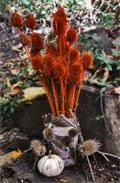 hot glue gun. Give the stalks a good shaking outside to knock out the seeds. Do this in a corner of your yard where you think you might like some teasel growing.
Start off with a King for the body and a serf blossom for the head. Clip stems into 4 legs of similar length about 2 ½ inches and a neck stem about 1½ inches long. Don't make the neck too long or your Rudolph will be "head heavy" and not stand up! Search out two branching stems with two or three joints for the antlers. These are the racks.
Hot glue the legs into the belly of the King pushing them into the spiny seed area. Glue the antlers on the top side of the serf and attach the neck to the bottom side. Finally glue the neck to the body. You may need to adjust the legs for balance. Some people add a red felt nose and wobbly eyes; you can decide for yourself. Adjust as you go and give some personality to your own Teasel creation.
---
Susan Marteney teaches Community Education classes at CCC and is a co-owner of Tuxill House, a European-style guest house in Auburn, an avid gardener and a community activist.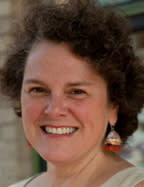 ---