Cayuga County has the most water frontage of all counties in New York State. Pretty amazing, isn't it? With water frontage on 8 lakes, we have about 170 square miles of water. The most centrally-located lake in the county is Owasco Lake. Beautiful Owasco Lake is 11 miles long and just over one mile wide. There are so many activities to enjoy at Owasco Lake: boating, fishing, swimming, kayaking, and more.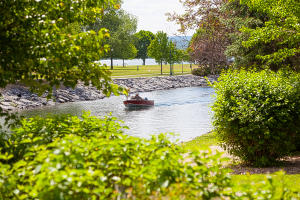 Emerson Park is located at the northern tip, just outside of Auburn on Rt. 38 South. If you are looking to put your motorboat in the water, there is a public access boat launch located inside Emerson Park, which is also a great place to put your kayak or canoe in the water. Located on Deauville Island you will find Owasco Paddles, where you can rent kayaks, canoes, paddleboards, and more. If you want to rent a pontoon boat, Owasco Marine has several to choose from and is located on Owasco Road in Auburn; or A-1 Marine, with a boat slip at Emerson Park. When visiting the south end of Owasco Lake, go to South Shore  Marina in Moravia for your boating needs.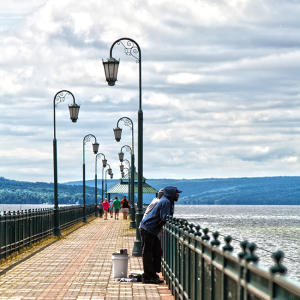 You can also fish on the Lake, in the Owasco Inlet, and in the Owasco Outlet. If you visit dec.ny.gov, you will find a complete list of fish stocking schedules and the species of fish that can be found in lake. They also feature a fantastic Freshwater Fishing guide that was created specifically for beginners and a Fishing Rights Map for the Owasco Inlet. If you want to charter a fishing trip with a local guide for a fun day on the lake with your friends, book through Markin' Fish Charter, located in Auburn.
After your busy day of water activities, there are many great restaurants offering a delicious fish fry: Oak & Vine at Springside, Drifter's on Owasco Lake, Green Shutters, Lasca's, Parker's Grill & Tap, and Kosta's.
With so much to offer you in and around the lake, here is a list to get you started- enough adventure to fill two full days or to continuously visit throughout the year.
Fun In & Around the Lake
Have a fun day playing on the water- rent a kayak, paddleboat, paddleboard, or canoe at Owasco Paddles.
Enjoy a 'Broadway in the Finger Lakes' show at Merry-Go-Round Playhouse.
Ready for a snack- grab a bite at Green Shutters.
Enjoy the fresh air with a stroll along the picturesque lakefront at Emerson Park. Beautiful views out on the pier, too!
Enjoy a little history with a self-guided tour through the Ward W. O'Hara Agricultural and Country Living Museum.
Ride up East Lake Road for some ice cream and miniature golf at Tom Thumb Drive-In.
Feel like playing a round of golf? Practice your swing at Lakeview Golf & Country Club.
Park at Emerson Park to take a bike ride around Owasco Lake and enjoy the beautiful views along East- and West Lake Road.
Sit down to luxury eats at the scenic Oak & Vine at Springside.
Take a scenic drive on West Lake Road and enjoy a cocktail on the patio overlooking the lake at Drifters on Owasco Lake.