Gretchen Christenson, owner of Gretchen's Confections, has wanted to be a chef since she was three years old. Gretchen grew up with a love of cooking, inspired by watching her dear grandmother create magnificent meals for family and friends. She often dreamed of creating food that would put smiles on people's faces and bring them great satisfaction. Gretchen eventually attended Le Cordon Bleu in Seattle, where she was unexpectedly introduced to the art and science of working with chocolate. Chocolate and candy making are the perfect amalgamation of art and science, two of Gretchen's favorite subjects. She was captivated, and so began her journey to continuously learn and hone this craft.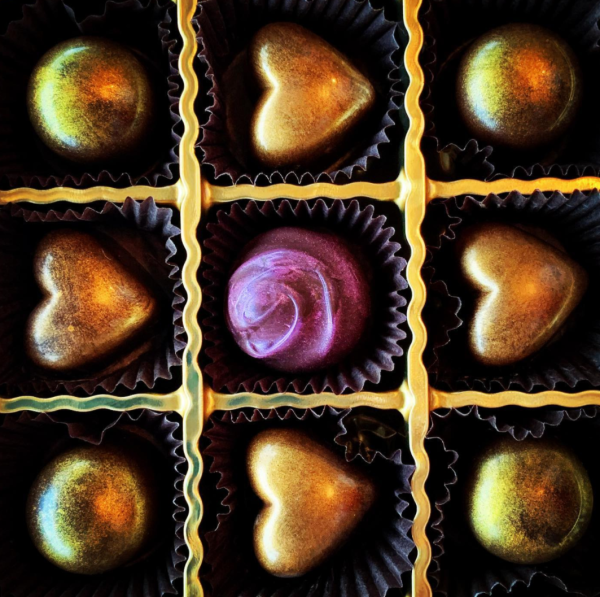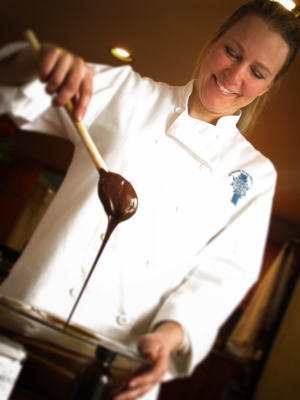 Gretchen has always treasured the Finger Lakes region of New York, and believes it is one of the most beautiful places in the world. When the opportunity presented itself, she and her husband William moved here from Washington State to raise their kids near family in this delightful location.
In 2018, Gretchen and William opened Gretchen's Confections and Café in Auburn providing unique, handcrafted chocolates, candies, baked goods, and espresso drinks that have been received with great enthusiasm and pleasure.
Among an extensive list of varieties, one of Gretchen's most popular chocolates is the "My Girl," a layer of tart raspberry jelly candy, and a layer of dark chocolate Chambord ganache, enrobed in a rich Belgian milk chocolate. Another favorite is the "Dreamboat Caramel," a slow-cooked vanilla bean caramel covered in a smooth dark chocolate, sprinkled with Fleur de Sel. She has created a line of old-fashioned creams named "Doctor's Orders" because they are so good, they will surely help with whatever ails you! Gretchen also offers an exclusive collection of vegan truffles, and most are gluten free. The current chocolate selection can be viewed and ordered online. They also welcome calls with inquiries and requests for favorite varietals.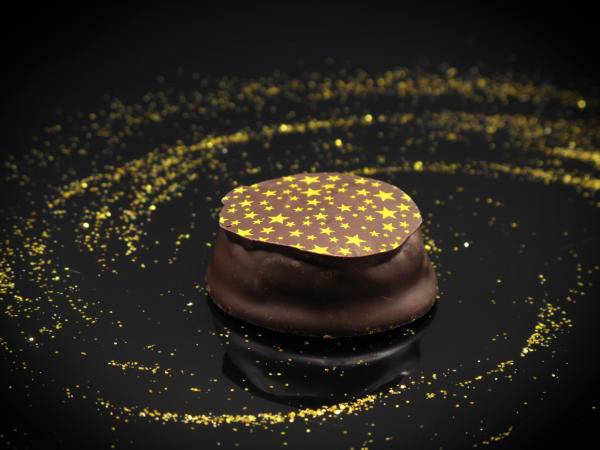 Due to the COVID-19 pandemic, they are taking rigorous steps to ensure the safety of staff, customers, and community. Gretchen's husband William runs the cafe and serves high quality espresso drinks and hot chocolate made with real melted chocolate.  Aunt Ellie makes the baked goods, including incredible scones and a variety of gluten free cakes!  Ellie also makes the chocolates with her niece.  You will find their friendly faces donning facemasks, but smiling nonetheless.  Safety is of the utmost importance, so the staff wears gloves, and thoroughly sanitizes all work surfaces, equipment, and high traffic areas on a regular basis. Sadly, they had to dramatically reduce the staff to just William and Aunt Ellie for the time being. Because of this, Gretchen's is currently open for only a limited number of hours and days each week. They are allowing one customer into the store at a time to purchase espresso drinks and chocolates, and each customer must wear a facemask. They are offering curbside pick-up and local delivery for your convenience as well. Despite all these changes, they are still striving to provide you with high quality chocolates, baked goods, and espresso drinks, along with warm customer service. Thank you for your understanding and support during these challenging times!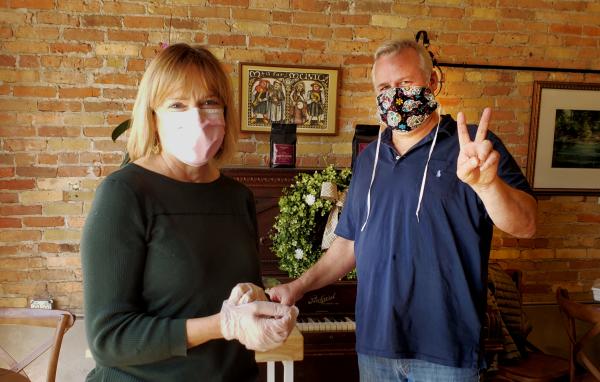 Gretchen's Confections is located at 27 East Genesee Street - Auburn, New York 13021. For more info call them at (315) 400-5224 or email gretchenschocolates@gmail.com. Find them online at:
https://www.gretchen-s.com/
https://www.facebook.com/gretchocolates
https://www.instagram.com/gretchensconfections/