Happy Earth Day…Happy Earth Month
Did you know that Earth Day started in 1969 as a grassroots movement in America? The idea was proposed by Gaylord Nelson, a senator from Wisconsin. Now celebrated globally, Earth Day,  celebrated April 22, is a yearly reminder to respect the Earth and show gratitude to our planet.
This year's Earth Day theme is …. Invest in our Planet! Now is the time to focus on the effects of climate change and what efforts that are being made in the real world to mitigate it.
This year, use Earth Day to remind yourself, and everyone around you how easy it is to make a difference for the environment! We have all heard of New Year's resolutions, how about creating a new tradition and make an Earth Day resolution? The small things we resolve to start doing today, can make big impact in the future. So, let's get started!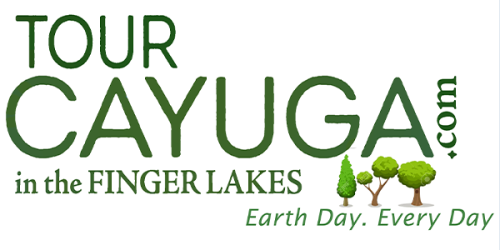 10 Ideas on How to Celebrate Earth Day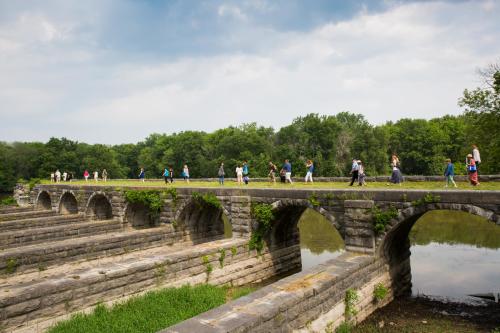 Participate in a Clean-Up Days. Get involved with your local environmental organizations. Find one whose mission matches your passions and reach out to learn more about volunteer opportunities from advocacy to outreach to implementation.
Get outside and hike a trail, watch a sunset, or just breathe in the fresh air. You don't have to go far! Simply take a walk around your neighborhood, put your phone away and enjoy the great outdoors.  
A small action, like picking up litter on the sidewalk that may have otherwise ended up around the neck of an animal makes an impact —it's a step in the right direction, and an important change.
Be mindful of how you purchase products. Start with reducing the amount of waste you create. Try to reuse things that you have and recycle or compost.
Break the single use habit, stop buying water in single use bottles, invest in a reusable water bottle. Purchase reusable sandwich bags or containers. Start using reusable straws, refuse a plastic straw when you dine out. Use reusable shopping bags.
Plant a tree.
Shop at the local farmers markets.
Check your vehicle's tire pressure to increase your fuel efficiency. Combine trips walk, or bike if you are able.
Swap out one meal a week with a plant-based meal.
Reduce your energy consumption, it's as easy as unplugging appliances you are not using, turning off the lights when leaving a room, turn off the water while brushing your teeth or shaving, take shorter showers.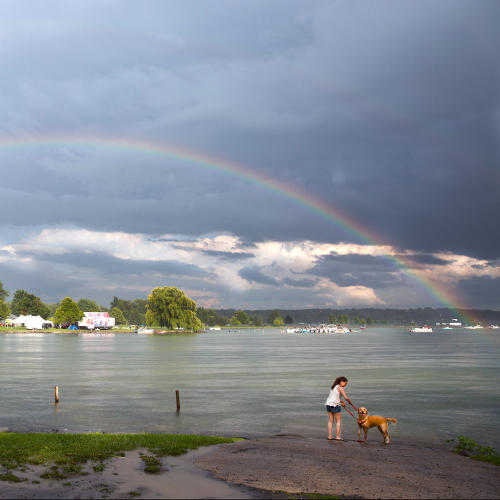 Cayuga County is home to many businesses who are committed to doing their part to be more sustainable. Many of our restaurants use eco-friendly take-out containers and no longer use plastic straws.
Check out these local shops who specialize in one of a kind, locally made, upcycled and sustainable products.
In Auburn visit:
              - Reuse Refuge's focus is on making healthy, sustainable products more accessible. Visit the shop and browse the ever growing refill station along with a large selection of eco-friendly home goods, self-care products and fair trade items.
              -Regenerations offers funky up-cycled wares and home decor.  Their store also features the work of local artists and is a great place to buy a variety of gifts including ceramics, jewelry, and  ornaments.
              -Yellow Wallpaper Co. aims to bring unique, one-of-a-kind products into your home while     reducing landfill waste by upcycling and reusing everything from furniture to home décor, making the old new again.
              -Suzie Q's Gifts and more offer many unique, handmade, one-of-a-kind gifts, jewelry, décor cards, handbags and more! Many items created by local artisans Look no further to find that hard to find perfect gift.
If you are in northern Cayuga County, be sure to visit South Shore Artisans in Fair Haven, an artist co-op featuring a unique collection of fine and folk art, all crafted locally.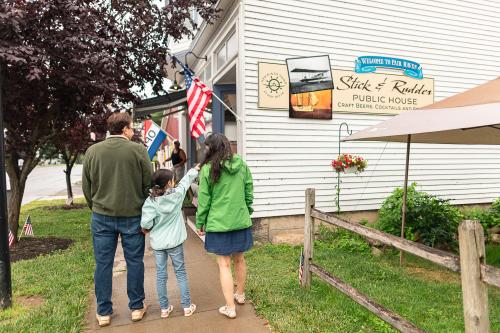 In King Ferry, King Cayuga Vodka produces environmentally friendly vodka. The wheat used is 100% natural, non-GMO, and local, conveniently located on the farm that homes the distillery. Any waste that is produced is recycled for use on the farm. All bottles are sourced from the fingers lakes area, less than an hour away. These three things cut down on our carbon footprint and help sustain American jobs.
Remember even small efforts can make a huge difference!