If you are craving something unique, Reese's Dairy Bar, part of the Finger Lakes Sweet Treat Trail is just the place for you. The experienced staff delivers a delicious full food menu with plenty of side dishes, too. The signature treat however is the homemade ice cream and desserts. Many delicacies are made at the shop, from family recipes that have been tweaked and perfected over the years that include only the finest ingredients.
Some unique homemade flavors include Peanut Butter Mud Pie, Lemon Bar, Key Lime Coconut Cheesecake, Sea Salt Caramel Chip, S'mores, Cinnamon Bun, and Very Berry Twist. Come try for yourself today!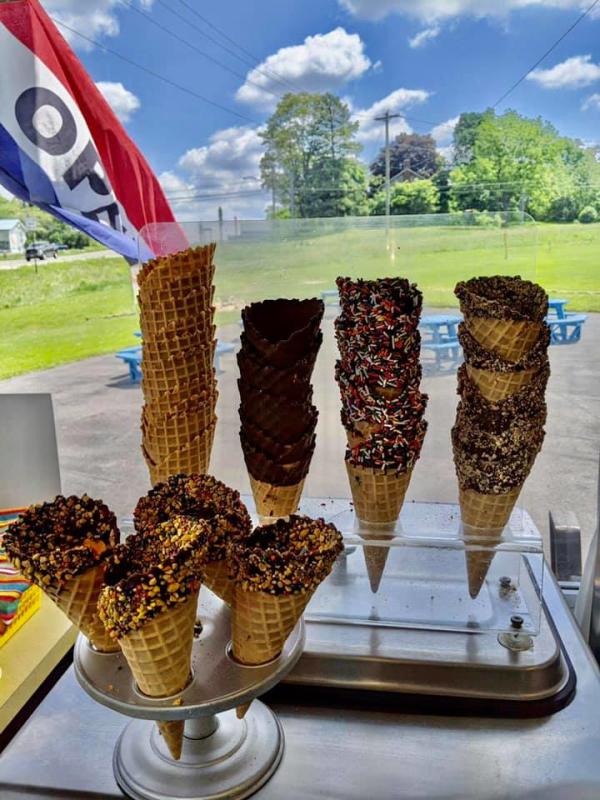 Indulge in a cone, sundae, banana split, smoothie, slush, shake, a huge list of flurries, ice cream sandwich/chipwich/cremewich, an ice cream soda, sherbet cooler, or float. Our expansive list of sundaes includes an apple dumpling sundae, rich fudge brownie sundae, strawberry shortcake, decadent turtle sundae, and our "Sweet Treat Trail Original & The Maple Bacon Sundae. This is made with our HOMEMADE French Vanilla Custard, topped with locally made Smokey Hollow maple syrup, crispy bacon, whipped cream, and a cherry!
Take home some ice cream from the carryout freezer, offering homemade ice cream/sherbet/Italian ice in true 64-ounce half gallons. Ice cream cakes are homemade and can be ordered ahead or decorated on the spot. A pint or quart of any soft serve on tap can be made while you wait or can be ordered ahead for faster service. You can even dine right here and enjoy outdoor seating at a picnic table.
Try soft serve "Dream Delite," a fat-free/cholesterol-free/low sugar/low calorie soft serve that is a heart healthy choice and allows you to indulge with no guilt. Dole Whip is also offered, which is lactose free, gluten-free, low or no fat, cholesterol free, low calorie, and most of our flavors are dairy free, too!  There are also other vegan, no-sugar-added, dairy-free, lactose-free and gluten-free options of favorite desserts waiting for you! Gluten-free cones are available upon request.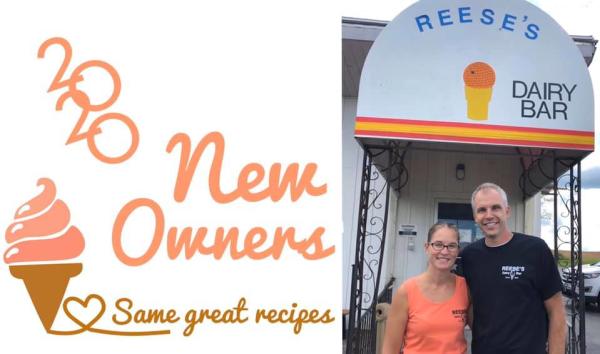 Penny and Jamison Mills purchased Reese's in November 2019.  Lifelong residents of Central New York, they are very excited to take over starting with season 48 in 2020. Even though there are new owners, fans of Reese's can expect the same homemade ice cream and freshly prepared foods they have come to love over the years. Open mid-March to mid-September, 7 days a week.
Customers at Reese's Dairy Bar receive excellent service from an award-winning staff, enjoy meals from a versatile menu for dine-in or carryout, and relax in a facility that is meticulously cleaned. New this year to Reese's - gift cards are available for sale in any denomination and make great gifts!  
"We are honored to be able to carry on the homemade ice cream traditions established here in Auburn.  The support we have received has been overwhelming.  We look forward to sharing sweet happiness with you for years to come!"   ~The Mills Family
Reese's Dairy Bar is located at 1422 Clark Street Road - Auburn, New York 13021.
For more info call them at (315) 252-7323 or email reeses@reesesdairybar.com
Find them online at: https://reesesdairybar.com/
https://www.facebook.com/ReesesDairyBar/
https://www.instagram.com/reesesdairybar/