A drive down any of the country roads in Cayuga County can be inspirational for an artist. Wide open vistas of the Owasco, Skaneateles and Cayuga Lakes, colorful sunsets and dramatic foliage will have photographers oohing, ahing and snapping away.
Picturesque farms with side yard vegetable gardens – with zucchini, beans and strawberries for sale at a stand - red barns and tile siloes are the epitome of Upstate New York telling the story of a hardworking life. Black and white dairy cows will watch you as you drive past, but will continue to chew away.
Fields of corn and soy beans ripple in the breeze.  Don't get me started on the round hay bales all lined up in the field. The way the light plays off of them is incredible. Even Monet would be inspired to paint here.
Clear blue skies dotted with the occasional fluffy cloud can inspire landscape painters while dazzling purple Loose Strife, pink Queen of the Meadow, Golden Rod and yellow Buttercups are a colorful palette worthy of any Van Gogh painting.
If you are a gardener, stop by a nursery like Dickman Farms for a new addition to your plant collection at your house.  Take a small growing piece of the Finger Lakes home that will remind you of your visit next Spring.
During any season the countryside can offer a new look at the region.  I can never quite decide which time of year I like best. During winter, you can see old foundations and the dark silhouettes of trees. The new tender greens of Spring and that special smell after a rain really grab me. But Summer with the rolling fields of wheat and other grains and the aroma of a family picnic are pretty good too. And glorious Fall when the maples, oaks and beeches are turning is not to be missed. You need to travel those country roads during every season take it all in.
---
Susan Marteney teaches Community Education classes at CCC and is a co-owner of Tuxill House, a European-style guest house in Auburn, an avid gardener and a community activist.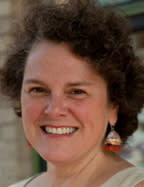 ---