Kick off summer in the Finger Lakes with a good old fashioned Memorial Day parade in Downtown Auburn. You will feel like you are either in a Norman Rockwell painting or on the movie set of "The Music Man" as the 101 trombones march down Genesee Street to the strains of "American, The Beautiful".
Starting off about 11 am and lead by local and State elected dignitaries, State troopers, police and fire fighters from the area escort the procession from east to west along the main street. Following in convertibles and other vintage cars are the true honorees of the day – Veterans of World War II, Korea and Viet Nam.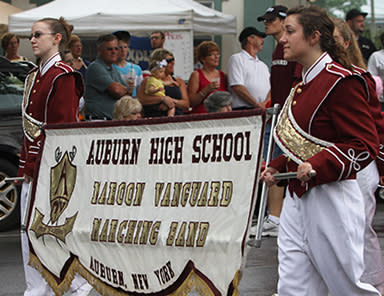 High School bands from all over the county converge and try to outdo each other. The Auburn High School band has been very successful in state-wide competitions and often premiere their theme for the next year during the parade. One year, it was "Surfer Dudes" with the members dressed in Hawaiian shirts playing hits from The Beach Boys and other California bands.
My favorite is the men in kilts. Today, there are women in the Highland Kiltie Pipe band, but the bagpipes do it for me. If all goes well, there will be a fly over from Fort Drum.
Fire trucks with whistles blasting, folks on vintage bicycles, Pop Warner teams, Boy Scouts and Girls Scout troops, floats from local businesses and agencies, Baseball and ice hockey teams all add to the fun.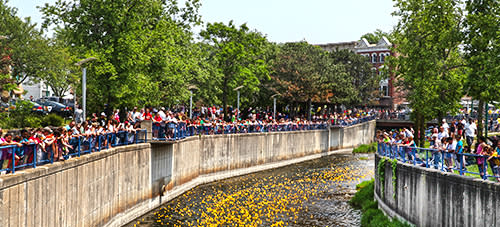 You might even be greeted by a 6 foot tall yellow duck selling tickets to the Annual Kiwanis Duck Derby. This event is hosted in Market Street Park in Downtown, after the parade and wreath laying, with music and hot dogs and, of course, the "running of the rubber duckies" in the Owasco River! It is quite exciting as 10,000 rubber ducks are released and rush down the course. Prizes range from a trip to Disneyworld to TVs to gift certificates. All proceeds are distributed to local charities by the Kiwanis Club.
Following the parade, there is a Wreath Laying Ceremony at Veterans' Park located just west of the County Office Building. There, the American Legion and other veterans groups pay homage to those in our community who gave their lives for freedom.
Finish the day off with a stop at Emerson Park for a walk along the shore of Owasco Lake.
A real Norman Rockwell Day for sure!
---
Susan Marteney teaches Community Education classes at CCC and is a co-owner of Tuxill House, a European-style guest house in Auburn, an avid gardener and a community activist.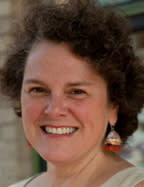 ---