This year kick off your holiday shopping on GREEN FRIDAY.

GREEN FRIDAY challenges everyone to shop sustainable brands during the holidays, shop small, local businesses, eat at local restaurants, and take time to slow down any enjoy good company and the holiday season. 
Here are a few ideas on how check a few names off your list while shopping locally and sustainably:
Cool Reusable Gifts: Tote bags, Water Bottles, Mugs,
Gift Coupons for an Experience: Short Trips, Theatre Tickets, Dinner Out, Museum Visits
Host a Game Night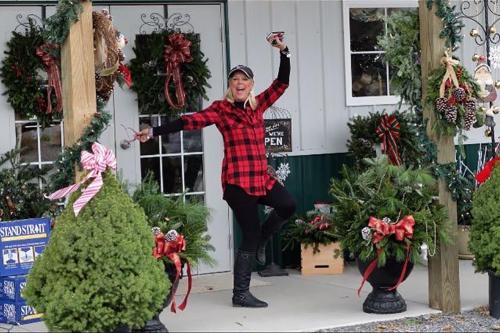 Below are just a few of the many Finger Lakes businesses, and specialty shops you can visit for gift inspiration!
Something for person with a sweet tooth on your list:
Searching for decadent chocolate that will win over even the pickiest chocolate connoisseur?  Gretchen's Confections has it all from delightful chocolate to sumptuous cups of hot cocoa and light fare as well.  This year order a box of their favorites, or a gift certificate if you simply can't decide what tasty treats to pick!  They will even ship your order!
Moonflower is a boutique pastry shop specializing in the French macaron. They offer macarons in fun colors and shapes, inspired by the season, they infuse the macaroons with flavors that are made with local ingredients, such as coffee, jam, and even beer! Stop in to shop our current selection or browse the website, where you can order macarons available for shipping nationwide.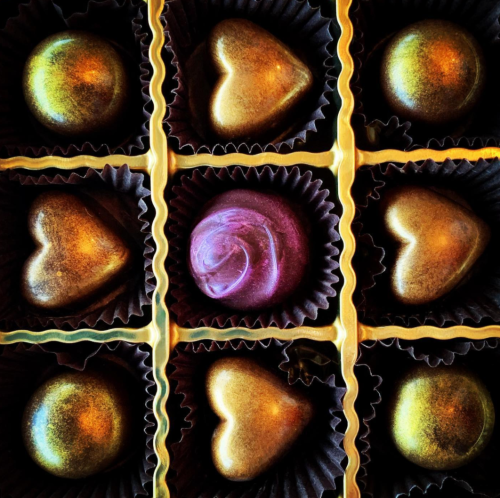 Looking for more yummy options?  Bradford Heights Marketplace located  in the Fingerlakes Mall, Auburn  features locally produced baked goods, raw honey, jams, jellies, handmade candy and more.  Who would not want a basket full of these sweet goodies to share with friends and family over the holiday season?
For the coffee lover:
No, we don't grow coffee beans here in the Finger Lakes, but we do roast it locally and the gift of locally roasted coffee is sure to be appreciated by any coffee lover.  Simple Roast Coffee in Auburn features delicious fair trade, organic beans and Crow City Roasters also in Auburn offers a variety of small batch artisan coffees.  
Hand Decorated Holiday Décor and Gifts:
The designers and artisans of MacKenzie-Childs in Aurora have created beautiful, original designs that have added joy and grace to homes throughout the world for more than 30 years. Their holiday themed collections include everything from paper goods to bottle stoppers to dish towels and are a unique addition to any gift basket. Online ordering available.
Check out these local shops who specialize in one of a kind, locally made, upcycled and sustainable products.
Check out one of Auburn's newest businesses Reuse Refuge! They offer a plethora of eco-friendly options in a cozy, friendly atmosphere.
Visit Regenerations in downtown Auburn for funky up-cycled wares and home decor.  Their store also features the work of local artists and is a great place to buy a variety of gifts including ceramics, jewelry, and ornaments. 
 If you are in northern Cayuga County, be sure to visit South Shore Artisans in Fair Haven, an artist co-op featuring a unique collection of fine and folks art, all crafted locally.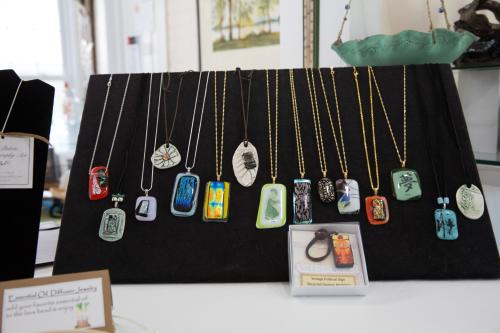 Are you looking for something totally different and full of sparkle and bling? Then visit Divine Coverings  they offer hand placed bling custom sunglasses, uniquely personalized bedazzled baby gifts, glittered products for women, brides and rhinestone covered office supplies for Divas of all ages.
Yellow Wallpaper Co. aims to bring unique, one-of-a-kind products into your home while reducing landfill waste by upcycling and reusing everything from furniture to home décor, making the old new again.
Suzie Q's Gifts and more offer many unique, handmade, one-of-a-kind gifts, jewelry, décor cards, handbags and more! Many items created by local artisans Look no further to find that hard to find perfect gift.
Looking to purchase a gift basket full of local product or make you own?
Even though strawberry picking season is over, the store at Strawberry Fields Hydroponic Farm is chock full of jams, jellies and more! Stop by to grab a fresh cut Christmas tree or peruse their custom-made wreaths and decorations in the full floral shop!
Stop by Taste of NY located in the Harriet Tubman Heritage Center in downtown Auburn, here you can buy items for your basket or already made-up baskets. Also, while there you can warm up and visit the exhibits.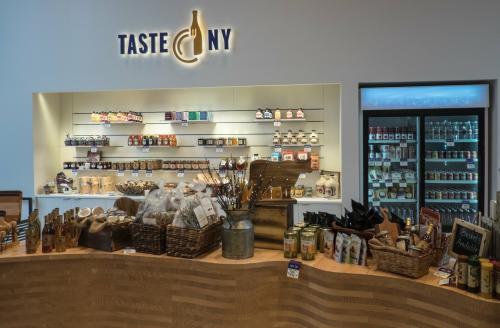 More Ideas for sustainable gift giving…
Gift Certificates to a restaurant are always welcome, visit out restaurants page for more information on areas restaurants.
Want to give that special someone a special gift they won't forget? Give them the gift of Hibercation!
Hibercation is described as part vacation, part vacation and 100% good for the soul. For more information visit:  https://www.tourcayuga.com/finger-lakes-hibercation/

Have a favorite place to shop in the Fingerlakes?  We'd love to hear about it. E-mail me at dawn@tourcayuga and tell me about your favorite place to shop