Situated smack between Auburn and Skaneateles on Rte. 20 which winds through the northern end of the Finger Lakes Region, Bee Attitudes Honey is a little touch of France in the Finger Lakes. Greeted by a field of purple lavender, guests approach a big barn where all the action takes place. Cornell-trained Master Beekeeper, Stephanie Williams, is assisted by her family – husband, Brandon; daughter, Hailey; and son, Mitchell - in the processing, packing and selling of the Finger Lakes honey products.
Bee Attittudes is also a stop along the new Finger Lakes Sweet Treat Trail!  So,on a sunny Saturday afternoon, 5 visiting college buddies and I ventured to a lavender essential oil making event. The air was pungent with the heady scent of lavender and literally buzzed with the hum of hundreds of busy bees. The horizon was dazzling with all shades of purple.  Stephanie and her helpful trio of workers planted over 12,000 plants this year. I love the scent of lavender and this was a bonus day for me!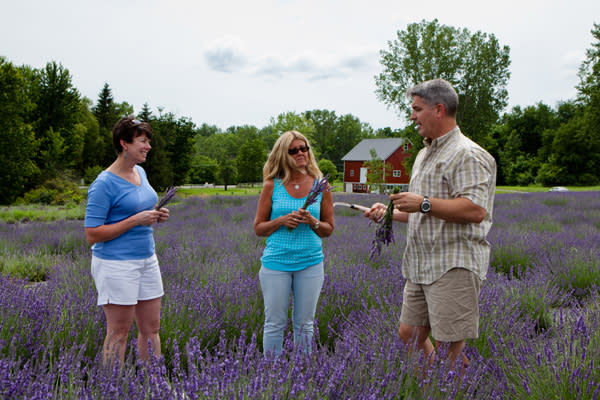 Tucked away in one area of the barn/garage, a huge pile of freshly cut flowers and stems were waiting to be fed into a hand-made copper still for the first step in the distillation of the lavender oil. A simple process, steam is used to extract oil from the flowers through evaporation and then condensation. A small stream of oil drips out as the final product. From crushed flower to oil takes about ½ hour. This is a basic science class that has a wonderful end result.
This process has been around for two thousand years and in all likelihood the still is exactly the same. Almost – Stephanie and her family now use propane rather than a wood fire for the heat source.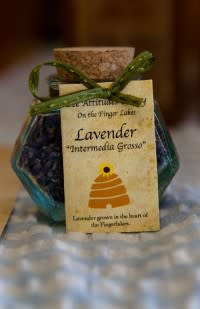 Essential oils are made around the world and include turpentine, spearmint and peppermint. Many people believe in the healing nature of pure essentials oils. Our gift for the day was a small bottle of lavender oil to appreciate in the coming months.
A copper "honey bar" takes up another corner of the barn. Not only is there delicious honey for sale, but there is granola, honey-lavender salt scrubs, Lavender biscotti along with various tonics, facial kits, room sprays and other specialties. Finger Lakes honey choices range from Fall Blossom which is dark and flavorful to Spring Blossom which is lighter in color and more delicate in taste to "untouched" and raw. Each has its own subtle taste - rather like sampling various Finger Lakes wines. All of us will be enjoying honey on toast or drizzled on Finger Lakes goat cheese this summer.
A small pond welcomes two families of Canada geese. The parents were very watchful of their young and the circling turkey vulture. In a few years, the Williams family will finally know if their experiment to raise truffles – not the chocolate type – is successful when they have the first harvest.
Stephanie recommends that you call ahead before you visit just to make sure she is ready for you at Bee Attitudes.
---
Susan Marteney teaches Community Education classes at CCC and is a co-owner of Tuxill House, a European-style guest house in Auburn, an avid gardener and a community activist.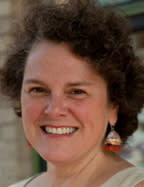 ---