National Black Business Month is celebrated in August, highlighting and appreciating Black-owned businesses across the United States. With Cayuga County being the chosen home of Harriet Tubman, celebrating diversity and equality is at our core.
While Harriet Tubman is most well known for her work as an Underground Railroad conductor and abolitionist, she was much more than that. She was a liberator, soldier, spy, wife, caregiver, public figure – and savvy entrepreneur and businesswoman.
Harriet Tubman: A Businesswoman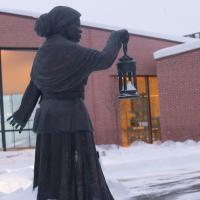 Examples of her business skills can be found throughout Harriet Tubman's life. In her early years when she was enslaved, Tubman negotiated with her enslaver to pay him a yearly fee so she could work for whomever she wanted. She hired herself out, earning enough money to buy two oxen which enabled her to do more work, so she was able to afford her dream of freedom.
During the Civil War, Tubman sold root beer and baked pies, which she sold to the soldiers. She also created a laundry and restaurant where she taught other women how to provide goods and services to the Union Army for pay.
Later, when she settled in Auburn, NY, she ran several businesses out of her home. She owned and operated her own farm, raising and selling pigs, cream and butter, eggs, and vegetables. And bartered with others in the community for household items she needed. On her property, Tubman oversaw the Home for Aged, which was one of the first nursing homes for Black Americans in the United States. Furthermore, Harriet Tubman spoke at many different suffrage meetings across the Northeast and used the speaker fees she earned to support her philanthropic work that helped those in need in her community.
Cayuga County Black Businesses of Today
It's important to understand the history of a destination and the people who made it what it is today. It is just as important to look at current day individuals and how they are shaping the world bringing ideas, inspiration, and economic growth for tomorrow.
Melody Smith Johnson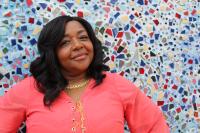 One such woman is Melody Smith Johnson, owner of Melody's.  A hybrid membership-based space for women who require office or retail space. This business, located in the center of downtown Auburn, NY, provides an opportunity for women to have a place to work, learn, come together and even dream. Melody's offers a co-working space, desks and a small conference area. This is not a space filled with cubicles and tiled floors - the space is decorated to sparkle and make those who enter feel warm and welcomed.
Members can join on a day pass, monthly pass or have a dedicated desk that can be used when needed. In the evenings and weekends, the space can be converted into a small event venue, available for small gatherings, classes, and space to s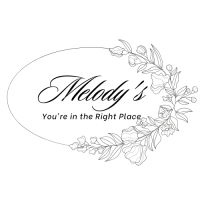 ell products for product-based businesses. There is also private space that can be sublet to professionals such as photographers, estheticians, and counselors. Even college students who are going to school remotely can use the space to attend virtual classes, study and do homework. For all women 18 years or older who need a space to get something done – whether living in the area of just visiting – Melody's is there for you!
This is not the only business in Melody Smith Johnson's repertoire. She started Divine Coverings as a home-based, on-line business six years ago, which offers uniquely beautiful products made from quality materials. (Her products are also on display at Melody's and available for sale there.)
Johnson says, "Divine Coverings puts products in front of women to remind women of how beautiful they are." The name "Divine Coverings" was inspired by Melody's appreciation of how God has faithfully and divinely covered her throughout life and in situations that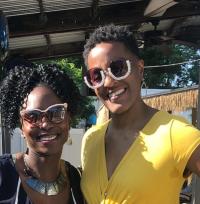 could have ruined her future.
Not only is Melody Smith Johnson a highly motivated and smart entrepreneur, she is also a philanthropist. In 2016, she founded a nonprofit organization, Beverly L. Smith Empowerment Initiative, in honor of her late mother, Beverly Smith. This organization connects young women of color from the inner cities across America, to financial and relational resources, allowing them the opportunity to reach their greatest potential. The Initiative awards scholarships and mentorships to deserving high school and college graduates, sponsors personal and professional development workshops and inspires young people to create the future they dream of. To date, the organization has granted $87,000 in scholarships.
It's inspiring to see the many qualities, attributes, and beliefs that Melody Smith Johnson shares with Harriet Tubman. Johnson was born and raised in Harlem, NY, and Auburn, NY is her chosen home, just like Auburn is the chosen home of Harriet Tubman. Tubman and Johnson both are successful entrepreneurs and philanthropists. They share the motto of "giving first."
Johnson states, "Harriet Tubman was driven by the fact that she could not have freedom alone. Freedom for her existed because she knew it was wrong for humans to be property, but she knew she couldn't be truly free until those she loved were also free."
For Melody Smith Johnson, she says that her success is not truly achieved unless she can help others who also want to be successful. Fittingly so, Johnson was invited to Emcee Harriet Tubman's family reunion held in Auburn this past July. The Cayuga County Legislature has dedicated July 28th as Melody Smith Johnson Day in honor of her service to the community.
Irie Jamaican Queen
Another great woman-owned Black business in Cayuga County will tantalize your tastebuds and satisfy your hunger! Irie Jamaican Queen serves authentic mouth-watering Jamaican dishes that are sure to delight! Patrice Henry opened Irie Jamaican Queen as a food truck in 2021 after operating a restaurant with the same name years ago. The food is delicious and always served with a smile. Not only will your stomach enjoy the experience, your wallet will as well!
As we look back on the successes of Harriet Tubman and appreciate what she did as an entrepreneur who was a trailblazer working to bring equality to all, we also look forward and appreciate the contributions of current day female, Black business owners in our neighborhoods whose hard work and dedication continue to bring opportunity and diversity to our communities.