New Hope Mills started in Moravia, NY as a flour mill servicing the local farming community since 1823. Nearly 200 years later the business is still alive. Doug Weed, the 3rd generation Owner and CEO fondly recalls days in his youth, mixing and packing flour at the location everyone in the NHM family calls, 'The Old Mill.' Working alongside his Father and Grandfather, Doug and his siblings and cousins learned the value of hard work and the tools and trade of milling, mixing and packing what has become Central NY's favorite pancake mix! In 2004, New Hope Mills moved operations to Auburn, NY which allowed an expansion of the mix production. This also enabled the store to grow through addition of a café in 2009 and then remodeled with additional seating in 2017.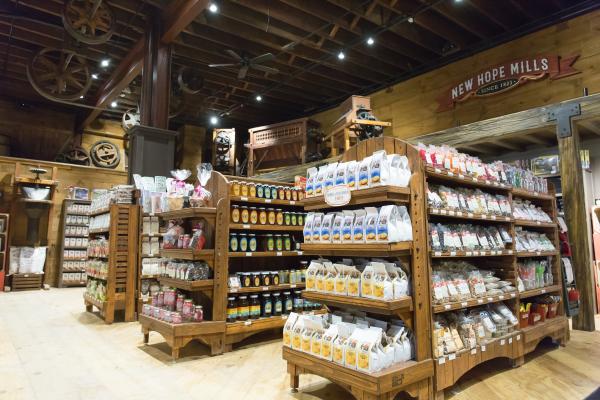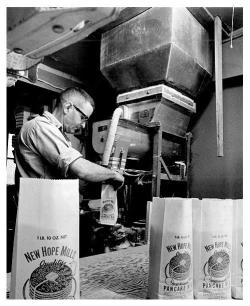 We produce 20 pancake mixes along with several other varieties of mixes under the New Hope Mills brand and co-pack a large variety of mixes for other companies all over the United States. Our classic Buttermilk in the yellow bag is the best seller. Our oldest mix, Old Fashioned Buckwheat, which has a slightly nutty flavor, is the second-best seller. Pancakes are not all that we offer - in our store and café you can shop and enjoy a meal in our historical setting. Enjoy a hot breakfast, lunch, Friday fish, fresh baked goods, locally roasted coffee, 100% fruit smoothies, espresso drinks, and more. In our store, you will find something for everyone, such as baking mixes, syrups, teas, jams, honey, popcorn, puzzles, gifts, locally made items, and unique kitchen finds.
Since 1823, New Hope Mills has been committed to delivering high-quality products with natural ingredients. Our mission is to steward God's creation, support local communities and carry the New Hope Mills legacy forward with honor, integrity, and determination to help families make lasting memories around the table.
New Hope Mills - helping families make memories around the table since 1823. Good food, smiling faces, growing relationships and making lasting memories - that's why I do this. ~Doug Weed
---
New Hope Mills is located at 181 York Street - Auburn, New York 13021. Open 7 AM Monday – Saturday. The café closes at 3 PM and the store closes at 4 PM. Closed Sundays. For more info call them at (315) 252-2676 or email Store@newhopemills.com. Find them online at: www.newhopemills.com https://www.facebook.com/newhopemills/ https://www.instagram.com/newhopemills/