The welcoming honk of migrating Canada geese and the wafting aroma of cow are true heralds of Spring in the Finger Lakes. My fingers have been twitching for the last few weeks as the snow has started to melt and the temperatures are reaching up close to 60. I am ready to start getting dirt under my fingernails. This means some thoughtful pondering about new plants for both the flower and vegetable gardens.
Dickman Farms, Ar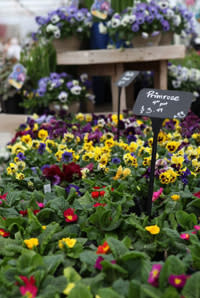 chie Street, Auburn is a great place to visit at any time of year. A huge - and I mean huge - green house offers a wide variety of plant materials at any season. Trees, shrubs, perennials, annuals, orchids, colorful Italian pots, cactus, water features, fountains and a very nice gift shop.
I purchased a fountain last fall and have been dreaming all winter about where it will go in my own yard. The soft murmur of water just makes me feel cool during the hot summer. My old foundation was a 5 gallon galvanized tub with a copper pipe taped to a fish tank bubbler. It worked and the sparrows and cardinals took long baths while the neighborhood cats enjoyed a quick drink. This summer, the garden will be styling for sure.
This time of year, I can be tempted by those smiling yellow and purple pansies that will last until the first snow. The staff is very helpful and ready to answer any questions. During the year, Dickman's offers classes and workshop on topics from making tufa planters to living wreaths.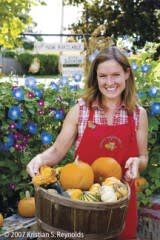 Morgan's Half Acre Produce located at the corner of West Genesee Street Road and Rote 326 at the edge of Auburn, and The Produce Place, 293 Cayuga Street, Union Springs, offer hanging plants, vegetables seedlings and a wide assortment of other flora for any taste. Each stand also offers tasty treats too.
The Auburn Beautification Commission will host a Garden Tour on Sunday, July 14. I cannot tell you which gardens will be included as it is a surprise each year when you start off on the afternoon adventure.  This is a rare opportunity to see a private backyard or an established perennial garden and talk to a knowledgeable horticulturalist.  I participated three years ago and enjoyed preparing my own yard. It was hard, hot and dirty work, but worth it to share the beauty with guests. 
Hoopes Park, located on East Genesee Street and maintained by the City of Auburn, is a real gem. There is a Club House situated at the edge of the pond, winding paths for a walk and seating through the park for a rest under a canopy of maples and sycamores. Bring along some bread crusts to feed the ducks.
During the summer on Tuesday and Thursday nights, there are concerts and outdoor movies. An ice cream truck usually comes through the neighborhood just about the time the movie starts. It is BYOC – Bring Your Own Chair.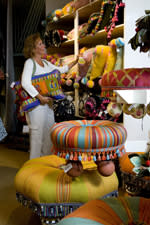 The studio barn of Mackenzie-Childs, home to world-renowned majolica tableware and furnishings in Aurora, is situated on a 65-acre farm with a gracious brick drive leading visitors past the farmhouse, a duck pond, elaborate chicken house and finally to the shop.
But don't miss the garden near the barn – site of the summer sale to be held at a date as yet unknown – which is so full of every color of annual and perennial that is almost overwhelming. I am sure some of the local manure from their Highland cattle must be used for the delphinium to be as tall as it is. There are often Victorian favorites like Cock's Comb, iris and French marigolds. It is a sight to enjoy after some quick shopping and a tour of the studio.
Don't be scared about taking a plant home with you. It is a great way to remember a visit to the Finger Lakes for years to come.
---
Susan Marteney is an adjunct professor at Cayuga Community College teaching Art History; co-owner of Tuxill House, a European-style guest house in Auburn; an avid gardener; and a community activist.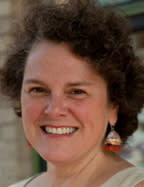 ---