See "The Journey to Freedom" Sculpture and more!
Take a Summertime Adventure in Harriet Tubman's Hometown
Summertime in the beautiful Finger Lakes Region of New York State is a spectacular time of year to take a vacation and have an adventure. Here you will find an abundance of delicious culinary offerings, craft beverages in the breweries, wineries & distilleries, cultural attractions, and of course, pristine lakes and parks. Cayuga County is situated in the center of the Finger Lakes and offers all the amenities and opportunities the region is famous for. Beyond that, Cayuga County has the distinction of being the chosen home of Harriet Tubman, the famous Underground Railroad conductor known as the "Moses of her people." Tubman lived as a free woman in the city of Auburn – the place she called home for the last 54 years of her life.
Although Auburn, NY is her hometown, Harriet Tubman has touched the hearts of many people and communities throughout history and in modern day. One such person is Academy Award-winning artist and sculptor Wesley Wofford, FNSS. Wofford is an American Figurative Sculptor. His installations and portraits can be found in public and private locations throughout the United States. Wesley is known for his intimate, emotionally charged creations. Wofford's most significant monument to date is a nine-foot sculpture of Harriet Tubman entitled "The Journey to Freedom" and highlights Tubman as a role model and hero, depicting her heroic travels from the South to the North to free enslaved individuals.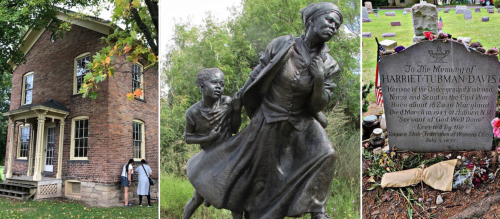 This incredible monument of Harriet Tubman has come home! In fact, it is situated on Harriet Tubman's property (Harriet Tubman Home and Harriet Tubman National Historical Park) from now through the end of August. Whether you have one day or a full weekend to follow in Tubman's footsteps, here are some stops to round out your visit:
DAY ONE
NYS Equal Rights Heritage Center (Recommended Time: 1 Hour)
Auburn's Welcome Center features a state-of-the-art exhibition titled "seeing Equal Rights in NYS" where New York State's progressive history supporting equality comes to life through interactive displays. Experience the creative ways New Yorkers organized to stand for justice and learn about the key contributors from the 1800s to modern day. You can also take a "Walk in Tubman's Footsteps" walking tour, led by the National Park Service, which leave from the Harriet Tubman Statue in the courtyard of the NYS Equal Rights Heritage Center at 10 AM on Thursdays, Fridays and Saturdays.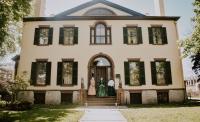 Seward House Museum (Recommended Time: 1 Hour)
Located next door to the NYS Equal Rights Heritage Center is the home of William Henry Seward (1801-1872). This home-turned-museum opened to the public in 1955, was designated a National Historic Landmark in 1964 and now displays one of the most original collections of any historic home in America. This home was also a stop along the Underground Railroad, and you can see the actual place where freedom seekers stayed during their journey through.
Harriet Tubman Home (Recommended Time: 1-1.5 Hours)
2022 marks the 200th birthday of Harriet Tubman. Her spirit lives on in her chosen hometown. Astound at the connections and pathways of this historic figure and the strides made that still have impact on life today. This is where you will see the "Journey to Freedom" Statue. A tour of the home is strongly encouraged (available at 10:00 AM and 2:00 PM), but not necessary to view the statue.
Strawberry Fields Hydroponic Farm (Recommended Time: 1-1.5 Hours)
Did you know that the strawberry was one of Harriet Tubman's favorite fruits? At Strawberry Fields, you can stretch your legs and get some fresh air with u-pick strawberries. From June through October, strawberries grow in special containers up off the ground, making them easy to pick for everyone! Find the perfect take-home treasure in their unique gift and floral shop.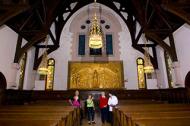 Willard Memorial Chapel (Recommended Time: 1 Hour)
Take in this incredible building and piece of local history from floor to ceiling. This chapel is the only complete and unaltered Tiffany Chapel known to exist. Included in the Tiffany interior are 14 opalescent windows, a rose window, a large figure window, nine Moresque-styled chandeliers, memorial tables of glass mosaic tile and gilt bronze, furnishings of oak inlaid with metal and glass mosaic, a ceiling with golf leaf stencils and mosaic flooring.
Wet your whistle and tantalize your tastebuds at this modern gastropub, offering meals in a vibrant and neighborly atmosphere. *Fun fact about the Springside Inn – it was a stop on the Underground Railroad!
Complete your stay with an overnight(s) at this beautiful accommodation situated perfectly to take a walk around downtown Auburn where you can enjoy local bars, restaurants, and museums.
DAY TWO
New Hope Mills, Hunter Dinerant, or Pavlov's
Grab a tasty breakfast at any of these establishments before heading south to the Sherwood Equal Rights District.
Howland Stone Store Museum (Recommended Time: 1 Hour)
You don't come across many destinations designated as an Equal Rights District. Within the District, this museum is where you can see an actual Underground Railroad ticket, letters, diaries of Emily Howland and more.
Opendore Project (Recommended Time: 1 Hour)
Down the road from the Howland Stone Store Museum, you can learn about the fascinating story of Emily Howland and how the new, 21st century version of Opendore came to be. It's a true example of a community coming together to keep history alive.
Historic Howland House and 19th Century Farm Museum (Recommended Time: 1-1.5 Hours)
About a mile down the road, you will find this museum. In its early stages of opening, it has a goal of becoming a working farm museum to host events and tours. Currently open by appointment only, but so worth the visit to see artifacts and the chance to ignite a new passion.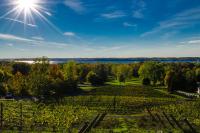 Quarry Ridge Winery or Heart and Hands Wine Company (Recommended Time: 1 Hour)
Enjoy a leisurely afternoon with a wine tasting at these stunning wineries.
MacKenzie-Childs Outlet (Recommended Time: 1.5 Hours)
Set on a picturesque farm overlooking Cayuga Lake, you can tour the restored Victorian Farmhouse and see the beautiful hand-decorated ceramic tableware and home furnishings produced by MacKenzie-Childs artisans. Make sure you take a stroll through the retail shop and enjoy the country gardens.
Apple Station Winery (Recommended Time: 1 Hour)
Apples are another one of Harriet Tubman's favorite fruits. Stop in Cayuga, NY on your way back to Auburn and visit this unique winery offering fruit wines and spirits.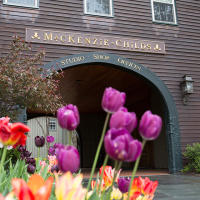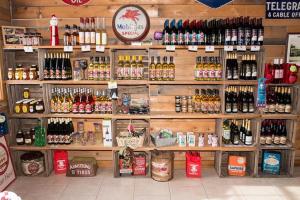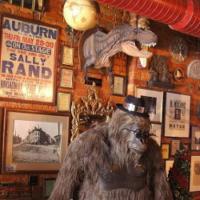 You may be hungry and thirsty when you arrive back in Auburn. Stop in this local favorite where you'll be amazed by its unique oddities – trinkets, displays or gargoyles. The fascinating décor will be the topic of the evening for sure, if you're not sill reliving all the little-known history you learned along the way.
Fort Hill Cemetery (Recommended Time: 30 minutes)
Complete your 48-hour tour of Harriet Tubman's hometown with a walk around this beautiful, local landmark. Among the many notable historic figures that are laid to rest here is Harriet Tubman. Download a map here.  (#17 on the Fort Hill Cemetery map.) Visit her gravesite and pay your respects before ending your adventure.
As you bid farewell to Cayuga County, you'll be sure to leave with a new sense of purpose, bravery and quest for knowledge and peace.