Art has always played an important role in life, especially now more people than ever are finding different ways to be creative and new ways to express feelings and emotions. While some people are picking up a paint brush for the first time or hot gluing colorful wreaths or bedazzling everything in sight facilities that we typically think of for displaying art are crafting ways to engage the community and reimagine art.
In the northern part of Cayuga County, the Fair Haven Arts Center that defines its purpose as "to enhance involvement in the arts for those in the greater Fair Haven community, to facilitate education in the arts for all ages". Now more than ever that is what they are doing with sewing (mask) projects, virtual art shows and writing workshops. One more of their recent endeavors, with Kelly Jackson is a virtual Earth Day art show for kids. All of the submissions in various mediums can be viewed at www.kellyjacksonartist.wixsite.com. It is disheartening that we can't all be together now, but the bright part of virtual events, shows and exhibits is that they are bringing the community, art, and heart to a wider audience and share with them what makes the art and artists of Cayuga County special.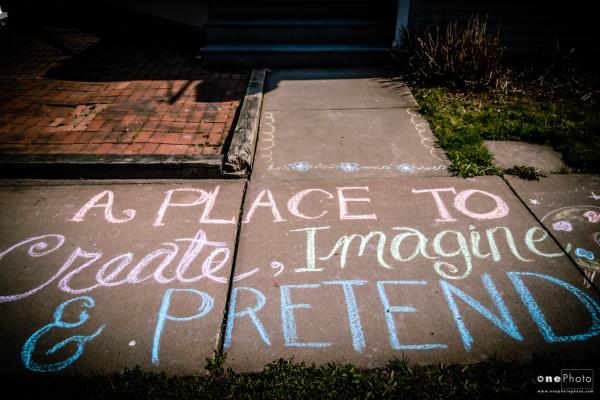 Speaking of unlocking your inner artist Jesse Kline created Operation Positive Downtown in Auburn which she describes as "BID and Finger Lakes Art Council have partnered to decorate windows with positive images & messaging. Shep's Brewing Co. & Jim Driscoll's building are the first locations, then A.T. Walley, Next Chapter Brewpub, Schine Theater, PURE Market, Hairlooms & East Hill Family Medical.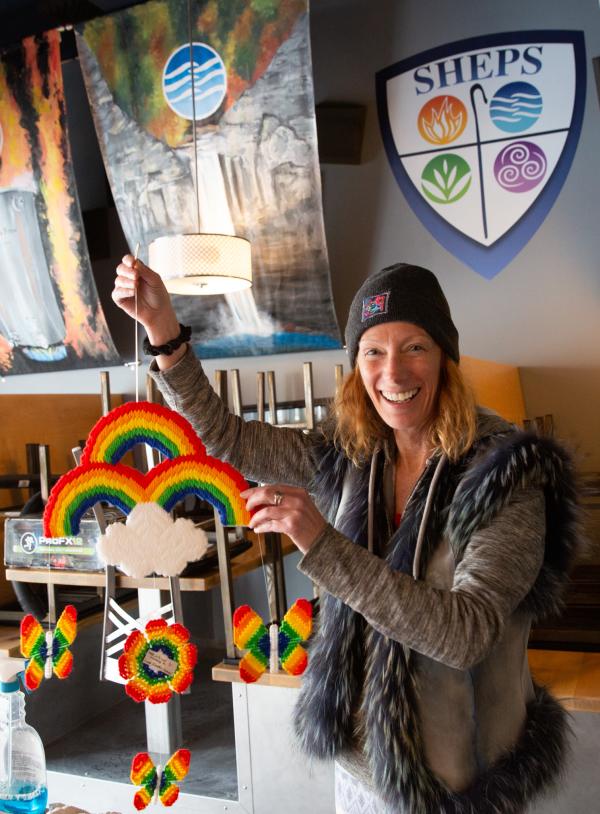 Huge thanks to 20+ artists that created lovely hearts & rainbows and signs for the windows. We also thank our community artists for helping create the installs, Sandy Shutter, Maureen McEvers, Kevin Burke, Amanda Tallcot, Dawn Jordan, Sally Stormon, Kasha Fletcher & Stefanie Corey. If you are interested in creating art, or offering a location, please email jesse@auburndowntown.org. Also, big thanks to those that decorated their windows, like Liberty Store & Moondog's Lounge. It brightens our spirits So, when you are out stretching your legs (wearing your mask) or getting out for a drive and change of scenery be sure to peruse downtown and check out the art at The Good Shepherds Brewing Company. It will put some color in your day and a smile on your face.
Stephanie DeVito says, "Operation Positive Downtown is important because it gives a sense of community, and right now, in this time of being apart from one another, we need to have hope and togetherness." Which speaks to exactly what art and the spirit of creation that is individual expression that builds a community.
If you are looking to be creative and support those in need you can visit the Fair Haven Community Arts Center website for sewing mask tutorial and directions of how to have your creations picked up or where you can drop them off so that they can be sent to those in need, firstly to those locally. Or if you are interested in creating art, or offering a location, please email jesse@auburndowntown.org. Post your ventures to social media and us #OurCayuga and #SupportCayuga.
---
THANK YOU to Kyle Meddaugh from onePhoto for our images of Fair Haven!!  Kyle is a talented, visual storyteller and his work has been featured in a variety of our publications.  The Cayuga County Office of Tourism cannot thank him enough for his dedicated support to the Village of Fair Haven and Cayuga County as a whole!