I can still recall my first memories of the local drive-in as a child. A bucket of Kentucky Fried Chicken, my first adventure using a spork, and Star Wars...how more nostalgic can it get?  There is nothing more mesmerizing to a five year old than watching Obi-Wan Kenobi and Luke Skywalker with their light sabers on the big screen with a starry night sky as a backdrop. Nevertheless, this blog isn't about the fried chicken or even the scent of popcorn that left the family car with a buttery aroma for at least a couple of days.
Every weekend, just like many other families, the big night out was at the local drive-in, and I can recall many of those magical movie moments spent in my father's black, Pontiac Grand Am. Little did I know, that just as I being was introduced to the magic of the drive-in, it would all be over too soon.  By the early 1980's the allure of the drive-in was waning throughout much of the country, and not long after, our favorite drive-in was an abandoned field.  So, imagine my excitement when I moved to this region and quickly discovered the Finger Lakes Drive-In. The enchantment picked up where it had left off for me as a child, and it continued on as I bestowed those same experiences to my children.
Nostalgia at the Drive-In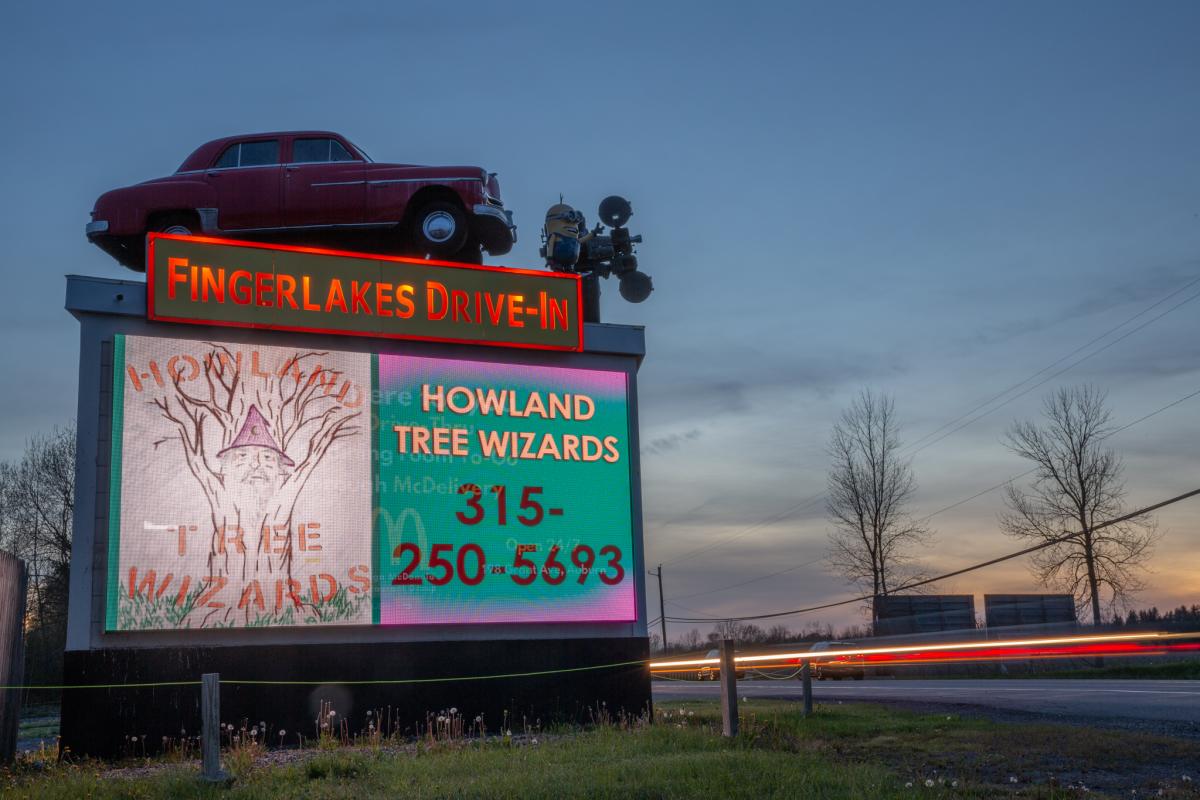 The first US drive-in was built in 1928, but this slice of Americana really took front seat in the 50's.  At the height of it's reign, there were over 4,000+ drive-ins here in the US.  Nowadays that number has significantly dwindled to around 400.  The iconic Finger Lakes Drive-In, which opened in 1947, is one of those surviving theaters, and holds the title of the oldest operating drive-in located in New York State.
Rightfully so, the Finger Lakes Drive-In has more historical ties, because it is all about location! The love of the car spurred the drive-in and befittingly this nostalgic treasure resides on a historic byway!  The Finger Lakes Drive-In is appropriately located along the corridor of historic Routes of 5 and 20, two routes which transverse New York State, and periodically merge together.  Interestingly so, the two highways unify together for 68 miles in the western part of NYS and this section of roadway connects a total of nine, yes, nine of the eleven Finger Lakes!
Not only is the drive-in a classic, but so is part of their new signage!  There is no way to miss this mix of modern meets retro!  Atop of the brightly lit electronic sign sits their iconic classic car, and other movie memorabilia - including a storm trooper, minion, an old school movie projector and best of all, Darth Vader.  The fun does not stop there!  Their charming ticket booth still sports a neon vintage sign and is a welcoming part of the drive-in experience!   
That isn't the only surprise!  One of the retro qualities of this drive-in, and now considered a fun novelty, is the fact they still have the original speakers, and they work!  So when you drive up to your chosen spot, you can take a trip down memory land and listen in on one of these vintage pieces of history. The sound is not pristine, and the speakers may not be ideal for moviegoers, but don't worry, tune in your radio and enjoy the show.
More than Movies on the Big Screen
Paul Meyer purchased the drive-in eight years ago and hasn't looked back since!  He has invested in new digital equipment for the drive-in and is always a front runner!  In the past, the drive-in has offered themed events and has been available to rent out for the evening!  Some of their past events include a "FLEE Market Garage Sale" and an occasional wedding too!!
It doesn't just stop there! What drive-in doesn't embrace Halloween or a good horror flick?  In the past, Halloween has been a big draw for the drive-in with themed events that have included haunted walks, horror movies, costume contests and much more!!  Although those bone chilling experiences may be currently on hold, we are certain the drive-in will find creative ways to celebrate while minding social distancing protocol. 
A Drive-In that Cares!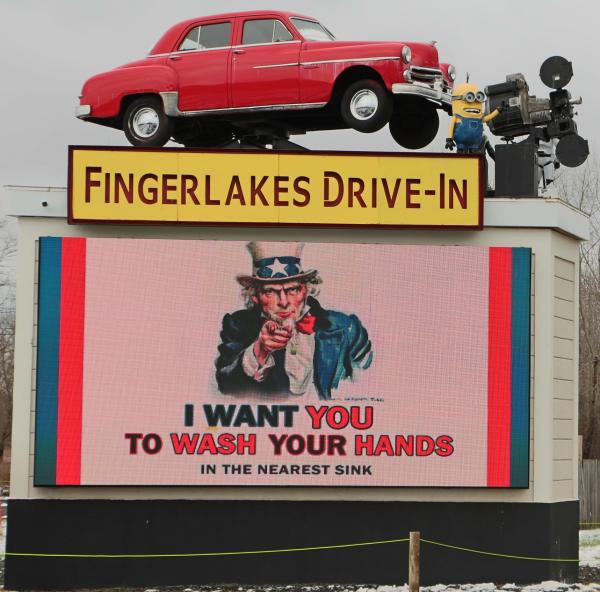 Owner Paul Meyer stresses that safety is the most important thing at this time, not only does the drive-in want everyone to be safe, but they put out a message onto their new digital sign that says it best!  
In an effort to help with the need for PPE, back in late March the drive in was promoting handwashing and donated PPE to local agencies with a "COVID 19 CHALLENGE" posted to their facebook page.  The challenge asked facebook followers to share, like and comment on their post - "I Want You, to Wash Your Hands" message with the goal of reaching 100k people in one week!  The drive-in succeed in their goal and donated 20,000 new protective gloves to the Cayuga County Emergency Management Office. 
The message went viral and Paul reported they were featured on CBS news, which is outstanding!  Kudos!!
Special Words from Paul
We asked Paul a coupe of questions that we have been asked all of our Cayuga County businesses.
Q. WHAT ARE YOU LOOKING FORWARD TO?
A. Looking forward to movies and entertainment at the drive in.
Q. WHAT IS YOUR BIGGEST CHALLENGE AT THIS TIME?
A. Keeping people safe is my highest priority!
What to Expect when You Come
Pricing: Cash (Exact Change) Admission $10 for ages 12+, Ages 5-11 are only $4, and kids under 4 are FREE. 
Advance sales are available online otherwise it is cash only. 
Please bring your mask if you plan to venture out of your car.  Please be mindful of social distancing, and in regards to restrooms (even though there have been updates and renovations to their restrooms)  - at this time it is for emergency use only, so please use the bathroom at home before you come.
Check out their facebook page or our events calendar for more information on prices and movies that are playing.  
The drive-in has a concession stand and politely asks that no outside food is brought in. 
Other housekeeping notes:
Shoes must be worn at all times
If you leave, you will not be allowed to re-enter
Trash cans and recycle bins are conveniently located on each side of the concession building and at the exits.
Cell phones and other devices plugged into your car may interfere with the radio sound
Please be considerate of those around you.
Vans and SUV's must park in the rear of the lot.  If you open your hatch you must park at the far ends of a row, not in the middle, in order to not block the view of smaller vehicles. 
Any hatches open must be tied down so they are not higher than the level of the roof of the vehicle.
Pets on a leash are welcome.
Speakers are still available for sound but they strongly encourage the use of their FM radio transmission.  Be sure to tune your radio to 101.9 FM and enjoy the show!!