Ever wonder what William Seward and his family were growing and eating out of their vegetable garden in the 1860's? Stop by the historic home at 33 South Street, Auburn to get the answer. There are various herbs like mint and borage, tomatoes, cucumbers, pole beans, squash and much more. Explore varieties of heirloom plants.
A delightful fountain which features two children under an open umbrella will be gurgling in the back ground. Colorful annuals and perennials brighten up the beds as you meander the pathways to the "summer house" at the back edge of the garden. It is hard to believe that this tranquil setting is smack in the center of Auburn right next to the Farmers' Market and City Hall.
I like to picture myself in the garden wearing a long summer gown swinging my parasol while perhaps sitting for an hour or two reading "Little Women" or "Uncle Tom's Cabin" even a tantalizing book by the outrageous Mark Twain.
As you tour the house and see the stunning dining room table set with imported china and silver place settings, think what it would be like if you were a guest and enjoying a fine dinner with William Seward.
---
Susan Marteney teaches Community Education classes at CCC and is a co-owner of Tuxill House, a European-style guest house in Auburn, an avid gardener and a community activist.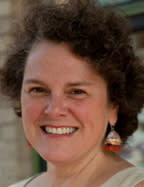 ---