The month of September is recognized as International Underground Railroad Month. It was during this month when two of the most recognized freedom seekers, Harriet Tubman and Frederick Douglass, escaped from slavery in Maryland. Both Tubman and Douglass chose to live their lives as free people in the beautiful Finger Lakes region of upstate New York. Frederick Douglass lived in Rochester, NY and Harriet Tubman lived in Auburn, NY, about 60 miles away from each other. They each lived in their chosen hometowns longer than they lived anywhere else in their lives and it is in these cities where they both are laid to rest, respectively.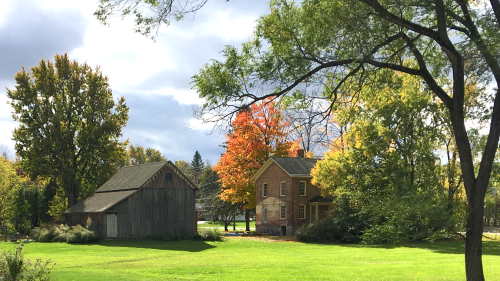 This is one of the many reasons that New York State has strong ties to the Underground Railroad. Many abolitionists lived here, and many freedom seekers passed through or settled here. Of course, the Underground Railroad was not an actual railroad, it was comprised of a network of people and safe houses. Railroad terminology and symbols were used to conceal the secret activities of the movement. The covert operation was built in secrecy to help enslaved people escape slavery.
The Underground Railroad in Harriet Tubman's Hometown
Today, there are well known places in Cayuga County where the story of the Underground Railroad is told. Places such as Harriet Tubman Home and Harriet Tubman National Historical Park, the site where Tubman bought and owned the land to build her home, as well as the Home for the Aged.  Fort Hill Cemetery where Harriet Tubman is laid to rest.  The Seward House Museum, one of Auburn's most notable Underground Railroad stations, was opened to the public in 1955, and designated a National Historic Landmark in 1964. The Howland Stone Store Museum, originally built by Slocum Howland in 1837 as a general store, also served as a stop on the Underground Railroad, and NYS Equal Rights Heritage Center, where New York State's progressive history supporting equality – the human rights movement, abolition of slavery and women's rights movement – comes alive through interactive displays.
However, there's a lot more to see in the area that recognizes the locations and people that played a part in this secret network. There have been over 100 documented connections in Cayuga County to the Underground Railroad. In addition to the well-known locations, you can find many of the lesser known, secret stops in Cayuga County with the free app called Harriet Tubman Underground Railroad Tour. This is a driving tour that offers two routes to guide you through the Underground Railroad journey in Cayuga County. The Auburn driving tour has 34 sites, and the Cayuga County driving tour has an additional 27 sites. Click here to access and download the app.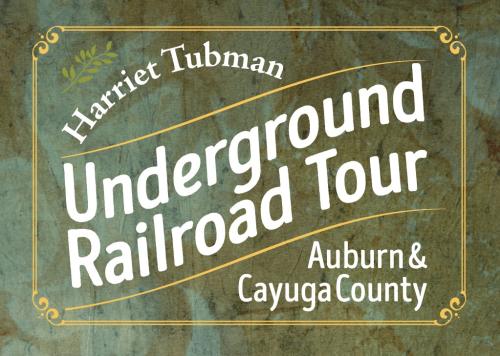 Secret Places and Spaces of the Underground Railroad
Pay tribute to the brave women and men who risked their lives and freedom by visiting or driving by a mixture of well-known and lesser-known locations. Here are 10 of the spots where secrets of the Underground Railroad lived.
Elijah and Georgia Steward House – Elijah was Harriet Tubman's nephew. He and his wife Georgia rented this house from John Reed, a freedom seeker from Maryland, and lived here with their daughter.
Elliott-Stewart House - Thomas Elliott's escape from enslavement is legendary. A friend of Harriet Tubman's was part of a large group known as the "Dover Eight," who were betrayed for a $3000 reward for their capture, and jailed in Dover, Delaware. Tubman's niece, Ann Marie Stewart, escaped slavery and married Elliott in Auburn in 1863. They built this small house in 1868 and raised their family here.
Philip and Mary Gaskin Elliott House - Mary Elliott grew up across the street from this house, daughter of Thomas Elliott and Ann Marie Stewart. This is where she lived after she married Philip Gaskin, who was a barber. Mary Gaskin Elliott and many Stewart relatives helped care for her great-aunt Harriet Tubman during Tubman's last years.
Belt-Gaskin House - Born in Maryland, probably in slavery, Rachel and Thomas Belt built this house between 1868 and 1870. This house has been continuously inhabited by freedom seekers and their descendants.
William Henry Stewart Jr. House - William Henry Stewart, Harriet Tubman's brother, escaped slavery with Tubman's help on Christmas Day in 1854. He and his son, William Henry Stewart, Jr., moved to Auburn to be closer to "Aunt Harriet." William, Jr. and his wife Emma Moseby Stewart lived here in 1880, replacing the original home with this one around 1899.
Thompson Memorial African Methodist Episcopal Zion Church - In 1891, the congregation built a bigger church here, named after Henry Thompson, the first local AME Zion bishop and a freedom seeker. Harriet Tubman attended services here for the last 20 years of her life and her funeral was conducted in this church on March 13, 1913.
Cayuga County Courthouse - Site of two landmark trials relating to abolition and the Underground Railroad. In 1846, William Henry Seward defended William Freeman, a Black man accused of murdering four people, on grounds of insanity, the first time that such a defense was raised in the United States.
Luke and Catherine Freeman House - Born enslaved in Auburn, Morgan "Luke" Freeman (1803-63) was freed as a young man and became a gunsmith and barber. Beginning in 1834, he and his wife Catherine ran Auburn's major Underground Railroad station.
Northern Independent Newspaper - Beginning in 1857, this site was the office of William Hosmer and the Northern Independent, a national abolitionist newspaper located in an earlier building on this site. 
Abijah Fitch House - Built between 1837-41 for Abijah and Lanah Fitch. Fitch was a keeper of an Underground Railroad safe house. The Fitches sold lots around Auburn to freedom seekers who established homes and families here after the Civil War.
As we look back at the Underground Railroad and all the brave men and women who lived their lives carrying its secrets, a trip to Cayuga County is a great way to honor them. As you visit these historic spots, take a moment to reflect on your own thoughts on equality and what it means to you.