Did you know that Auburn and Cayuga County have deep ties to the Underground Railroad? In honor of September being International Underground Railroad month, we suggest you see these stops around Cayuga County associated with the famed path to freedom.
About the Underground Railroad
The Underground Railroad is considered by many to be the first great freedom movement in the Americas and the first time that people of different races and faiths worked together in harmony for freedom and justice. It began to take shape in the early 19th century by a group of abolitionists - people who believed in human rights and equality, and supported the abolition, or termination, of slavery. The term "Underground Railroad" began to be used in the 1830s. By then, an informal covert network to help enslaved people escape slavery had evolved. One of the most well-known leaders of this initiative was Harriet Tubman, one of the most courageous heroes in American history. Although the numbers are not exact, as this was all done in secrecy, it is believed that she led about 70 enslaved individuals from the South to freedom in the North.
The Underground Railroad was not an actual railroad, it was comprised of a network of people and safe houses. Railroad terminology and symbols were used to conceal the secret activities of the network. Individuals such as Harriet Tubman, who helped enslaved people on their journeys to freedom, were called "conductors." The terms "passengers," "cargo," "package" and "freight" referred to escaped enslaved people. Passengers were delivered to "stations" which were safe houses, which were everyday buildings such as family homes, churches, and businesses. They were located in various cities and towns and were places of temporary refuge. Stations could sometimes be identified by lit candles in windows or by strategically placed lanterns in front yards.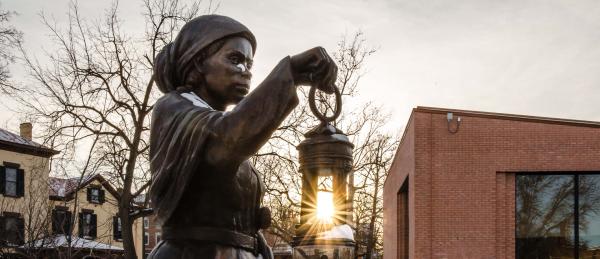 "Terminals," on the other hand, were not a temporary location but more of a relatively permanent haven. The more northward a terminal was, it became safer for freedom seekers to end their travels there and live out their independent lives. Auburn, NY (then referred to as New Guinea) was one such terminal on the Underground Railroad. The city was co-founded by Harry and Kate Freeman. Originally taken and enslaved from Guinea, Africa, they were freed by the Mansfield Decree in England and came to the colonies as indentured servants, fought in the Revolutionary War, and created one of the most important stations and terminals during the Underground Railroad Movement. To learn more about the Freeman's story, read God's Free-Man by Ted Freeman. 
Not only did Auburn provide stations to rest along the way, but it was also a community of abolitionists who welcomed those that wanted to build a life among them in a place that was saturated with beautiful landscapes and full of bountiful harvests and a strong economy.
See stops associated with the Underground Railroad
All of the stations (or safe houses) were operated by Station Masters. They were the people who took freedom seekers into their homes and provided meals, a change of clothing, and a place to rest and hide. They often gave them money before sending them to the next transfer point.
Today in Auburn, you can still see some of the churches and meeting houses that were stations on the Underground Railroad by taking a guided or self-guided tour along the Freedom Trail. You can also view Revolutionary War historical markers such as museums and burying grounds.
One of the stops on the Freedom Trail is the Abijah Fitch House, located at 197 Genesee Street (now the site of a dentist office). It was built around 1837 and was the home of Abijah and Lanah Fitch. Fitch was a real estate agent, friend of William Henry Seward, and keeper of an Underground Railroad safe house.
One of Auburn's most notable stations was the home of William H. Seward, U. S. Secretary of State, (1861–1869) and his wife, Frances Seward. Both William and Frances were abolitionists, but William was often traveling due to his governmental obligations, so Frances was the consistent Station Master. Visit the  Seward House Museum and you can see the actual secret place in the basement that was used to house those on their freedom journey. We know this was a stop on the Underground Railroad due to letters between Frances and her husband commented on the "visitors" and what happened during their stays.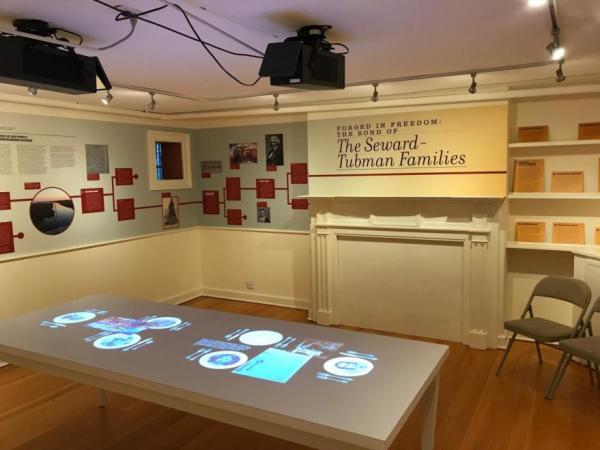 Auburn is also the place or "terminal" where Harriet Tubman chose to bring her family and live her life as a free woman. The Harriet Tubman Home is located just minutes down the road from the Seward House Museum. 
Another stop in Auburn is the Springside Inn, a charming bed and breakfast located across from Owasco Lake. Dating back to the 1850s, it is believed that the building was used as part of the Underground Railroad and the thickets surrounding Springside's backyard are where Harriet Tubman hid previously enslaved individuals on their journey.
Just a short 20-minute drive from Auburn, will bring you to Aurora. Here you will find more windows into the Underground Railroad at the Howland Stone Store Museum. Originally built by Slocum Howland in 1837 as a general store, it also served as a stop on the Underground Railroad. One of the museum's most prized possessions is an Underground Railroad pass brought by two enslaved people who escaped from Maryland and came to Howland in 1840 in pursuit of freedom.  In addition to the pass, the museum offers a unique collection of abolition and suffrage artifacts.