Family Fall Fun in Cayuga County
Family Fall Fun in Cayuga County
Cayuga County is the perfect place for families for plan a fall trip There is a chill in the air and the trees are starting to change colors! From hiking to waterfalls to stunning lakeside views, picking pumpkins and apples, to corn mazes, and fall festivals, get ready to explore!
Spend a weekend here discover all we have to offer!
Orchards…Pumpkins and Apples
According to the New York Apple Growers Association, New York State is the second-largest apple-producing state in the country. Make sure to stop in to pick out your pumpkins for the season, and don't miss out on the corn mazes and other fun activities!
Owens Orchards located on route 5 and 20 between Auburn and Elbridge is a great place to spend a sunny fall afternoon. Wagon rides are available and in late fall you can even pick pumpkins and squash. Although there is no u-pick apples this year, apples are available in the store, there you can purchase freshly made apple cider donuts, fresh pressed cider, homemade apple butter and more!
The Apple Station Winery in Cayuga not only offers u-pick apples they are also a winery. They offer a wide variety of unique fruit and grape wines. Apples can also be purchased in the store, along with sweet cider, apple cider donuts, NYS cheeses, jams, jellies, maple syrup, honey and fall produce.
Grisamore Farms in Locke offers U-pick and a farm store. The farm store has operated since 1975 and is located in a 19th century dairy barn. They have a large selection of locally made products for sale along with a large variety of kitchen gadgets and even a place where the children can visit the farm animals.
Penny's Country Farm– Come join the fun at Penny's Pumpkin Patch! Fun for all ages!
Wineries…a little something for Mom and Day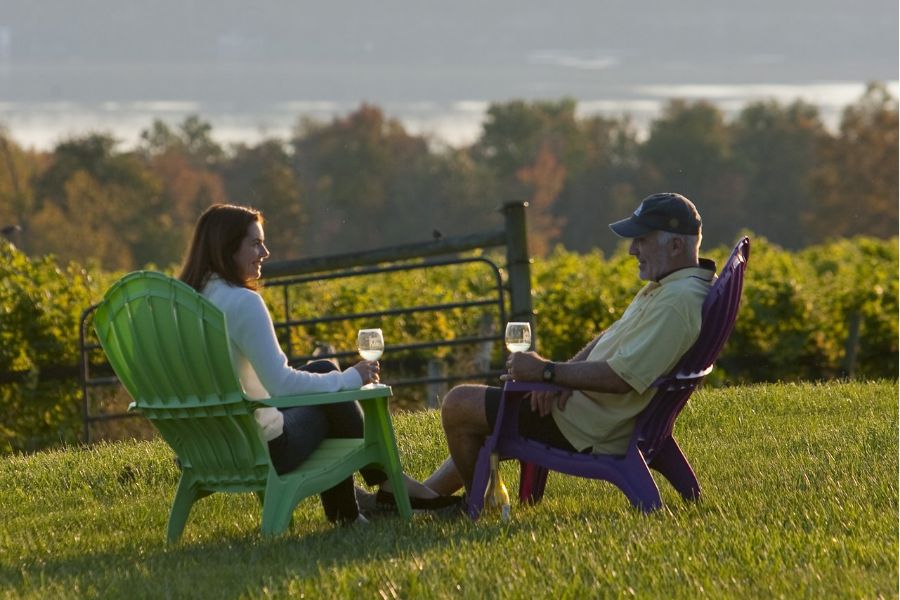 Cayuga County is home to many award-winning wineries! Relax and unwind with a glass of wine and enjoy the view.
Colloca Estate Winery in Fair Haven is just a short scenic ride from Auburn. Come for the wine stay for the day. Stroll the grounds, check out the grapes, take an estate tour, enjoy a wood fired pizza or a gourmet meal or just grab a glass of wine, relax, and enjoy view of the waterfront.
Heart and Hands Wine Company -Located on the eastern shores of Cayuga Lake in the Finger Lakes region, they are committed to sustainably producing cool-climate wines that authentically express the unique character of the Finger Lakes.
Long Point Winery-Specialize in Dry Wines with a spectacular view of Cayuga Lake. Enjoy a glass of wine while overlooking beautiful Cayuga Lake from our tasting room. Is there a better way to spend a beautiful day? Enjoy Amelia's in-house cafe menu that offers salads, soups, and specialty sandwiches.
Quarry Ridge Winery- Nestled on the limestone and shale slopes on the eastern shore of Cayuga Lake, Quarry Ridge Winery is a family owned and operated winery who take exceptional care during the wine making process in the harvesting, sorting and gentle processing of the fruit.
Click here for a full listing of wineries and breweries.
Leaf Peeping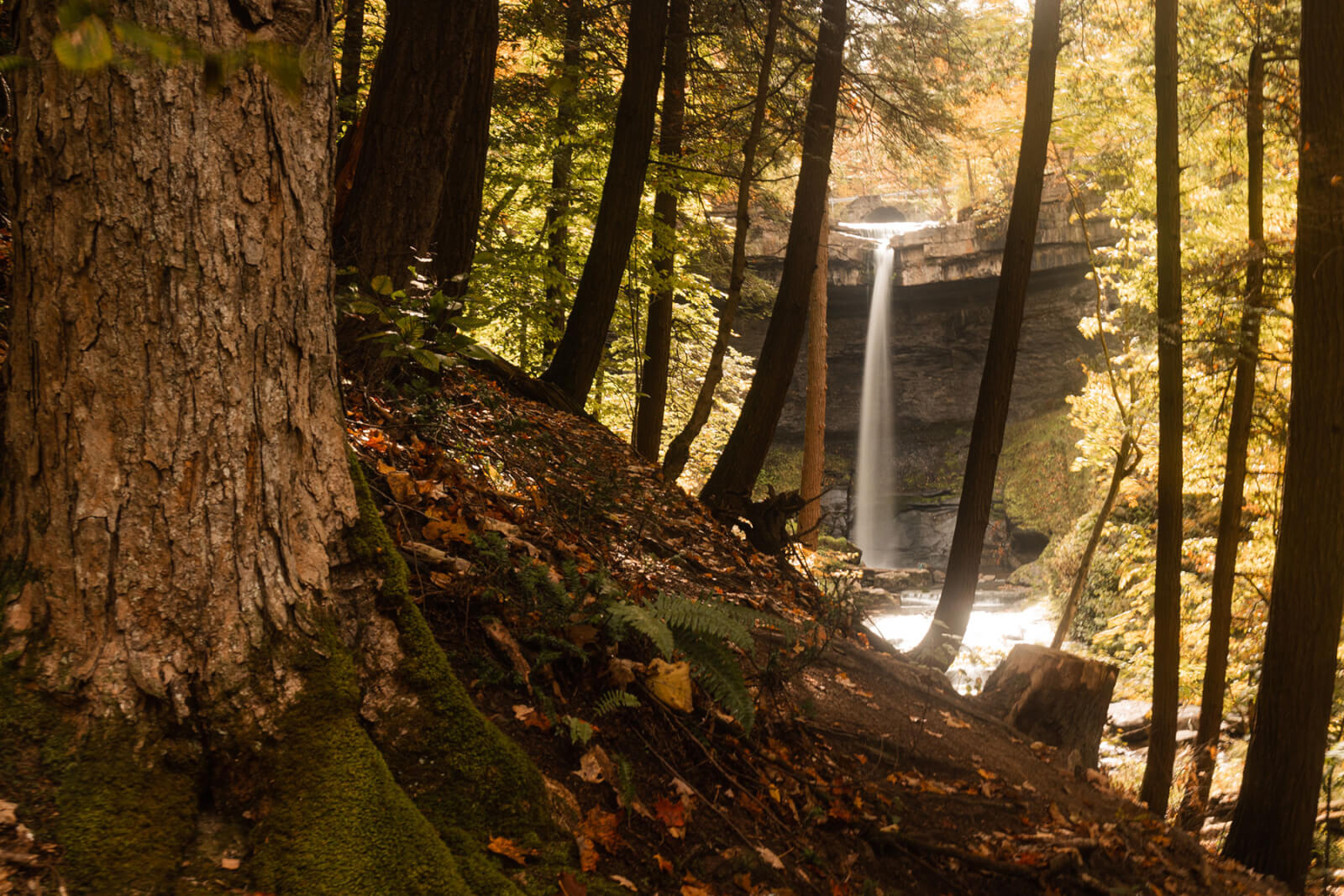 To be honest, to leaf-peeping in the Finger Lakes is the best! During the first two weeks of October, you'll be surrounded by lush landscapes of red, yellow and bright orange. But for particularly magnificent views, check out these favorite spots. Fair Haven NY event devotes a full weekend of events to this fun activity, click here to learn more about their Leaf Peeper Celebrations.
By Car or Bike…
Owasco Lake- Route 38 South Owasco Lake may be one of the smaller Finger Lakes but is certainly not short on awe-inspiring views. Begin just south of the City of Auburn at Emerson Park at the northern tip of Owasco Lake. Head south on NY 38 and enjoy the dazzling foliage display as you leisurely drive down the western shore of the lake toward Moravia. End your leaf-peeping excursion at Fillmore Glen State Park where you will find hiking trails, gorges and waterfalls!
Cayuga Lake – Route 90 South-Follow the Cayuga Lake Scenic Byway
Begin your adventure in the Village of Cayuga and follow Route 90 south toward the historic Village of Aurora. You will be stunned as you observe the pristine way in which Cayuga Lake reflects the brilliantly colored foliage.
Hiking or Walking
Fillmore Glen State Park: located in southern Cayuga County, is known for its spectacular scenery including 5 waterfalls, a deep gorge, and lush forests.
Fair Haven Beach State Park on Lake Ontario has one of the finest public lakefronts in upstate New York with towering shoreline bluffs, sandy beaches and adjoining hilly woodlands. Take the Lakeshore Trail which features a walk along the shoreline below towering bluffs and enjoy the amazing views.
Bear Swamp State Forest offers a 14.3-mile multiple use trail system. The trails have been designed for hiking, horseback riding and mountain biking and are appropriate for both beginners and intermediate users. The forest is rich and diverse and provides habitat for a variety of birds and has been recognized by the National Audubon Society as an important birding area.
Sterling Nature Center- This spectacular 1400-acre site, with nearly two miles of Lake Ontario shoreline, features glacially formed bluffs with scenic vistas of Lake Ontario. Hiking, snowmobiling, and cross-country ski trails available.
Rainy Day Ideas
Visit a local museum. Did you know that Auburn, NY was the chosen hometown of Harriet Tubman or that noted politician and abolitionist William H Seward lived there? Take a scenic drive. The Cayuga Scenic Byway will take you past wineries, breweries, restaurants, quaint shops, and farms. There are also some great places to stop and admire the scenery overlooking Cayuga Lake.
Ward O'Hora Agricultural Museum– Step back in time to the turn of the century and life on the farm and family homestead. See tools made from the 1800s to the 1940s, spanning the years of farming's greatest changes — from hand-held to horse-drawn tools, and later to tractor power.

Equal Rights Heritage Center– The Center features a state-of-the-art exhibition titled "Seeing Equal Rights in NYS". Experience the creative ways New Yorkers organized to stand for justice and learn about the key contributors from the 1800s to modern day. The family friendly facility also offers free Wi-Fi, public restrooms, and regionally sourced products in the Taste NY

Seward House Museum– Home to the abolitionists and suffragists Seward Family for over 50 years. It was also a stop on the famous underground railroad.

Cayuga Museum of History and Art- Home to several changing exhibits each year as well as a permanent exhibit about Auburn Correctional Facility. The Case Research Laboratory is the home of talking movies, where Theodore Case invented the first commercially successful system of sound on film, which visitors can now explore on a guided tour to learn about the history of sound film.

Howland Stone Store Museum– The museum, formerly a cobblestone store built-in 1837 by the family of Emily Howland, displays Howland's contributions (1850-1920) to movements for the abolition of slavery, education, and women's rights, including an original Underground Railroad pass and women's suffrage posters
After a day of enjoying the great outdoors, visit one of our local restaurants and enjoy a great meal. Click here for some suggestions. Please…before you make plans, be sure to check with each of the locations you are planning on visiting. Hope to see you all soon!