Trail Details for the Finger Lakes Sweet Treat Trail
What
Whether it's honey or jam or homemade cookies made with locally grown and produced products, the Finger Lakes Sweet Treat Trail has something to satisfy everyone's sweet tooth!  Pick up the trail brochure at the Cayuga County Office of Tourism or any stop, then travel the trail and have your pass stamped at 10 different stops for a chance to win one of three Sweet Treat Trail baskets of goodies!
When
The Sweet Treat Trail is open May 1 – December 1, covering three seasons of sweet treat goodies from tasty strawberries in June to crisp local apples through November. 
New in 2022- Harriet Tubman Sweet Treats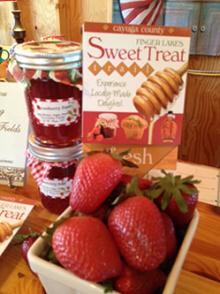 In celebration of Harriet Tubman's Bicentennial  we dedicate the 2022 Sweet Treat Trail to her.
Many local business have created special delicious treats for the 2022 season.
Cafe 108...Harriet Tubman Gingerbread Cookie
Gretchen's Confections...The Tubman aka The Land of Milk and Honey
Moonflower Macarons...Strawberry Inspired macarons
Morgan's Half Acre Produce...Harriet Hand Pie (apple-strawberry treat)
New Hope Mills Store and Cafe`...Strawberry Mint Milkshake
*Octane Social House...Trailblazer Chili~Pepper"Minty" Mocha~Tubman Truffle
**Reese's Dairy Bar...Minty Strawberry Sundae
Rudolph's Ice Cream...Harriet's Root Beer Float
Strawberry Fields Hydroponic Farm...Fresh Strawberries
*Witmers Country Market...Honey Spoons  (made with real honey) Enjoy with tea.
*Please Note: Octane Social House and Witmers Country Market are no longer in business.
** Reese's Dairy Barn is Closed for the season.
Special Events
Stay tuned for events! In the meantime check the Cayuga County Tourism events calendar for dates and details of all the happenings in Cayuga County.  
Follow Us
Follow us on Facebook and Instagram to stay connected! Use the #FLXSweetTreatTrail hashtag and tag us to share your scrumptious food adventure!
Event in Locke, NY, United States by Happy Jacks Maple on Saturday, March 25 2023
CITY LOVE SCAVENGER HUNT Date For Couples (Self-Guided) Enjoy your city scavenger hunt with fun digital activities along the way!