Spooky and Not Too Spooky Things to do this Halloween Season
The spookiest holiday of the year is just around the corner, did you ever wonder how Halloween came to be? The tradition of Halloween originated with the ancient Celtic festival of Samhain. During Samhain people lit bonfires and wore costumes to ward off ghosts. In the eighth century, Pope Gregory III designated November 1 as a day to honor all saints. Soon, All Saints Day incorporated some of the traditions of Samhain. The evening before All Saints Day became known as All Hallows Eve, and later Halloween. Over time, Halloween evolved into a day of activities like trick-or-treating, carving jack-o-lanterns, festive gatherings, donning costumes and eating treats.
DYK that candy corn was once named chicken feed? It got its name because corn is what was used to feed chickens. It was created in the 1880s by George Renninger, and sold to Goelitz Confectionery Company (now Jelly Belly Co.) Because corn is what was used to feed chickens, the creation was called "Chicken Feed" and the box was marked with a colorful rooster.
To help you celebrate I have complied a few spooky and not so spooky things to do this season in Cayuga County!
Ward O'Hora Agricultural Museum-is a great place to bring the family for a fun filled, not too spooky halloween treat. This Halloween the are offering two free events .
Witch Hat Hunt at the Ward O'Hora Agricultural Museum-

Now until October 31 participate in the Halloween Witch Hat Hunt. Hidden throughout the museum there are 50 Witches Hats, use the clues provided to find them all and win a prize! Everyone Participating receives a participation prize. Event is Free and Open to Everyone! Fun for the entire family!

Old Fashioned Halloween Event

October 21, 10 am -4pm.
This event is free and open to the public.
11-11:30 am and 1:30-2:00pm — Trick or Treating
11:30am and 2:00pm Costume Parade
10:30am-3:30pm-Pumpkin Carving
Free Horse Rides and Wagon rides (all day)
Free Model T Rides (all day)
Kid's Activities, Blacksmith Demonstrations
Free Refreshments. Music, Tours and more!
Manifestations In Moravia Fall Festival– This family friendly event will be held on Saturday, Oct. 21 from 10:00am-2:00pm, Ethel Fuller Park in Moravia. Spine Chilling Games, Kid Karaoke, Haunted History Tour, Hay rides, vendors and food.
Seward House Haunted History Tour– Costumed guides take guests around the Seward House grounds and around the darkened streets of Auburn, sharing chilling tales of Victorian funeral practices, spectral encounters from Seward family lore, grizzly true crime stories, and other spooky accounts drawn from local folklore and history. This tour is entirely outside and will take place rain or shine. Reservations are required.
Witch's Ball At Prison City– On October 27, Fly in on your broomstick, ride in on your black cat, or simply walk through the fog. We can't wait to welcome you to our Witches' Ball! Join us for a night of enchantment, spells, and mystical delights as we celebrate the magic of Halloween at our Witches' Ball.
Annual Homerun Halloween – NOTE: DATE HAS BEEN CHANGED DUE TO WEATHER THE EVENT WILL NOW BE HELD ON SUNDAY OCTOBER 29 FROM 2-5 PM!!
Auburn Doubledays and the City of Auburn Recreation Department, along with Presenting Sponsor, HOA of CNY, are excited to bring you the 3rd Annual Home Run Halloween event at Falcon Park on Saturday, October 21st, 2023 from 4- 7:00pm date change: the event will now be held Sunday, October 29, 2-5pm! This event is fun for the whole family! FREE Admission, FREE Trick or Treat bags, and FREE donuts and Trick or Treating around the ball field!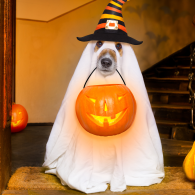 I have only highlighted a few of the Halloween happenings, please check out the Tour Cayuga Events page for up to the minute happenings in Cayuga County!
The staff at Tour Cayuga hope you have a spook-tacular, boo-tiful, wooo-nderful, and fang-tastic Halloween!
Just for Fun…my grandchildren love a good joke or pun…. below are a few of their favorites
Q: Why are ghosts so bad at telling lies? A: Because you can see right through them.
Q: Why did the skeleton cross the road? A: To get to the body shop
Q: What kind of dessert does a ghost like? A: I scream!