COVID-19 Resources for our Travelers
*Updated 8/14/2020*
What we're doing. 
Here at Cayuga County Convention and Visitors Bureau we continue to monitor the situation to keep our visiotrs and our businesses informed. We continue to provide information on what there is to do and how you can enjoy the beauty of our county in a safe way. We're highlighting our partner's efforts to ensure you can travel confidently knowing that our tourism partners are doing their part. 
The award winning wineries, breweries and restaurants are ready to serve you. Scenic routes and inspiring visitas are ready to wow you, and family run lodging options are ready to host you. As always our travel and tourism professionals are working to ensure that Cayuga County is a destination you can trust to keep you on the top of our mind. 
What you can do. 
It is each of our responsibilities to follow proper hygiene etiquette to ensure everyone's health and safety and limit the spread of COVID-19. Please ensure that you are following their health and safety protocols so that you can have the best of experiences.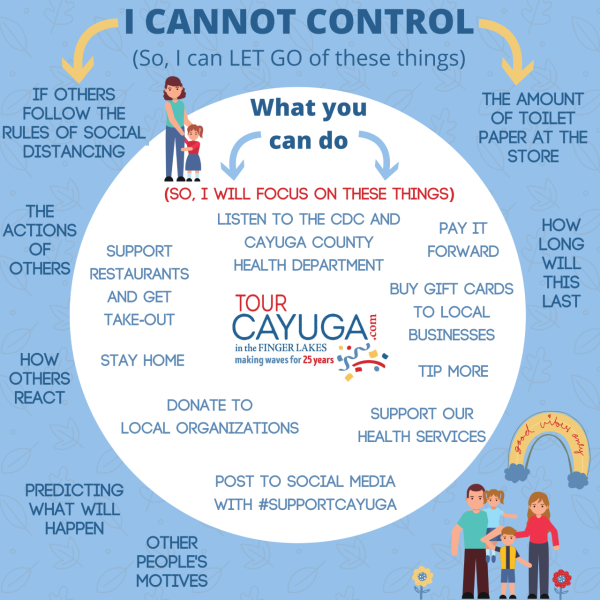 Government Mandates.
1. Governor Cuomo issued executive orders requiring any individual within the state who is over age two and able to medically tolerate a face-covering to cover their nose and mouth with a mask or cloth face-covering when in a public place or business and unable to maintain, or when not maintaining, social distance including when taking public or private transportation or riding in for-hire vehicles. The New York State Department of Health advises all people in New York to keep at least 6 feet distance from others when in public.
2. The Governor also announced that all restaurants and bars statewide will be subject to new requirements that they must only serve alcohol to people who are ordering and eating food and that all service at bar tops must only be for seated patrons who are socially distanced by six feet or separated by physical barriers. Under current law, only establishments that serve food are permitted to serve alcoholic beverages. Citizens who see violations or are concerned can report complaints, including photos, to the State Liquor Authority at www.sla.ny.gov.
Travel Advisory Quarantine
Please note New York State, New Jersey, and Connecticut have implemented a tri-state travel advisory that requires any individuals traveling from states with significant community spread of COVID-19 to quarantine for 14 days upon arrival. More information on the advisory, including the daily updated list of which states the travel advisory applies to, can be found here.
We continue to monitor the situation and will provide tourism-related updates. Travelers are encouraged to visit the New York State Department of Health website.