Harriet Tubman's Home
Home: A place where something flourishes – Oxford English Dictionary
Cayuga County has been home to many notable figures in history. Perhaps one of the most well-known is Harriet Tubman, the self-sacrificing abolitionist, humanitarian and Civil War hero who freed hundreds of enslaved individuals after following her self-emancipation. 
While many people know Harriet Tubman as a conductor of the Underground Railroad, few know the rest of her story – the 50+ years where she lived and flourished in Auburn, NY. Harriet Tubman chose to live alongside her friends and colleagues, in the place where the soul of equal rights was born and lives on today.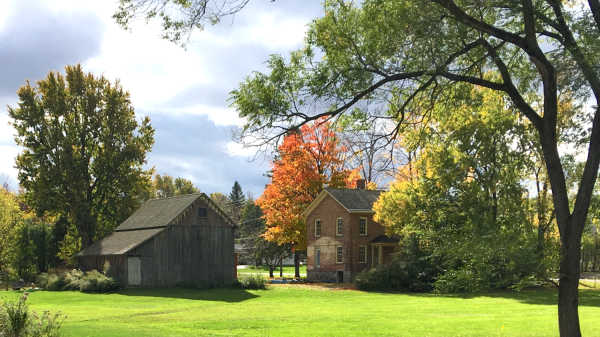 Here, you can follow in the footsteps of Harriet Tubman and experience her history – and her legacy – in a whole new way. Walk in her shoes across the streets and the floors of the historical landmarks that welcomed Harriet Tubman to live her life as a free woman and provide her the comfort of her final resting place. Visit the property she owned, where her brick residence still stands today along with apple orchards that she planted and tended to. And learn about her philanthropic work, taking care of those in need of food, clothing, shelter and more. 
Harriet Tubman's legacy lives on in the historic sites, in the residents, in the small businesses, and the community itself. Come visit and allow yourself to share in the untold story of Harriet Tubman and her bravery.
2022 marks the bicentennial birthday of Harriet Tubman. In celebration, Auburn, NY and the surrounding communities of Cayuga County will be celebrating her life and legacy with special events, activities and programming. Learn more about the bicentennial celebration at: www.harriettubman200.com 
Get to Know Harriet Tubman
Discover the many characteristics that made Harriet Tubman who she was, and her living legacy as an American hero. Click here to learn  more. 
33 South Street

(315) 252-1283
Home to the abolitionists and suffragists Seward Family for over 50 years. The house is open to the public for guided tours of this beautifully preserved home that houses one of the largest original collections in the US…
19 Fort Street

(315) 253-8132
Set on a hill overlooking Auburn, this site was used for burial mounds by Native Americans as early as 1100 A.D. It includes the burial sites of William Seward, Harriet Tubman, Martha Coffin Wright, Col. Myles Keogh who fought…
Places of Harriet Tubman
View and experience the sites that were significant in Harriet Tubman's life in Auburn, NY, including stops on the Underground Railroad. Walk in Harriet Tubman's shoes as you follow her footsteps to explore the stories of the people she knew, most often working alongside them in friendship to fight for abolition and women's suffrage.
Discover Harriet Tubman's Chosen Home
Find out more to see and do around abolition, civil rights and equal rights heritage in our area. Harriet Tubman settled here in her freedom for many reasons, and the community that welcomed her with open arms is a big part of that story