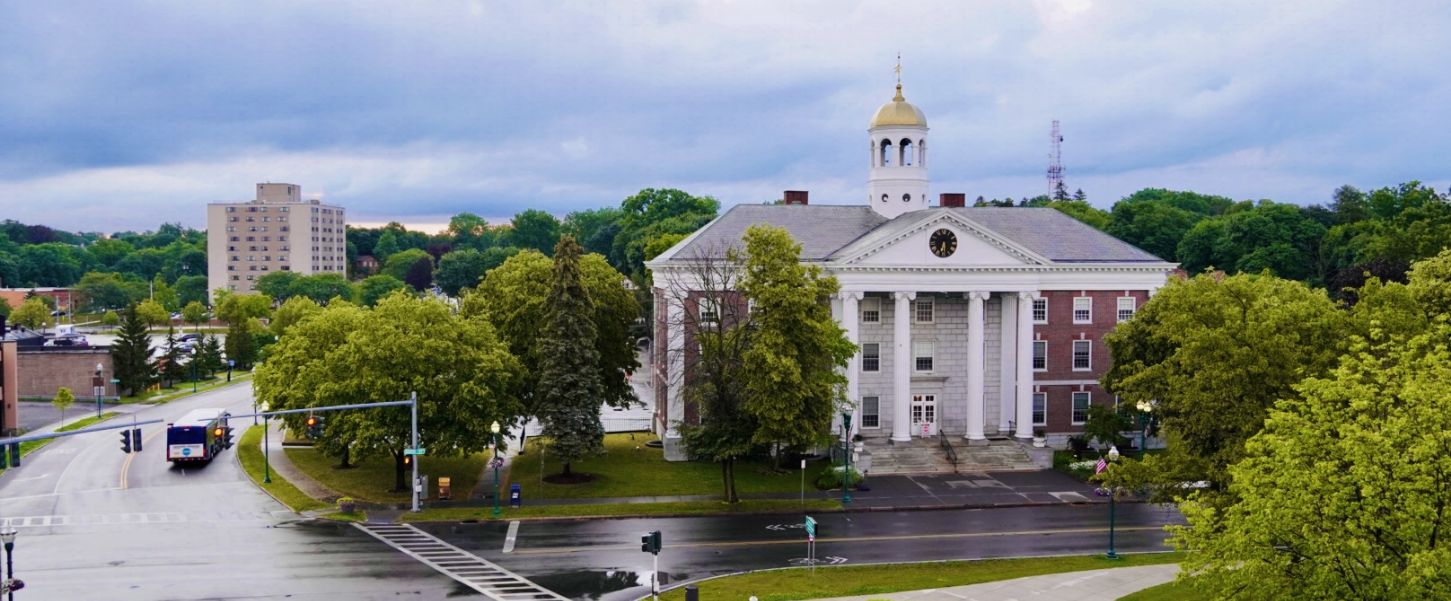 Cities, Towns & Villages
Cayuga County's towns and villages offer a great place to base your Finger Lakes getaway. These locales are truly the essence of what the Finger Lakes are all about—rural charm with a sophisticated flair. Our great restaurants, unique shops, and fine service won't disappoint you.
Auburn
Cayuga's county seat and its largest community boasts first-rate historical and cultural attractions such as the Harriet Tubman Home and Seward House Museum, park access to Owasco Lake, professional theater and baseball, and a wide variety of other attractions, fine dining, and accommodation options. Auburn is the location of many countywide government offices and services in the banking, finance, legal, and medical fields.
Downtown is the hub of business activity, and in the Downtown Business Improvement District alone, there are more than 200 retail, financial, food, entertainment, and professional businesses, as well as dozens of not-for-profit organizations and government agencies. A great time to visit Auburn is on the first Friday of every month when historical and cultural sites open their doors to visitors with food, entertainment, free admission, and special offers from 5 to 8 p.m. 
Aurora
Settled in 1799, the tranquil village of Aurora is situated on the east side of Cayuga Lake. To the north, it is home to the renowned home accessories company, MacKenzie-Childs, LLC., and to the south is Wells College, established in 1868 by Henry Wells. Places such as the Aurora Inn, E.B. Morgan House, and The Fargo are wonderful places to shop, dine, and spend the night.
Cato
Geographically, Cato is surrounded by some of the best-formed drumlins in the world, with water paths moving north to Lake Ontario and south to the Seneca River. This pattern accounts for its beautiful small lakes and ponds, and recreational opportunities abound. These include the Cato-Meridian Recreational Center, North Trail, Cato Golf Club, and Cross Lake.
Cayuga/Montezuma
The Seneca River Crossing Canal Historic District, on the National Register of Historic Places, is located in the Town of Montezuma along the Erie Canalway National Heritage Corridor. The Cayuga-Seneca Canal (1828) joined with the Erie Canal (1820), opening navigation to the Finger Lakes and beyond. A 140-acre park connects several nature trails to the remains of historic canal sites and natural resources along today's Seneca River/NYS Barge Canal.
The village of Cayuga, incorporated in 1857, is located on the northeast end of Cayuga Lake and is the longest of the six major Finger Lakes at 40 miles. The lake's northern end extends into the Montezuma National Wildlife Refuge, 7,000 acres of wetland that provide habitat for more than 300 species of birds and wildlife. 
Fair Haven/Sterling
Located on the southern shore of Lake Ontario, this area has changed from a shipping port to a resort community. It features some of the best fishing, swimming, boating, and camping in New York State. Unique attractions include the Sterling Renaissance Festival, Fair Haven Beach State Park, Sterling Lake Shore Park & Nature Center, and the Little Red School House Museum.
King Ferry/Genoa
Just south of Aurora, King Ferry and Genoa form the agricultural heart of Cayuga County. Their attractions include the Rural Life Museum and the award-winning King Ferry Winery.
Locke
Locke, which was formed in 1802, is another peaceful rural community with beautiful farmland, historic cemeteries, and Grisamore Farms, a busy family-run fruit and vegetable u-pick with a picnic area, petting zoo, and tours.
Moravia/New Hope
Millard Fillmore, 13th President of the United States, was born five miles east of the Village of Moravia. A replica of his log cabin birthplace is in Fillmore Glen State Park, with a deep limestone and shale glen with five waterfalls, a stone-walled swimming pool, a campground, a pavilion, and picnic areas. Nearby, New Hope Mills has a water-powered grist mill and is famous for its pancake flour available in its country store.
Port Byron/Mentz
Incorporated in 1837, Port Byron is situated on the Owasco Lake Outlet and former Erie Canal near the town of Mentz. The completion of the Erie Canal in 1825, gave a new impetus to the village's businesses, rapidly increased its population, and soon made it one of the principal grain markets in western New York. 
Sherwood Historic District
This national historic district is in Sherwood in Cayuga County, New York. The district consists of 28 properties, some are related to the Underground Railroad, and most were built between 1820 and 1910. The properties tell stories of dedication to abolition, women's rights, and education. Visit the Howland Stone Store Museum, the former family business of Quaker abolitionist Emily Howland. On view are historical items and memorabilia from her accomplishments and worldwide travels.
Summerhill
Located east of Locke on Scenic Route 90, Summerhill boasts the birthplace of Millard Fillmore, the 13th President of the United States. Fillmore was born in a log cabin in 1800 on Fillmore Road. The town recently completed a project honoring Fillmore's birthplace. On location now stands a recreational pavilion and a park for public use. Within its 5 square miles, visitors enjoy the town's high elevation and natural assets of Lake Como and Fall Brook.
Union Springs
Union Springs is located on the east shore of Cayuga Lake, with Frontenac Park offering visitor amenities and lake access. As might be expected, the town's name is derived from the many springs within its boundaries. Two of the largest, dammed to form ponds, were the source of power for the earliest industries. Other springs have a strong taste of sulfur and contain various minerals of interest to geologists. Gypsum and limestone played an essential part in the town's industrial development, as well as its draw as a health resort. 
Weedsport/Brutus
Weedsport, formerly known as "Weeds Basin," was incorporated in 1831 as the site for the early development of the Erie Canal. There are still remnants of the Centerport Aqueduct, providing an excellent example of Erie Canal stonework. Weedsport is known for the Weedsport Speedway, the DIRT Hall of Fame, and the Classic Car Museum.