Editorial Contact:
Meg Vanek
Executive Director
Cayuga County Office of Tourism
131 Genesee Street
Auburn, NY 13021
(315)255-1658/800-499-9615
email: meg@tourcayuga.com
 Cayuga County Office of Tourism Releases
2014 Visitors Guide & Map
Official Guide to County's Attractions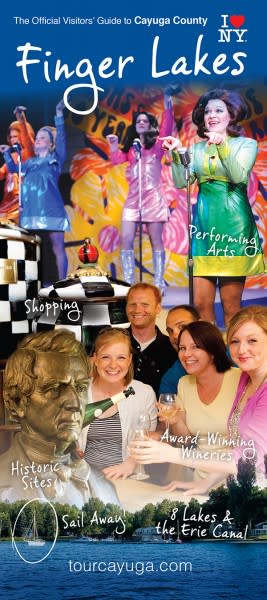 March 6, 2014, Cayuga County, Finger Lakes, NY - The 2014 Official Visitor's Guide to Cayuga County is now available at the Cayuga County Office of Tourism, 131 Genesee Street, Auburn. This comprehensive guide offers year round information for visitors on things to do, places to stay, annual events and visitor services.
The Guide focuses on what visitors like most about Cayuga County - lakes, scenery, wineries and charming villages as well as activities such as dining and shopping. Looking for a list of golf courses? Day spas? Hiking trails? You'll find information on all of these plus much, much more in the 2014 Official Visitors Guide to Cayuga County.
The guide also includes suggested itineraries such as "Explore History's Hometown" which highlights a tour of Auburn's historic and cultural sites including the Harriet Tubman Home, the Seward House Museum, Fort Hill Cemetery and other cultural treasures the City of Auburn has to offer.
Traditional meeting and event facilities as well as alternative meeting space such as Auburn Public Theater are also featured in the guide, with the hope that visitors might think of Cayuga County when they plan their next business meeting or even a family reunion. From the historic Springside Inn to the versatile Holiday Inn and Hilton Garden Inn to the unique Theater Mack, Cayuga County has meeting and event space to suit every gathering.
A sampling of annual events is listed in the guide with visitors being directed to the tourism web site, www.TourCayuga.com for more event information. From the Lake Ontario Spring Fishing Derby in May to Fireworks at Emerson Park on July 3rd to The Great Race in August, Cayuga County visitors can find something to do every month of the year.
In addition to the Visitors Guide, a free map of Cayuga County has also been produced to help visitor's find their way around the County. Both brochures are available at the Cayuga County Office of Tourism, 131 Genesee Street. The office is open Monday to Friday 9:00 a.m. to 5:00. Stop in or call 800-499-9615 for your free copies.
About the Cayuga County Office of Tourism
The Cayuga County Office of Tourism is the designated Tourism Promotion Agency for Cayuga County and promotes the County's attractions, events, and lodging establishments.  For more information call 800-499-9615 or visit tourcayuga.com