Editorial Contact:
Meg Vanek
Executive Director
Cayuga County Office of Tourism
131 Genesee Street
Auburn, NY 13021
(315)255-1658/800-499-9615
email: meg@tourcayuga.com
Cayuga Tourism Releases New Walking Tour Brochure
Historic South Street, Auburn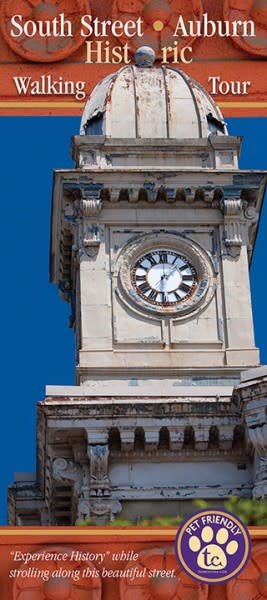 October 13, 2015 - Cayuga County, NY – The Cayuga County Office of Tourism will release on October 20, 2015 a new historic walking tour brochure.  The self-guided tour focuses on the core of Auburn's Historic South Street District that runs between Genesee Street and Richardson Avenue, as well as the Harriet Tubman Home, located further south of the district. 
Featured properties include architecturally and historically significant public and private buildings, some of which are listed on the National Register of Historic Places, as well as properties associated with the City's notable residents.  "This project showcases the character and history of the City of Auburn.  It will serve as a great piece to help tell Auburn's truly amazing story," said Meg Vanek, executive director of the Cayuga County Office of Tourism.
The public is invited to the launch of the brochure from 12:00 noon-12:45 p.m., on October 20th at the Bicentennial Gazebo across from Memorial City Hall, 24 South Street.  An abbreviated guided tour will be held and light refreshments served.  The South Street Historic Walking Tour is pet-friendly activity so feel free to bring your pooch along (on leash) too! Doggie treats will be provided. The launch will occur rain or shine.
The brochure will be available after the launch at the Cayuga County Office of Tourism, 131 Genesee Street, in downtown Auburn. 
About the Cayuga County Office of Tourism
The Cayuga County Office of Tourism is the designated Tourism Promotion Agency for Cayuga County and promotes the County's attractions, events, and lodging establishments.  For more information call 800-499-9615 or visit tourcayuga.com