Editorial Contact:
Meg Vanek
Executive Director
Cayuga County Office of Tourism
131 Genesee Street
Auburn, NY 13021
(315)255-1658/800-499-9615
email: meg@tourcayuga.com
Finger Lakes Sweet Treat Trail  
A Tasty Experience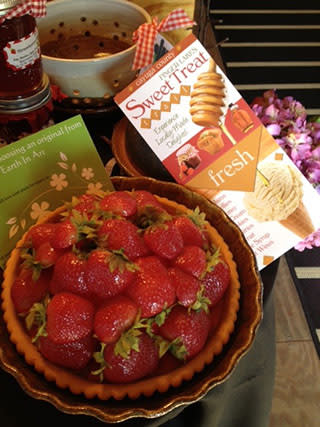 April 7, Cayuga County, NY – The Finger Lakes Sweet Treat Trail 2015 Tasting Tour brochure is now available at the Cayuga County Office of Tourism.  This year's tour includes twenty stops where you can experience sweet treats made with locally produced ingredients. Visit Carolyn's Creations in Cato for homemade cakes and cookies or Dorie's Bakery in Aurora for house-baked scones, muffins and breads using locally produced flour, fruit and syrups whenever possible.  Giancarelli Brothers in Weedsport is a farm, farm stand, store, u-pick and winery all in one and Karen's Country Confections in Union Springs is a bakery where everything is made from scratch with locally produced honey, maple syrup and fruits.  You can also visit the Farmers Markets in Auburn and Niles from June to October for locally grown fruits plus jams, jellies, baked goods, honeys and syrups.  From North to South in Cayuga County it seems like all roads lead to yummy goodness!
The 2015 Finger Lakes Sweet Treat Trail Tasting Tour will kick-off on May 1st from 5 – 8 pm at the Hilton Garden Inn, Auburn as part of First Friday, a community open house coordinated by the Auburn Downtown BID. This farmer's market style event is free and family-friendly, offering samples and tastings of locally produced baked goods, jams & jellies, honey and maple syrup from most of the 20 sweet spots on the Trail.  The 2015 Tasting Tour Brochure & Pass to all of the participating sites will be available for pick up so you can start planning your own personal tasting tour!  Visit a minimum of eight Finger Lakes Sweet Treat Trail stops and you will receive a FREE Sweet Treat Trail tote bag and also be eligible for a chance to win one of three Sweet Treat Trail baskets.  
This year's Tasting Tour will run May 1st to November 15th, covering three seasons of sweet treat goodies from tasty strawberries in June to crisp local apples through November.
Whether it's honey or jam or homemade cookies made with locally grown and produced products, the Finger Lakes Sweet Treat Trail has something to satisfy everyone's sweet tooth!
For more information, contact the Cayuga County Office of Tourism, 131 Genesee Street, Auburn, 800-499-9615
About the Cayuga County Office of Tourism
The Cayuga County Office of Tourism is the designated Tourism Promotion Agency for Cayuga County and promotes the County's attractions, events, and lodging establishments.  For more information call 800-499-9615 or visit tourcayuga.com