A 50-mile-long garage sale is a scavenger hunter's dream and they'll follow that dream on State Route 90, from Montezuma to Homer on July 30 and 31 this year.  The sale, which is always held the last full weekend in July, officially runs from 9 a.m. to 5 p.m., Saturday and Sunday, but you'll find some vendors out earlier and some stay longer, it's all pretty casual.  You will probably even find some eager beaver folks setting things out on Friday afternoon before the official start of the sale.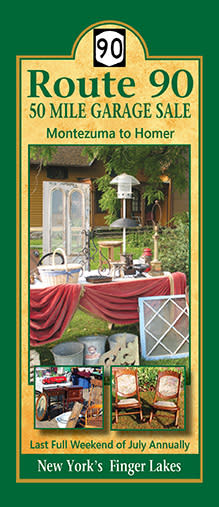 You'll see everything from the quirky to the mundane (and maybe even the ridiculous) along this scenic stretch of Route 90, a designated NYS Scenic Byway.  Boats and buggies have been up for sale as well as the usual baby clothes and unused exercise equipment you see at many sales. Pretty much anything goes.
Some folks even plan their vacation around the famous Route 90 50-mile Garage Sale, as they know every year there will be new surprises along the way.  It's a fun affair for the whole family as even the kids can shop.  $5 goes a long way at the garage sale as it's a treasure trove of inexpensive, gently used toys, games, and clothes for kids. 
If you go, here are a few tips that any smart garage saler should know:
Bring water, July can be quite warm in the Finger Lakes
Be careful, people tend to jump in and out of their cars and pull over rather quickly when they see a bargain they want.  Sometimes a good deal gets the best of them!
The busiest parts of the route tend be in the villages, but you can find some real bargains if you venture away from these hubs of activity
Sunday is the best day to get a huge bargain.  People don't want to pack their stuff away again and are ready to wheel & deal!
And most of all have fun!
For more information, check out the Route 90 50-Mile Garage Sale Brochure on tourcayuga.com.