The days are getting shorter and the nights are getting cooler. It's obviously a sign that fall is on the way.
   With the arrival of fall, lakes and other waterways in Cayuga County are getting void of pleasure boaters. This in turn leaves area waters more open for anglers.
   The coming of fall with its cooler air and water temps, jump start fish into feeding before the winter slow down period. It's also the period when fish such as members of the splake family like brown trout, landlock salmon, and lake trout will spawn. The mighty chinook and coho salmon will also invade Lake Ontario tributaries to do their spawning rituals.
   Pre-run salmon that are staging in the lake stream mouth areas can be caught trolling spoons and cut bait rigs. Early fall can be the best time to fish salmon in the tributaries. Once the salmon run into the rivers and streams, try fishing for them with egg sacks or flies. The chinooks may reach 40-pounds or more and will test your tackle to the limit.
   During late fall when night temps reach the freezing mark, steelhead which are ancestors of ocean run rainbow trout will start to run the tributaries of Lake Ontario. The fun fishing lasts right through the winter.
   Although some sportsmen and women decide to focus on hunting in the fall. Avid anglers know that stream trout fishing on tributaries to Owasco, Cayuga, and Skaneateles Lakes can be very good. Brown trout will run the streams mentioned starting usually in October. Fish can be caught on worms, minnows, egg sacks, flies, and some artificial lures such as small spoons and spinners.
   By late November and until the end of December, rainbow trout will shoot up the streams and stage in anticipation of early spring spawning. They can be caught on eggs sacks, worms and flies.
   Fishing in the lakes mentioned during the fall can be very good for spawning lake trout. Lake trout will usually spawn on deep water points and you can catch them by trolling lures or by vertically jigging with spoons and swim baits.
   Pan fishing in the fall is very good on Cayuga County waters. The most popular one would have to be the yellow perch. Many perch that hung out in deeper, cooler water during the summer, will often retreat to shallower areas to feed in the fall. Don't be afraid to check out medium and deep areas with fathead minnows, crawfish, sonars, jigs, and small stick baits. Fish such as rock bass, sunfish, pumpkinseeds, and crappie can be caught as well. I have caught them as deep as 60' in late fall.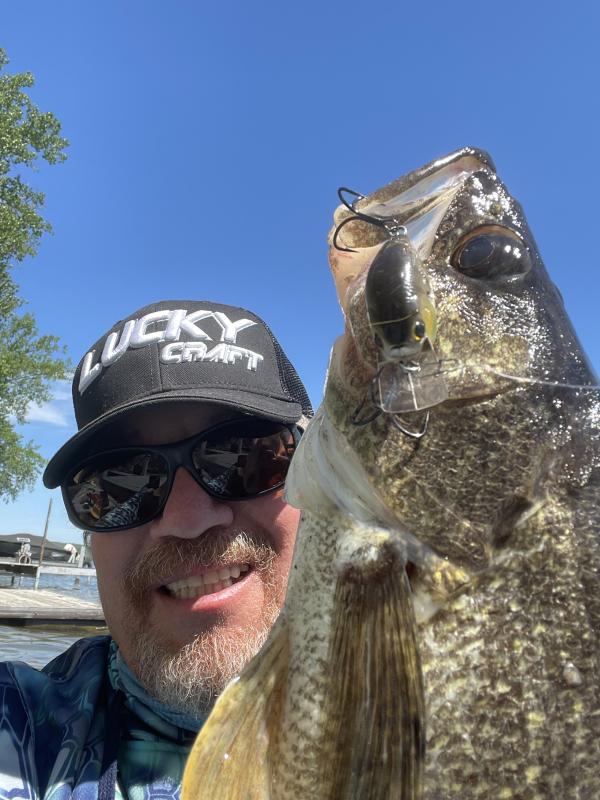 Warm water fish such as smallmouth bass, largemouth bass, northern pike, and walleye abound in Cayuga County waters. Besides Lake Ontario and the Finger Lakes mentioned, the smaller lakes such as Cross, Duck, Otter, and Lake Como have quality warm water fishing.
   Bass fishing for both species is very good in the fall. Action starts up as the water cools down. Surface action in the fall for bass can be hot. Try using surface lures such as Lucky Craft Sammys, Gun Fish, and G-Splash poppers. As the fish retreat to a little deeper water, try casting Lucky Craft Pointer Stick baits, LV-500 rattling baits, and LC 2.5 shallow and deep crankbaits. When the bass are slightly inactive, try using tubes, hair jigs, and Ned rigs. Also, soft stick baits or drop shots with a Zoneloc Octopus hook can be deadly
   Northern pike may go as deep as 50-60' in the summer. During the fall, pike will move up on to weed lines and binge eat. Cayuga, Owasco, Cross Lake, and Lake Ontario bays have quality northern pike fishing. I caught my largest pike in Cayuga Lake and it was in the 25-pound range. Try fishing large minnows under a Rod-N-Bob bobber or casting the bass lures mentioned for great action.
   In recent years, some Cayuga County waters are producing quality walleye fishing. Good-sized walleyes can be found in Cross, Cayuga, Owasco, and Skaneateles Lakes. Fishing for walleyes is best after dark but try going deeper during the day time with live bait, trolling stick baits, jigs, and jigging spoons.
   No matter if you prefer warm or cold-water fishing, Cayuga County in the fall is the place to be. Try fishing the waters mentioned with techniques described. There's a good chance you will be saying...Fish On!