After the long winter we've had, I am looking forward to spring gardening just around the corner. I yearn to see Finger Lakes flowers and blossoms indigenous to Cayuga County, as well as find gardening ideas and inspiration. Fortunately, whether you're buying flowers for your own flowerbeds, admiring Cayuga County gardening, or digging in to help clean up local Finger Lakes landscapes, Spring is finally here and the perfect time to appreciate all the beauty Cayuga County has to offer.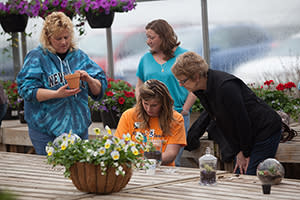 A visit to Dickman Farms on Archie Street in Auburn was just what I needed to get started, and this year-round garden center in the Finger Lakes did not disappoint with their wide variety of luscious plants and beautiful flowers.  In addition, you can sign up for gardening workshops and take advantage of the tips and suggestions from their knowledgeable staff.  Among the upcoming gardening workshops is the Living Wreath Workshop on May 15th, where you'll create your own low-maintenance begonia door wreath, and the new Kids Club Pizza Garden-to-Go workshop on May 16th, where kids ages 5 to 11 will learn about growing fresh food in their Finger Lakes backyards.
If you're looking for more gardening and landscape inspiration, there are many public parks and gardens in Cayuga County to visit for ideas. For example, Hoopes Park on East Genesee Street in Auburn is a picture perfect park.  The Auburn Beautification Commission is working hard to replicate the planting throughout the park using plans drawn in 1931.  A site for a variety of community events, including outdoor concerts and art shows, Hoopes Park is the perfect place for an afternoon picnic.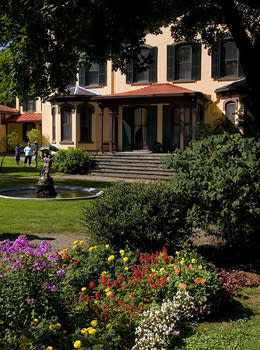 The Seward House Museum, a historical estate featuring beautifully curated grounds, boasts two acres of lush gardens and trees. Built in 1816, the Seward House Museum captures the landscape of a much earlier time. In addition to lawns, shrubbery, and flowers, the Seward House Museum vegetable garden allows visitors a glimpse of the 19th century Seward family diet.  
The Seward House will host a lecture by Donald Rankow, Cornell University professor of horticulture, about public and private gardens on April 25th. The lecture, entitled The Rise of Public & Private Gardens in the 19th Century, is free, open to the public, and will be held in the Community Room of Westminster Presbyterian Church. Learn how public and private gardening movements reflected societal developments in science, religion, technology, and cultural attitudes in both Europe and America.
The Seward House will also conduct its Garden Clean-Up Day on April 25th.  This is the perfect time to experience the gardens up close and personal while helping to prepare the museum's historic landscape for spring. This is your opportunity to adopt a flowerbed and be a part of Auburn's history.  You supply the tools and labor; they supply the dirt!
One of my favorite examples of beautiful Cayuga County gardening and how a combination of annuals and perennials can be creatively arranged in an awesome flower garden is the Mackenzie-Childs studio barn garden. Located on a 65-acre farm in Aurora, this garden is lush, colorful, and magnificently presents Cock's Comb, irises, French marigolds and delphinium.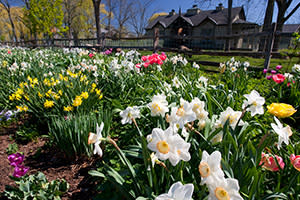 If herb and vegetable gardening is more your speed, then you can hit the ground running by participating in the 23rd Annual Cayuga Lake Wine Trail Wine & Herb Festival, which is scheduled for the weekends of April 24th through 26th and May 1st through 3rd. Not only will you receive a wine glass, garden plan, and plant carrier, but also you'll receive a potted herb or vegetable plant at each of the 17 participating wineries.
If you attend the festival with out-of-town guests, there are a variety of lodging options, from full service hotels to historic inns to quaint B&Bs many with lovely gardens and landscaping. There are too many to list, but among the ones that my friends have enjoyed are The Inns of Aurora and A Wicher Garden Bed & Breakfast, which treats guests to a relaxing rural setting, lush greens and beautiful gardens, and even a hammock among the flowers. They've also enjoyed the secret garden situated at the back of the property at 10 Fitch, which includes a large Koi pond, waterfall, and gazebo. The inn's outdoor patio overlooks the garden and is the perfect setting for a morning cup of coffee, while the ever-expanding shrubbery and budding flowers make it an ideal place to relax on a warm spring afternoon.