I can only say that there are many wonderful restaurants in the Finger Lakes which serve incredible meals using local meats and vegetables, hand-made cheeses and organic greens all created by extremely accomplished chefs. These can be complimented by locally produced wines, beers and distilled beverages. You can even learn how to cook at epicurean spots like the Aurora Inn.
But - don't disregard "The Church Supper" because we are now talking home cooking. Comfort foods just like your grandmamma made! Not fancy and probably no Finger Lakes wines will be served – but a strong cup of coffee and a full plate of delicious food for sure will fill your belly.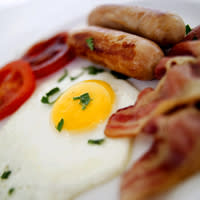 In our local newspaper on just one day alone there were six offerings. The Order of the Rainbow was serving up a French Toast Breakfast with sausages, scrambled eggs, mini –muffins, juice and coffee and French Toast – all for $5. The First Baptist Church was hosting a Ham Dinner including mashed potatoes, scalloped pineapple, carrots, desserts and a beverage for $8 and free for children under 5. A vegan group held a potluck supper at The Ward O'Hara Agricultural Museum requesting that guests bring along the recipe and a place setting. A Chicken Barbeque with all the fixin's for $8 per meal. A Dip Dinner where you pay per spoonful of each selection you make of a delectable homemade goodie. Out in Ledyard, there was a Turkey and Scalloped Oyster Dinner with mashed potatoes, cranapple sauce and homemade brown bread and pies. Only $9 or adults and $5 for children 6 to 12. Take-out was also available. I can smell and taste it all right now!
Add in a pork chop dinner; family-style roast beef; lasagna dinner; ham supper; ham and scalloped potatoes; all-you-can-eat pork dinner with squash and rolls; and a turkey dinner. The choices are amazing.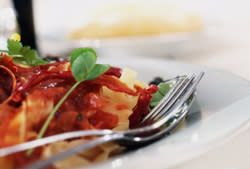 Located in Downtown Auburn, St. Mary's Catholic Church has been hosting a Pasta Dinner on the second Tuesday of the month for years and years. While we don't go every month, my daughter and I find that a meal out every once in a while is great fun. We may even ask a friend to join us for dinner. A salad and bread and butter, a huge plate of pasta, sauce and meatballs are finished off by a homemade brownie with ice cream. Coffee, milk or juice compliment the dinner. Eat in or take out. And at $7 per person and kids under 12 free, how can you go wrong?
Don't get me started on the Polish and Ukrainian church pierogi and kapusta deals and the Church bazaars all over the county!
These Church Suppers take place all year long so make sure you check out the local newspapers – The Citizen and the Pennysaver - for a great dinner. I am betting you will be welcomed liked family.
---
Susan Marteney teaches Community Education classes at CCC and is a co-owner of Tuxill House, a European-style guest house in Auburn, an avid gardener and a community activist.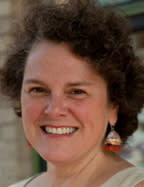 ---