Discover hydroponically grown strawberries as you tour Cayuga County and explore the beautiful Finger Lakes. Stand to pick delicious strawberries and experience an adventure not soon forgotten. Picking strawberries while standing has never been easier and more fun for folks of all ages. The strawberry patch is handicap accessible, as everything is grown on a smooth black tarp up off the ground. So, all ages can come and pick! Groups of 10-50 are welcomed for special reception by reservation.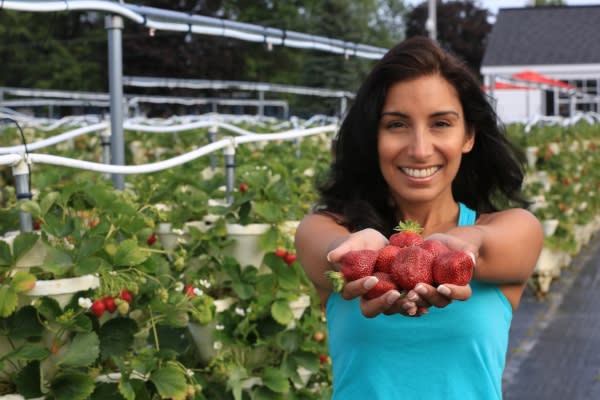 "Hydroponics" in its simplest form is growing plants in a "medium" by supplying all the necessary nutrients in the plant's "water" rather than in the soil. This new and innovative approach to "dirt-less growing" allows the plants to get exactly what they need to produce exceptional tasting fruits and vegetables without competing with weeds, thus giving a bigger yield.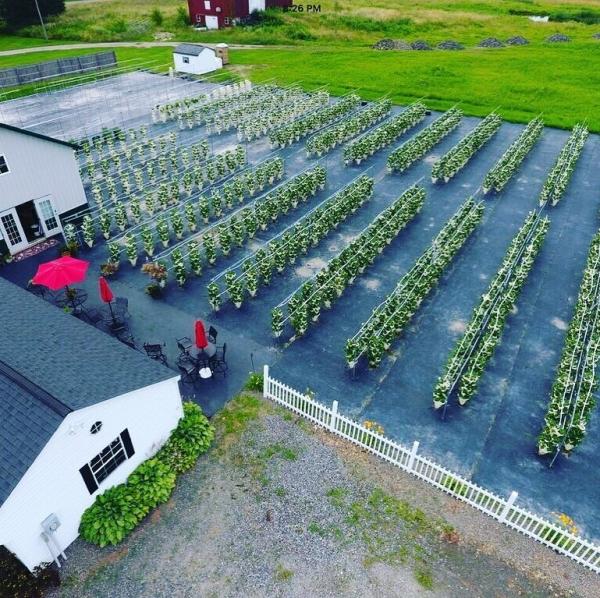 Growing plants hydroponically and vertically allows more food to be produced more efficiently in smaller areas. This is a sustainable growing method which utilizes greenhouses, patios, decks, roof tops, limited backyards, etc. as well as be able to produce food in parts of the world where space, good soil and/or water is very limited. Hydroponic growing also uses a minimal amount of water, therefore conserving one of our most essential resources.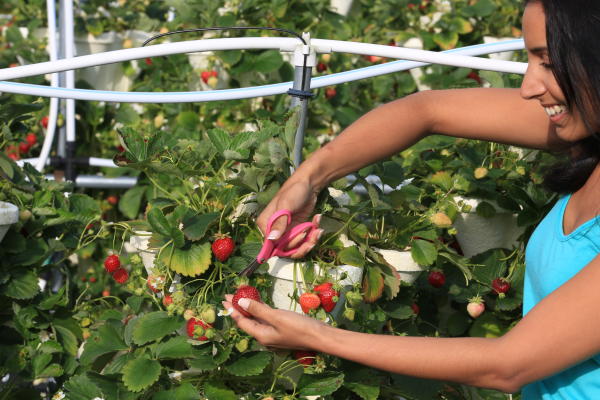 The farm grows 17,000 u-pick strawberry plants plus a variety of vegetable, blueberry and raspberry plants on a quarter of an acre. The strawberries are ever bearing which means that they will continue to produce berries from June until the end of October, or the first hard frost. U-pick is fast and easy for the freshest tasting berries!
The Gift Shop Offers many local products and artisan gifts plus handcrafted jams and honey from the family farm. Free samples to taste daily! Also selling non-GMO Beef & Pork from the family's main farm. Come in and experience Strawberry Fields for yourself! Visiting in late August or September? Be sure to make your way through the winding Sunflower Maze. Also, come back in the late fall for fresh cut Christmas trees, wreaths, and centerpieces starting the Saturday after Thanksgiving through December 23.
Owner Linda Eldred says, "We are so happy to offer such a unique way of picking strawberries from June-October to our community. It's a wonderful, clean, and healthy concept since we do not use any pesticides, and everything is in stacks off the ground." She also encourages you to, "Experience strawberries like never before!"
Strawberry Fields Hydroponic Farm is located at 4240 East Genesee Street Road - Auburn, New York 13021.
For more info call them at (315) 751-5657 or email Linda at strawberryfields_7@yahoo.com.  
Find them online at: http://www.strawberryfieldsupick.com/